Comics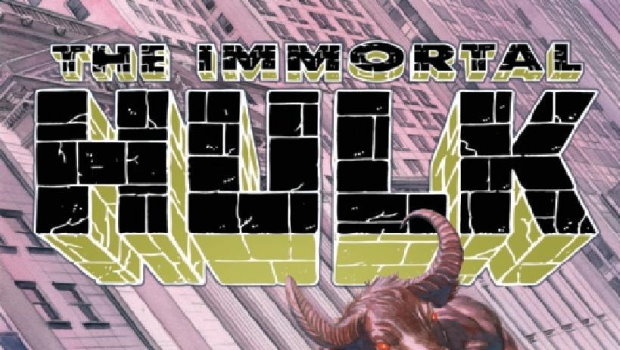 Published on December 2nd, 2019 | by Chris O'Connor
The Immortal Hulk #27 Comic Review
The Immortal Hulk continues his war on the human world by taking the battle to it's lords and masters, the Roxxon Corporation. With a Bullish view of the world, the Roxxon Corporation believes they have set themselves up to tackle The Hulk, the question is, does the market look good or bad for them?
Writing
The Hulk has long been a character who receives quite different public perception. Sometimes the public see him as their hero and protector, other times they can't see him as anything but a giant green force of destruction. The Immortal Hulk #27 sees the big green fella using his force of destruction for good, by taking the battle to the ones who would control the world and whether the general public realises it or not, it's for their own good. It's interesting to infuse such large portions of our current horrendous "leadership" evils into a story like this. I think you kind of need to put a different face on it or it risks being too "real", putting a Minotaur at the helm of the hell ride to destruction seems quite appropriate.
Artwork
Of all the art in this issue I really want to call attention to Alex Ross' cover. Specifically the attention to physical accuracy in musculature. In looking at the depiction of the Hulk on the cover, it's very clear that Alex took those traditional artist studies of human anatomy very serious and has probably studied a number of bodybuilder reference images as the muscle groups look just right, that may not mean much to the average reader… but for anyone who has had a passing interest in bodybuilding (even if it was more than 20 years ago now), it's refreshing to see someone with a true understanding and appreciation for the muscle forms.
Final Thoughts
With the Hulk and Banner working in such a close manner now it certainly seems as though he is "the strongest there is". While he may not always seem like the hero for the people, he does continue to look out for the greater good and will work to stop evil where ever he finds it. This feels like it is just the beginning and I have no doubt there are some epic battles ahead, but if you like the classic Hulk in action, this is a great comic to get!
Comic Details
Publisher: Marvel
Writer: Al Ewing
Artist: Joe Bennett
Cover Artist: Alex Ross
Genre: Superhero
Format: 24pgs, FC, Ongoing
Release Date: 20th November, 2019