Comics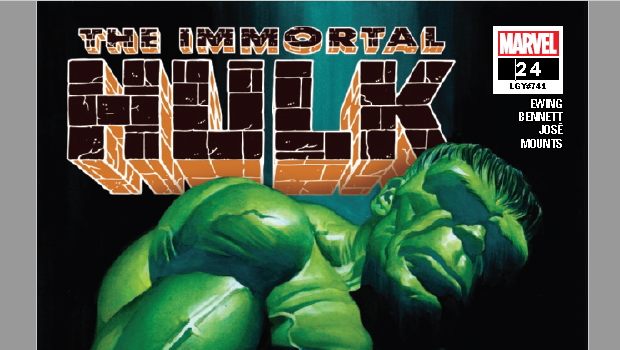 Published on October 16th, 2019 | by Chris O'Connor
The Immortal Hulk #24 Comic Review
Summary: The final battle bewteen Hulk and General Fortean, but that's not even the biggest event in this issue.
Immortal Hulk 24 brings to a conclusion the war with Shadow Base and it's not a pretty picture. But there is far more at stake than a battle between Hulk and General Fortean… Bruce has a decision to make and the impact of that decision will have far reaching repercussions.
Writing
When you've created a story in which one of your characters' face has been somewhat removed… you put yourself in a tricky position for writing dialogue for that character. Somehow Al has managed to create a speech pattern for Hulk that clearly shows his power of speech is severely impacted by his lack of complete facial material… yet it is still comprehendable (with a little work). Couple that with the bookends to this issue being of such massive importance in terms of what they mean to arguably the Marvel Universe and you have a pretty compelling story.
Artwork
Joe Bennett has an interesting job on this story arc… an opportunity to make use of all those anatomical diagrams and reference images that many great artists study. A partially removed face is an interesting look for any character… but when that character is the Hulk and he is still moving about and interacting with the world around him… there are some interesting visuals. I also really liked the opening, a throw back to early Marvel comics in text and image. It makes for a sort of Alpha and Omega feel.
Final Thoughts
There's no easing into this issue… well… there kind of is, but that's somewhat a flashback… when we hit the main story it's straight back into the fight from the previous issue. In that sense I feel that if you haven't been following this series then this issue may be a bit confusing… you can enjoy it for the action and grotesquerie but the story will make more sense if you have been following from previous issues. So the solution here is… either collect the previous issues and read them first or possibly leave this issue/series and catch the next story arc. If you have been following this story from previous issues… then you need to grab this one!
Comics Details
Publisher: Marvel
Writer: Al Ewing
Artist: Joe Bennett
Genre: Super Hero
Format: 25pgs, FC, ongoing
Release Date: 2nd October, 2019