Books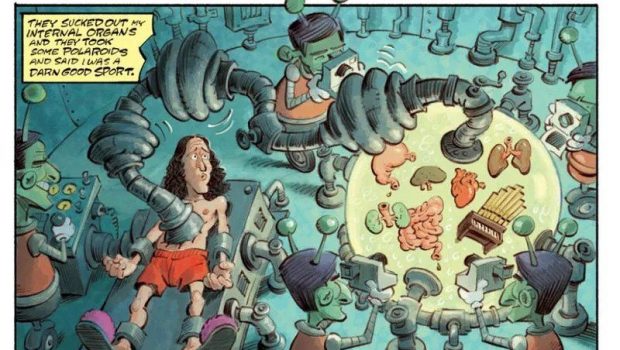 Published on March 23rd, 2023 | by Tim Chuma
The Illustrated Al: The Songs Of Weird Al Yankovic Review (2023)
Summary: For fans of Weird Al Yankovic and even those who have only heard a few of his songs it is a chance to learn more of his back catalogue.
Weird Al has seemingly always been around or at least since the 1980s and I even finally got to see him play live in 2003. I know he is still releasing albums but I have not really been keeping up with the contemporary songs he bases his parodies on so I have not gotten any of more recent albums.
From the introduction the purpose of this volume is to give a visual accompaniment to his songs that never got their video (or did not get the video he really liked) and it does help a lot if you put on his songs while reading it and read along, even if it does make it take a few hours longer.
I did enjoy Emo Phillips introduction even if it is as random as ever and does get it wrong about all the songs featured not having a video.
There is a large variety in the art styles and it seems like there is something entertaining on every page. I would almost say it is almost a bit too stimulating to try and read in one go. Maybe pick it up and put it down when you feel like it.
Some of the songs turn dark quickly and there is a lot of cartoon, over the top violence in some of them but nothing you wouldn't see these days on an adult style cartoon.
I was impressed at some of the deep cuts in the selection. It could have been easy to just to all the most popular songs but it really does go way back into the archives to some songs even I had not heard of back to his very first albums.
His more recent songs do make an appearance but not really as much with only two from Mandatory Fun. I feel like his audience is pretty well spread out these days, a friend went to see him a few years back and had to be filled in on the newer songs by their children.
An impressive achievement and well worth picking up if you are a fan of the artists involved also as it is a big showcase for their work so if you like them you can go off and look for more of their stuff afterwards.
Well worth your time and another one I would consider buying even if I wasn't reviewing it.
Book details:
Writer: Weird Al
Contributors: Drew Freidman, Mike & Laura Allred, Emo Philips, Sam Viviano, Jesse Philips, Danny Hellman, Aaron Augenblick, Steve Chanks, Peter Bagge, Bill Plympton, Gideon Kendall, Felipe Sobreiro, Wes Hargis, Michael Kupperman, Ruben Bolling, Rob Sikoryak, Fred Harper, Bob Fingerman, Ryan Dunlavey, Jeff Mcclelland, Hilary Barta
Publisher: Z2 Comics
Publication Date: 22/03/2023
ISBN: 9781954928640
Languages: English
Format: Hard Cover
Category: Comics, Music General
Subjects: Graphic Novels, Music / General, Comics & Graphic Novels / General, Comics & Graphic Novels / Media Tie-In
Pages: 208
Songs covered in full:
Dare To Be Stupid
Hardware Store
Why Does This Always Happen To Me?
One More Minute
The Biggest Ball Of Twine In Minnesota
Melanie
Your Horoscope For Today
Mr. Popeil
You Make Me
Trigger Happy
You Don't Love Me Anymore
Everything You Know Is Wrong
Albuquerque
Frank's 2000″ Tv
Nature Trail To Hell
Since You've Been Gone
The Night Santa Went Crazy
Good Old Days
Dog Eat Dog
Midnight Star
My Own Eyes
Jackson Park Express
Single page features:
Amish Paradise
FAT
Like a Surgeon
Yoda
Smells Like Nirvana
White and Nerdy
Bonus! Videos
Dare To Be Stupid
Amish Paradise
Hardware Store
Why Does This Always Happen To Me?
FAT
One More Minute
The Biggest Ball Of Twine In Minnesota
Melanie
Your Horoscope For Today
Mr. Popeil
You Make Me
Like a Surgeon
Trigger Happy
Yoda
You Don't Love Me Anymore
Everything You Know Is Wrong
Albuquerque
Frank's 2000″ TV
Nature Trail To Hell
Since You've Been Gone
The Night Santa Went Crazy
Good Old Days
White and Nerdy
Dog Eat Dog
Midnight Star
My Own Eyes
Jackson Park Express