Events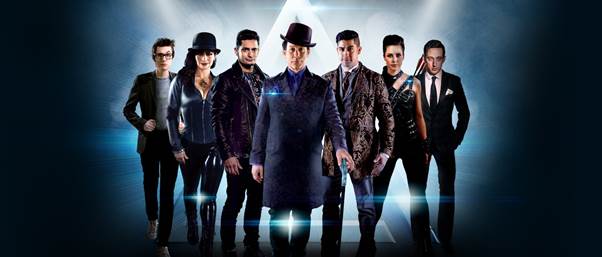 Published on October 30th, 2018 | by Admin
THE ILLUSIONISTS
Tim Lawson in association with The Works Entertainment Presents
THE ILLUSIONISTS:
DIRECT FROM BROADWAY
"Magic's Cirque du Soleil" – The Times of London
"A high-tech magic extravaganza"- The New York Times
31 October 2018 – The world's biggest selling magic show returns to Melbourne with their spectacular new production, The Illusionists: Direct From Broadway, materialising in the Regent Theatre for one week only from 22 to 27 January 2019.
The Illusionists has shattered box office records across the globe and dazzles audiences of all ages with a powerful mix of the most outrageous and astonishing acts ever to be seen on stage. This year, The Illusionists: Direct From Broadway will continue to redefine magic and challenge audience expectations with large-scale stunts, levitation, mindreading, disappearance and daredevilry. This non-stop show is thrilling and sophisticated magic at its best, led by seven of the world's most talented magicians and artists:
The Trickster, aka Paul Dabek, reveals exactly what's up his sleeve and delves into his box of tricks while cheekily enchanting the audience with jaw-dropping hilarity:
The Mentalist, aka Chris Cox, a multi-award-winning mind-manipulator whose mischievous sense of magic and wonder has been seen by over 300,000 people internationally;
Leonardo Bruno, known as The Alchemist, was born into magic as his grandfather was one of the most important magicians in Mexico and Latin America. Daring and unique in style, Bruno will leave audiences captivated and surprised;
The Showman, aka Mark Kalin, has been one of the most influential magicians of the last decade, bringing his distinctive, amazing large scale illusions to stages across the world;
The Conjuress, aka Jinger Leigh, is a modern sorceress with a unique blend of elegance and theatricality, which has redefined the role of the magician;
French-born Florian Sainvet, known as The Manipulator, discovered his calling as a futuristic manipulator and illusionist through his love for science fiction films at his local cinema; and
Brisbane-born Robyn Sharpe, aka The Warrior; an ex-gymnast whose thrilling crossbow act has been described as "one of the most dynamic and dazzling danger displays in the world".
Simon Painter, Creative Producer, The Works Entertainment, says: "We are extremely excited to be presenting The Illusionists, Direct From Broadway in Melbourne. The show is packed full of new and exciting acts that will be a first for Melbourne audiences. The Illusionists has dazzled audiences of all ages in over 400 cities around the world including four seasons on Broadway. Our new show is a fantastic opportunity for Melbourne audiences, families and visitors this summer to enjoy the very best magic and illusion acts from around the world.
Combining the showmanship of the Harry Houdini era with contemporary stunts, visual effects and cutting-edge technology, The Illusionists: Direct From Broadway is an unmissable summer experience for the whole family.
Watch the trailer for The Illusionists: Direct From Broadway here.