Events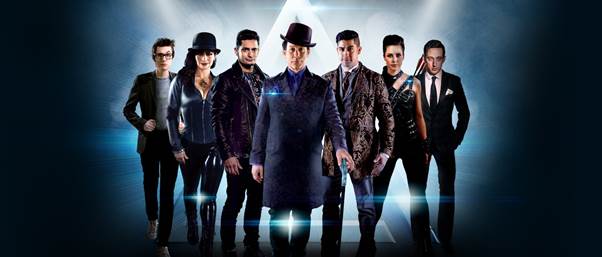 Published on January 24th, 2019 | by Joseph Bistak
The Illusionists: Direct from Broadway (Melbourne 2019)
Summary: The Illusionists Direct from Broadway will leave you mesmerized!
If there's one word that could best sum up The Illusionists: Direct from Broadway, it would be "wonderful" as the entire performance was absolutely wonderful! For the uninitiated, The Illusionists: Direct from Broadway is eclectic collection of performers with an emphasis on 'magic' and at present, they are currently performing at The Regent Theatre (22 Jan – 27 Jan 2019) where they stun the mind with some amazing tricks and deft-dying acts which literally leave you on the edge of your seat.
Although you will have your favourite acts, where The Illusionists: Direct from Broadway succeeds is through its diversity and there are approximately 14 amazing acts, including some audience participation as you witness these clever performers. Like all good magic shows, there is mind reading, card tricks and a girl vanishing from a booth and then reappearing from the rear of the audience. What sorcerery is this I hear you ask? There's plenty more!
In one act, the conjurer collected rings from the audience and somehow he made a chain out of them that left some audience members bewildered at this 'magic'. Another act had one of the performers screwing up a napkin and somehow he made into a living thing as it walked on his hand, made it levitate and then destroyed it with a match as became a beautiful rose. Very impressive!
You also get those classical magic act such as one of the female performers being strapped to a bench by two volunteers from the audience as a box is placed over her. She is then cut in half with a number of swords being plunged into the box before she is joined and gets out in once piece. Another variation of this act saw one of the artists completely cut in half by a chainsaw as the lower half of his body walked away which was not only quite creepy but fascinating to watch because later, both parts came back together.
Adding to the diversity of the performance are the artistic acts such as the beautiful shadow play protected onto a screen to the amazing ball with a light that floated and moved around the artist as he 'magically ordered it to move which was eerily beautifully. Needlessly to say, there were so many amazing acts and beautiful moments in The Illusionists: Direct from Broadway that it is almost impossible to say which was the most remarkable as all the acts were equally as amazing.
Furthermore, The Illusionists: Direct from Broadway is quite a glitzy presentation which really channels that clichéd magical show atmosphere with a touch of high-class Broadway thrown into the mix. Of course, the stars are the artists themselves who all have a set persona that they fill, including an alias such as The Trickstar (Paul Dabek) or The Conjuress (Jinger Leigh) to newcomer and Australia's very own Sam Powers who plays The Enigma and all bring a clever uniqueness to the performance. Add in music, lights, sets plus special effects and all in all, The Illusionists: Direct from Broadway comes together remarkably well!
Final Thoughts?
The Illusionists: Direct from Broadway receives a bold 5 out 5 that is a must see show and would I go see it again if I could? The answer is a BIG YES!
Highly Recommended!
For tickets, please visit http://www.ticketmaster.com.au/the-illusionists-direct-from-broadway-regent-theatre-melbourne-tickets/venueartist/155699/2542995
Gallery