Films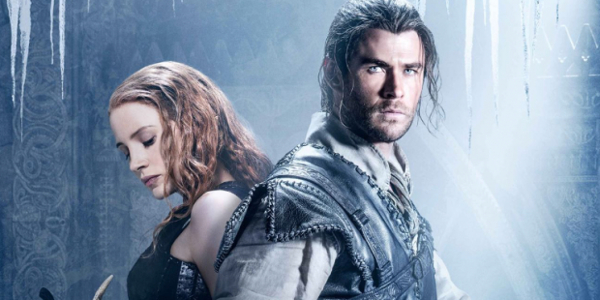 Published on April 17th, 2016 | by Damien Straker
The Huntsman: Winter's War – Film Review
Reviewed by Damien Straker on the 17th of April 2016
Universal presents a film by Cedric Nicolas-Troyan
Produced by Joe Roth
Written by Evan Spiliotopoulos and Craig Mazin
Starring: Chris Hemsworth, Jessica Chastain, Emily Blunt, Nick Frost, Rob Brydon and Charlize Theron
Music by James Newton Howard
Cinematography Phedon Papamichael
Edited by Conrad Buff
Running Time: 115 minutes
Rating: M
Release Date: the 7th of April 2016
Is there a film more undeserving of a sequel than 2012's Snow White and the Huntsman? It was a poor attempt to tell Snow White's story through the now overused Nolan-stylisations (see: colourless, gritty, humourless) and turn her character into a Joan of Arc warrior, played by Kristen Stewart. The film earned generally mixed reviews and earned under US$500 million dollars at the box office. Despite this lukewarm reception and Stewart and director Rupert Sanders moving on, Universal has for no reason other than commerce persisted with making Snow White a film franchise. This dismal and unnecessary follow-up, minus the main character of Snow White, is the prequel and sequel no one wanted. Winter War's redundancy is highlighted by the clash of its misleading marketing and its own title. The film has been promoted in its trailers and posters as being about its powerful female cast (featuring Jessica Chastain, Charlize Theron and Emily Blunt). But instead, two of the three of these major actresses are largely sidelined, substituted by a time-sapping action road trip, where Chris Hemsworth's Huntsman from the last film gets an origin story, a love interest and searches for the magical mirror from the original fairytale. Once you've caught your breath from too much excitement, ask yourself if any of this was information you needed to know or if movies now, especially sequels and origin stories, merely plug holes that weren't meant to be filled.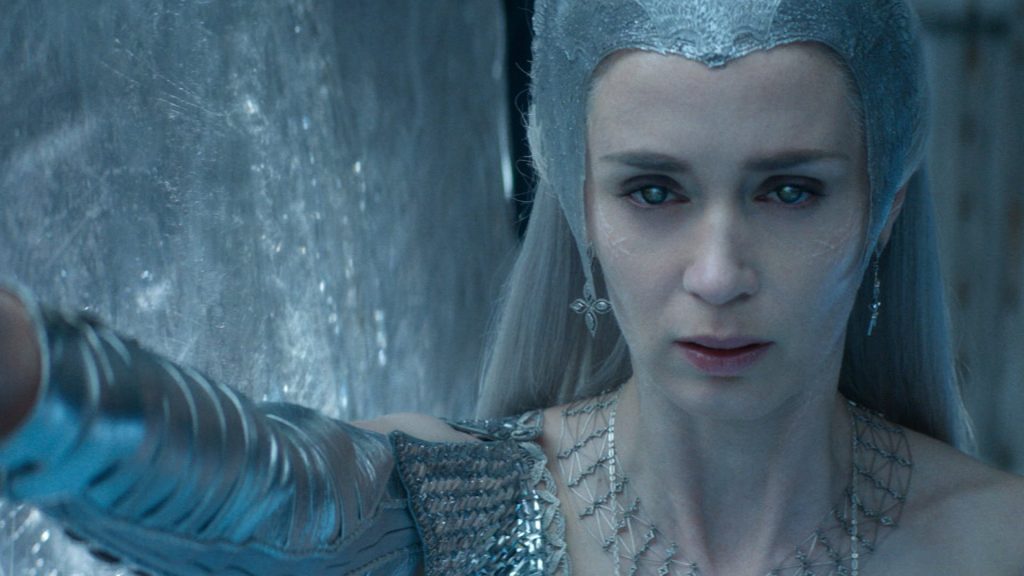 From its opening, the film is confused about whose story it is going to tell. It begins prior to Snow White, with Charlize Theron reprising her villainous role as Queen Ravenna and being paired with Emily Blunt as her sister Freya. Freya falls in love with a man who is already spoken for and is pregnant with his child. They vow to unite with one another but in a terribly bleak scene, smoke rises from the baby's cradle and Freya blames him for its death and kills him. Her motives from this point on in the script by Craig Mazin and Evan Spiliotopoul are complete nonsense. Freya is protective of children but this also sees her developing her own army of child soldiers to pillage various parts of the countryside. This idea, on top of the baby's death, proves they had no clue who this film was made for or who'd be watching it. Suddenly, the film loses interest in Freya and switches to two of her child soldiers, Eric (the future Huntsman) and Sara, who are raised not to fall in love or they will be punished or killed. As adults, Eric (Chris Hemsworth) and Sara (Jessica Chastain) secretly fall in love but for people who have been raised to avoid relationships, the carelessness in which they're caught together is both stupid and contrived. So too is the convenient way in which Eric and Sara are separated by a wall of ice in an ambush scene after Freya discovers them together and the lazy way the film glosses over Eric being left for dead by immediately jumping to the events after Snow White and the Huntsman. From this point, The Huntsman degenerates into a tonally unstable rip-off of The Wizard of Oz, as Eric is tasked with tracking the mirror before Freya can find it and is accompanied by unfunny comic input of two dwarves (Nick Frost and Rob Rob Brydon returning). The film resorts not once but twice to a 'I thought you were dead' device as Eric and Sara are reunited, while sidelining Theron who doesn't appear again to the end of the film and allowing Blunt to fall by the wayside as the main villain, which highlights how the only two interesting characters aren't the focus of the story.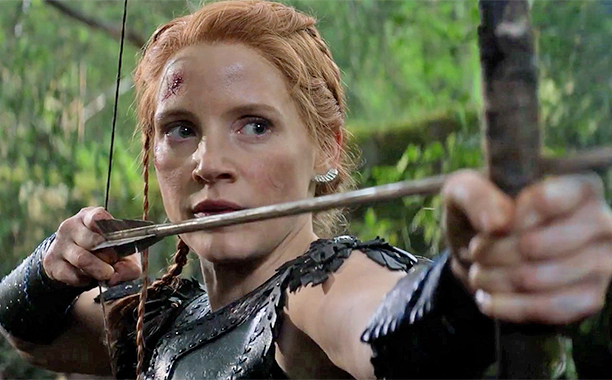 In terms of scale and the form of the content, The Huntsman is inconsequential, reflected in the hasty way the film has been slapped together by first-time director Cedric Nicolas-Troyan, who was the second unit director of Snow White and the engineer of its special effects. The film's exposition is lazily telegraphed by a voice over (supplied by Liam Neeson) and the early scenes are either shown through quick montages or mashed and compressed so badly that any investment in Eric and Sara's relationship is diluted. Their feelings for each other are rushed, changing mid-scene, meaning there's no personal conflict in between the action scenes. Despite having four heavyweights to pilot the film, including Hemsworth who financially is a serious Hollywood figure, these characters are little more than action figurines being pushed from one limp episode to another. Watching the film, there was a sad point of realisation that every beat was setting up for the next ambush or fight scene. The special effects in these fights are crummy because they look computer generated as rooms are filled with giant blocks of ice or shards fly across the room. By reducing the film's scale to a search for a mirror with magical powers, no doubt a metaphor for preserving Hollywood vanity, it feels small and meager, not the epic war movie suggested by the film's subtitle. The only saving grace here is that in the climax Charlize Theron finally brings some intensity, while all the all others continue to be underserviced by weak material and fall well below their best. It doesn't matter how good the cast is on paper because the basics, such as the script and the cut of the film, are not worthy of such good actors.
Summary: It doesn't matter how good the cast is on paper because the basics, such as the script and the cut of the film, are not worthy of such good actors.