Comics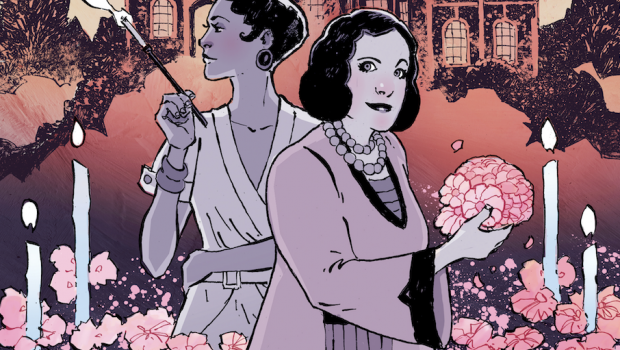 Published on May 14th, 2021 | by Lyla Saudi
The House of Lost Horizons: A Sarah Jewel Mystery #1 Comic Review
Summary: A murder mystery with an occult twist!
A locked-room murder mystery puzzles paranormal detective Sarah Jewell and her associate Marie Therese, when a weekend trip to a private island off the coast of Washington goes astray. Trapped by a storm and surrounded by myriad suspects who have gathered for an auction of occult items, the intrepid duo must unravel the supernatural mysteries surrounding the guests in hopes of uncovering the murderer! But all the while, bodies keep piling up, and at any moment Sarah or Marie Therese could be next!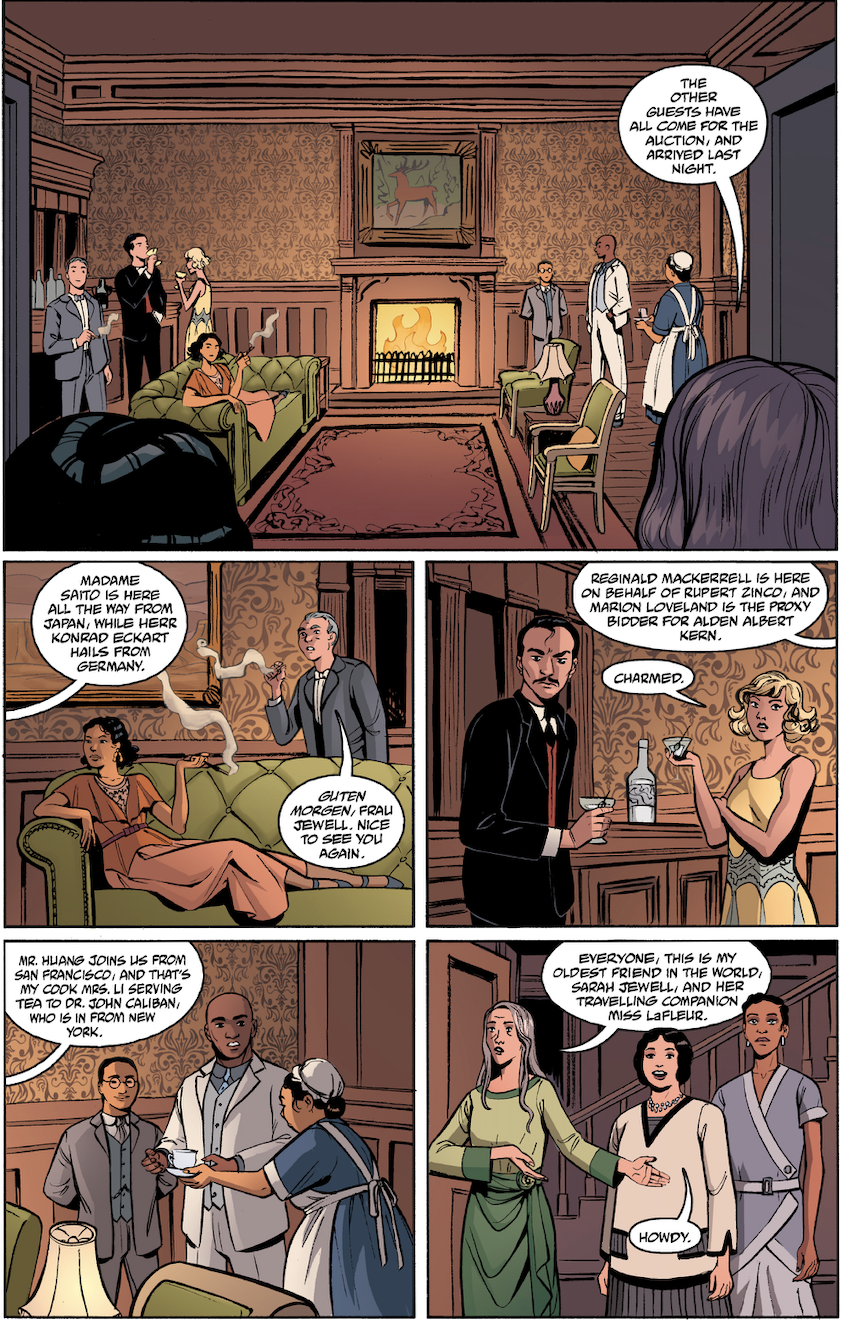 Set in the 1920's. The main character (Sarah Jewell) and her travel companion (Marie Therese) are called to an island mansion, to assess a large collection of occult items. Although, in this issue we never see what types of items they are, we do know that they have some value, as they are kept locked away in a vault.
After arriving to the island, Sarah and Marie-Therese are shocked to learn that Arlen, the family lawyer (and reason for their visit), is dead! But who could have killed him? No one had access to the locked study where the body was found, except for the lady of the house (Lilian) and the now dead Arlen! With a house full of visitors (eagerly waiting for the auction) arriving the day before the murder, anyone could be a suspect! And with no way to call for help thanks to the severe thunderstorm, it is now up to Sarah and Marie-Therese to investigate and find the killer.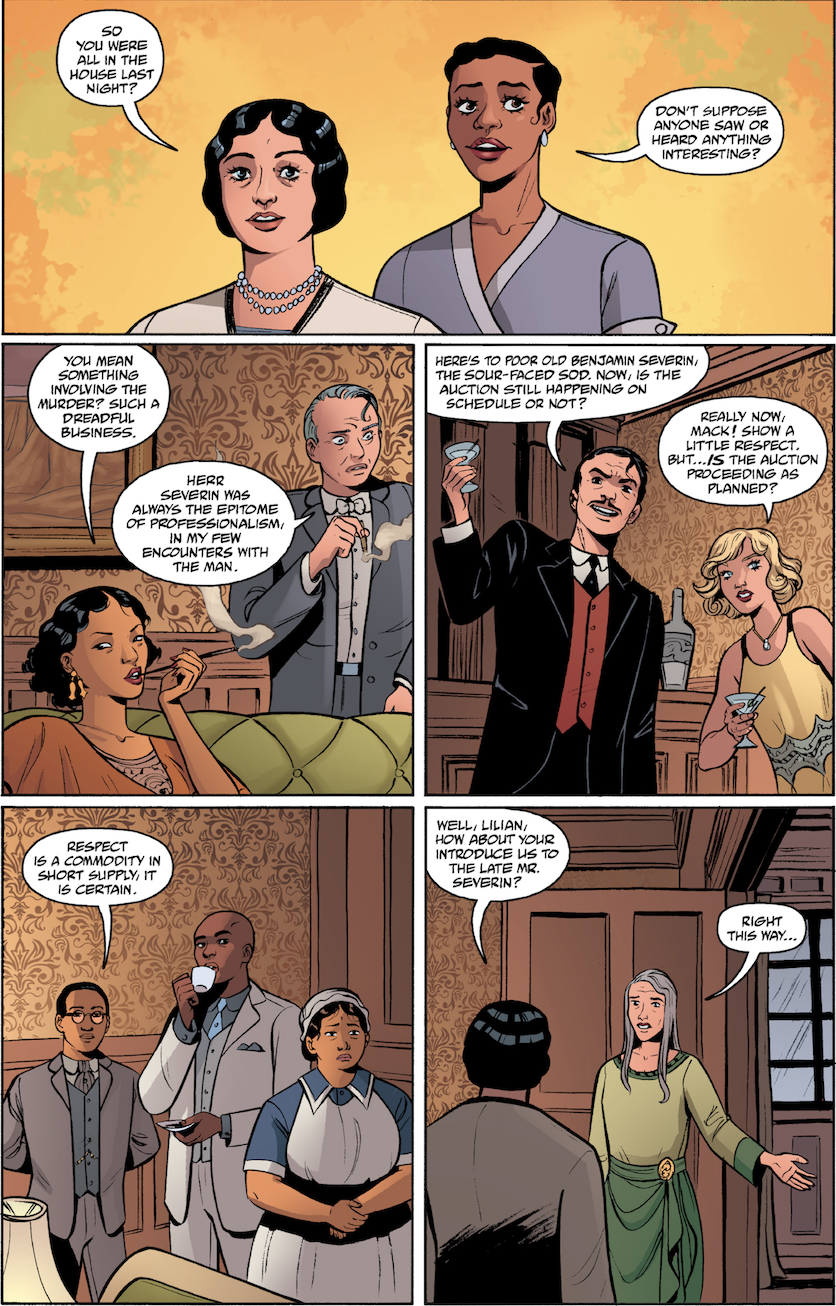 This first issue has the perfect set up for a classic whodunit murder mystery, with a tiny hint of the occult. However, the story doesn't have as much depth (or a sense of mystery) to it as I would have liked, and it seemed to lack in the character development department. With Sarah Jewell coming across a bit bland, it would have been great to know more about her background, and why she is important enough to investigate this crime. Maybe this will show up in future issues but all I can say for now is that I feel zero connection to her.
I liked the detailed artwork. The characters body languages are drawn with a lot of theatrical emotion and I love the 1920s fashionable outfits. The dialogue flows well with some interesting artistical layouts, which I enjoyed. The colorwork is also good. It showcases the gloom of the thunderstorm, brings the characters to life, and perfectly sets the tone for a murder mystery.
Final Thoughts?
Although it comes across as a simple mystery story (so far), there is a lot of room for growth. The cliffhanger ending was interesting, and it provided a glimpse into the supernatural elements promised. Hopefully the next issue dives deeper into who the characters are.
Comic Details
Writer: Mike Mignola and Chris Roberson
Artist: Leila del Duca
Colorist: Michelle Madsen
Cover Artist: Christopher Mitten
Genre: Horror, Crime
Publication Date: May 12, 2021
Format: FC, 32 pages, Miniseries
Price: $3.99