Comics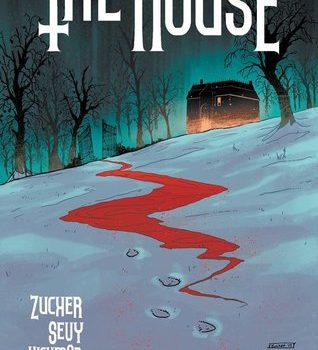 Published on July 23rd, 2021 | by Richard Banks
The House (Graphic Novel) Review
Summary: This WWII horror is a spooky treat, but a seven issue run isn't quite enough to satisfy the houses hunger
This World War II-era House of Leaves is wonderfully macabre, with plenty of gruesome bite, but a few pacing issues and some muddled character designs do a disservice to otherwise intoxicatingly grim storytelling.
Philip Sevy's choice to set his ominous ghost story during the Battle of the Bulge (a German-led Offensive in the Ardennes region that took place toward the climax of WWII) is a clever and unique take on the haunted house shtick, creating fresh hazards for the group of Allied soldiers we follow to face. After a fierce battle with a group of hunkered down Nazi's, the squad seek refuge from both the enemy and an oppressive snowstorm in an uncharted and seemingly abandoned mansion.
It doesn't take look for things to fall apart, with each soldier experiencing the shifting walls and horrors the seemingly inescapable house offers. It's reminiscent of Mark Z Danielewski's previously mentioned 2000 masterclass in unsettling horror, House of Leaves, but unlike the latter, The House doesn't lay its foundations deep enough to really give its genuinely creepy setting to breathe.
It touches on it, we get a few shots of the titular houses origins, but for a story that, really, is about the house and not the soldiers stuck in it, it would have benefited with a deeper, better constructed backstory. The issue lies with The House not being a long enough piece of fiction to fit all its genuinely interesting ideas in, and it would benefit from a sequel/prequel to flesh out the overall mythos.
Drew Zucker's artwork is superb however, and despite characters being difficult to decipher from each other, it's reminiscent of Charlie Adlard's Walking Dead work, and it compliments Sevy's penchant for lurid storytelling perfectly.
The House is an incredibly interesting series with plenty of scope, but its relatively short runtime does it a deservice. There's an opportunity here to build on the creepy, unsettling House and its origins, and I hope Zucker and Sevy get the opportunity to expand on their terrifying and original haunted house romp in the future.