News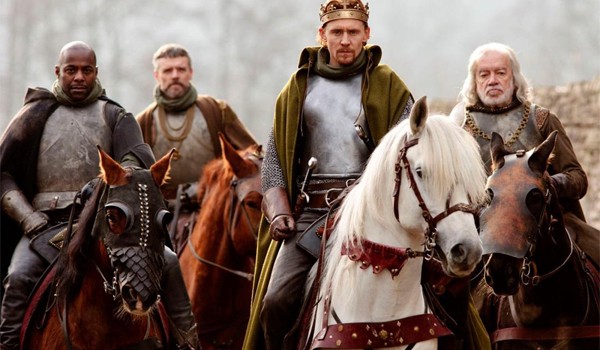 Published on July 23rd, 2015 | by admin
THE HOLLOW CROWN SEASON 1 PREMIERES AUGUST 19th
"Pound for pound, the drama in The Hollow Crown matches almost everything in Game of Thrones. At times, it's just as violent and bloody. The trump card of Hollow Crown, of course, is that it was written by Shakespeare." – New York Daily News Thursday, July 23, 2015 – Via Vision Entertainment is pleased to announce the release of The Hollow Crown.
A grandly scaled BBC production first commissioned as a landmark event to tie in with the Manchester Olympics, The Hollow Crown is unlike any modern Shakespeare adaptation. Nominated for 6 BAFTA AWARDS and winner of 4 BAFTAs including Best Leading Actor (Ben Winshaw), Best Original TV Music, Best Supporting Actor (Simon Russell Beale) and Best Sound Design, The Hollow Crown is an epic mini-series adaptation of Shakespeare's history plays, a seamless intertwining of Richard II, Henry IV Parts I and 2 and Henry V.
In line with the grandiose and ambitious production is an all-star cast the likes of which may not have been assembled before. It includes Ben Whishaw (Skyfall), Jeremy Irons (Batman v Superman), Tom Hiddleston (The Avengers), Julie Walters (Harry Potter), John Hurt (Snowpiercer), Patrick Stewart (X-Men) Simon Russell Beale (The Deep Blue Sea) among others.
Paced for a modern audience and inclusive of both seasoned Shakespeare fans and neophytes to the works, The Hollow Crown boasts undeniable cinematic scope while staying true to the source material. Backed by NBC/Universal and produced by Oscar winner Sam Mendes, the big budget production translates to screen in the lavish sets, period costumes, prodigious battles and sweeping detail.
Such was the popularity of the broadcasts a second cycle of films has been commissioned to air in 2016. With an 8.5 rating on IMDB The Hollow Crown promises to be a popular and enduring series. Hailed as a television event in Great Britian, The Hollow Crown comes to DVD August 19 through Via Vision Entertainment.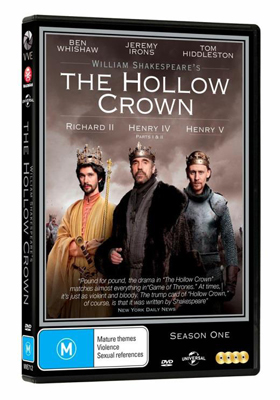 This is an Australian exclusive.