Films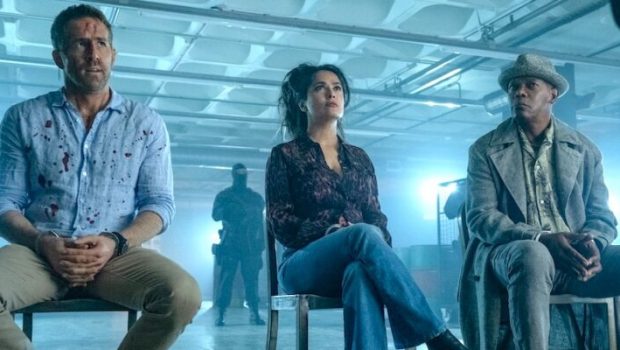 Published on June 22nd, 2021 | by Curtis Mayfield
The Hitman's Wife's Bodyguard – Film Review
Reviewed by Curtis Mayfield M-H on the 21st of June 2021
Roadshow Films presents a film by Patrick Hughes
Written by Tom O'Connor, Brandon Murphy, and Phillip Murphy
Produced by Matt O'Toole, Les Weldon, and Yariv Lerner
Starring: Ryan Reynolds, Selma Hayek, Samuel L. Jackson, Antonio Banderas, and Morgan Freeman
Music by Atli Örvarsson
Cinematography: Terry Stacey
Edited by Michael J. Dutchie and Jack Hutchings
Running Time: 116 minutes
Rating: MA15+
Release Date: the 25th of June 2021
The Hitman's Wife's Bodyguard is funny, violent, and features one of the worst movie titles in history. However, its ability to not take itself seriously means this is part of the plan. Australian director Patrick Hughes (Red Hill, 2010) hit box office gold with The Hitman's Bodyguard (2017). As Hollywood rules apply, he has reunited the gang for a new and improved adventure. This includes the character Darius Kincaid, a psychopathic hitman played by the motherf**ker himself Samuel L. Jackson, and his equally unstable and violent wife, Sonia Kincaid. Selma Hayek has a ball as Sonia, a crazed killer searching for her husband across Europe.
Watch out because Sonia is ready to bring life into this world and take out a few blockhead henchmen along the way. Rounding out the trio is the couple's kidnap victim/friend, Michael Bryce, a by the numbers bodyguard played by Ryan Reynolds. Michael does not possess the same taste for blood as the other two characters. In fact, the sensitive guarder of bodies has 'won therapy' and has taken a break from flying bullets and car cashes through Europe to read The Secret at an Italian resort. That is until the Kincaids come shooting into his life again. Michael has adopted a non-violent approach to his life since he 'cries sometimes when he's awake' and subdues his enemies with non-lethal tactics. The Kincaids refuse Michael's softer approach as the laughs and bodies pile up.
Dissecting this movie's plot is like cutting open a lab rat that never existed. The script is threadbare, meaning it is left to the heavy hitting actors to carry the audience through whatever is happening on screen. The gist of it all is there is a Bond-esque villain planning world domination (a big step up from the bad guy's plans in the last movie) in the form of a dapper, silver fox played Antonio Banderas. The actor perfectly fits the part of Aristotle Papdopolous. The soft designer robes his character wears looks like they came from the actor's personal collection. The ragtag team of Jackson, Hayek, and Reynolds are sent by Interpol to stop Aristotle and of course the odd-threesome begin exchanging zingers and bullets. A lot can be said about Reynold's dry wit and dirty vocabulary. This is where this review gets tricky because there is a lot to dislike about this movie.
The plot is both super thin and bogged down by too many supporting characters. Frank Grillo is an amazing actor and has enough charm to be a leading man. Yet his tough talking Yank cop stuck in Europe trope should have been left in the 1990s. The same can be said about Caroline Goodall's character of a snooty British Interpol brass. A movie that sums up the plot in its bloated title does not need to be almost two hours long and feature this many characters. Director Hughes also excessively spoon-feeds the audience with constant flashbacks to the prequel, which is pointless for a shoot 'em up movie. Just let the swear words and bullets whizz by, my dude! Once you trim the fat and focus on the film's meat and potatoes, the comedic chemistry between the three leads, you will have a good time.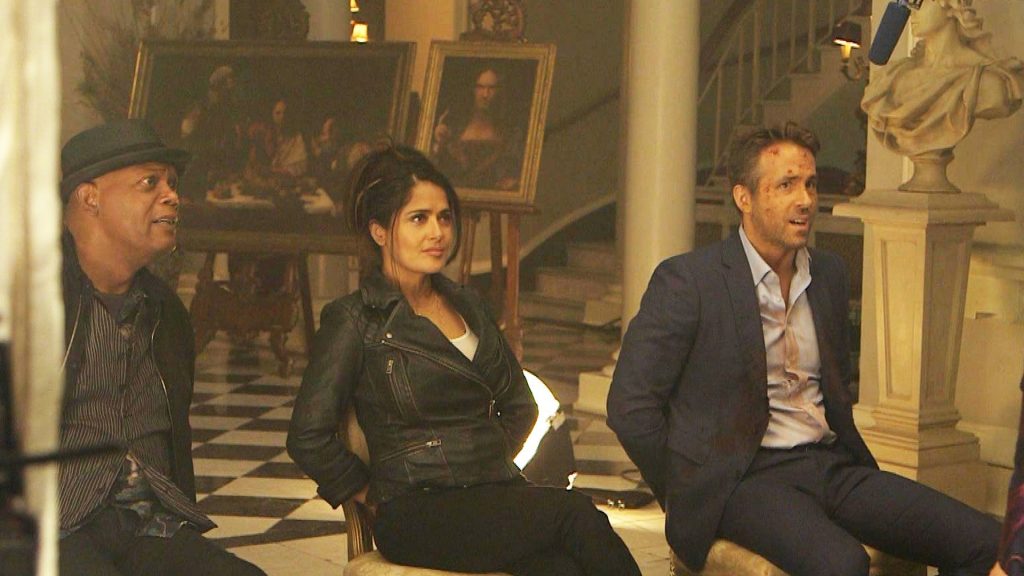 As much as I wanted to hate this movie, the lead actors are too charming and funny to dismiss it. If the first film was about forgiveness, the sequel is about family. Darius and Sonia want a child despite their addiction to violence and 'biology' as Michael bluntly puts it to the middle-aged couple. The most important thing to know about The Hitman's Wife's Bodyguard is it features lots of good jokes and buckets of blood. There is not much else to say, except perhaps that Morgan Freeman has a cameo. Though his role is better left unsaid for now. The movie won't top any end of year 'Best Of' lists. However, it is a fun little movie packed with a funny cast who play well together and undertake some very cool cinematic action. Deadpool would be proud.
Summary: A fun little movie packed with a funny cast who play well together and undertake some very cool cinematic action.