Films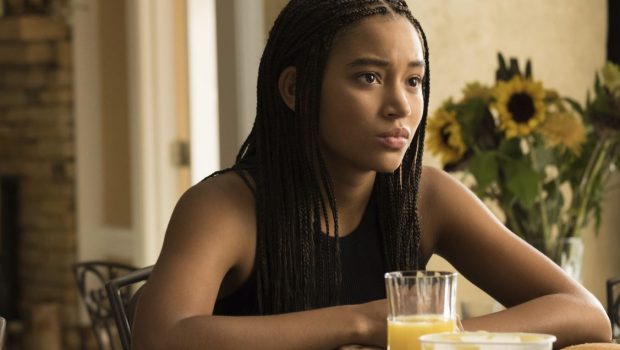 Published on January 30th, 2019 | by Damien Straker
The Hate U Give – Film Review
Reviewed by Damien Straker on the 30th of January 2019
Fox presents a film by George Tillman Jr.
Produced by Robert Teitel, George Tillman Jr., Marty Bowen and Wyck Godfrey
Screenplay by Audrey Wells based on 'The Hate U Give' by Angie Thomas
Starring Amandla Stenberg, Regina Hall, Russell Hornsby, K. J. Apa, Algee Smith, Common, Anthony Mackie, Dominique Fishback, Sabrina Carpenter, TJ Wright and Lamar Johnson
Music by Dustin O'Halloran
Cinematography Mihai Malaimare Jr.
Edited by Craig Hayes and Alex Blatt
Running Time: 130 minutes
Rating: M
Release Date: the 31st of January 2019
The story of how African American author Angie Thomas wrote her best-selling Young Adult novel 'The Hate U Give' is as good as the film. In other words, it's very impressive. She was a church secretary while writing the story. While her other pieces were rejected, the authenticity of 'Hate' resonated. Thomas, thirty-one, grew up in Jackson, Mississippi. She witnessed drug dealings and shootings, but her mother motivated her to aim higher.
Her novel's premise mirrors the Black Lives Matter movement, where people of colour protest racial intolerance and demand that white cops are held accountable for their violent actions. The novel's impact is apparent in how it rattled the back teeth of conservatives. The Katy Independent School District in Texas banned the book from the school library. Similarly, a police union in South Carolina pressured a school to remove it from their reading list.
The novel's authenticity and political aims have been preserved for this riveting adaptation. The film belongs to the 'Young Adult' genre but takes the tropes of individualism, personal voices, and self-expression and refreshes them. They are dramatised in the minefield of racial tension in contemporary America, starting with a fictional neighbourhood called Garden Heights. The insights into a black experience within a fractured society makes for engrossing viewing and transcends the possibilities of the YA film genre.
Starr Carter (The Hunger Games' Amandla Stenberg) is the film's black hero. She attends a predominantly white high school because her parents, Lisa (Regina Hall) and Maverick (Russell Hornsby), thought it would be safer for her. Her dad stresses to her, her little brother (TJ Wright) and her step-brother, Seven (Lamar Johnson), to know their rights. However, she resists her black culture so that the white kids will not characterise her as a black stereotype. She also has a white boyfriend, Chris (K. J. Apa), but she is struggling to find time for them to be together.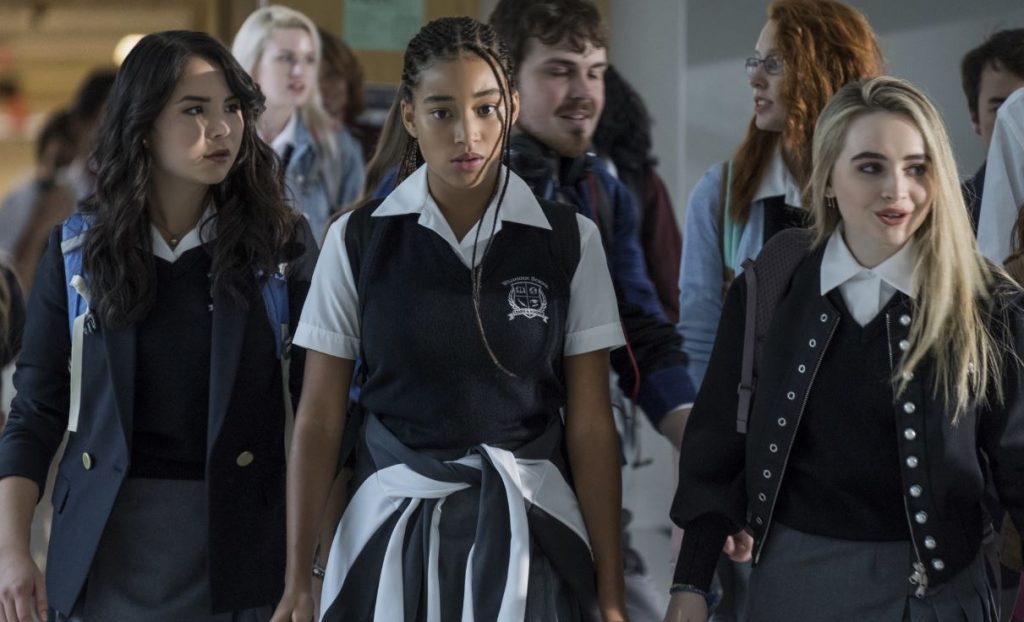 One evening, she attends a party with Kenya (Dominique Fishback) and is reunited with her childhood friend, Khalil (Algee Smith). Gunshots at the party force Khalil and Starr to leave together. They drive to safety but are pulled over by a white police officer. Khalil picks up a hairbrush out of the vehicle and is shot dead by the officer who thinks he is holding a gun. The incident forces Starr is forced into an impossible moral dilemma.
Chris and Starr's two school friends, Maya (Megan Lawless) and Hailey (Sabrina Carpenter) do not know she witnessed the murder. Starr wants to publicly address the crime so that the cop is charged for murder. However, her mother stresses that people who speak up are harassed. The situation is also tepid because Uncle Carlos (Common), Lisa's brother, is a police officer. Furthermore, Starr is intimidated by Kenya's father, King (Anthony Mackie), the head of the King Lord gang who has history with Maverick. He doesn't want her speaking publicly against the activity of his gang in Garden Heights.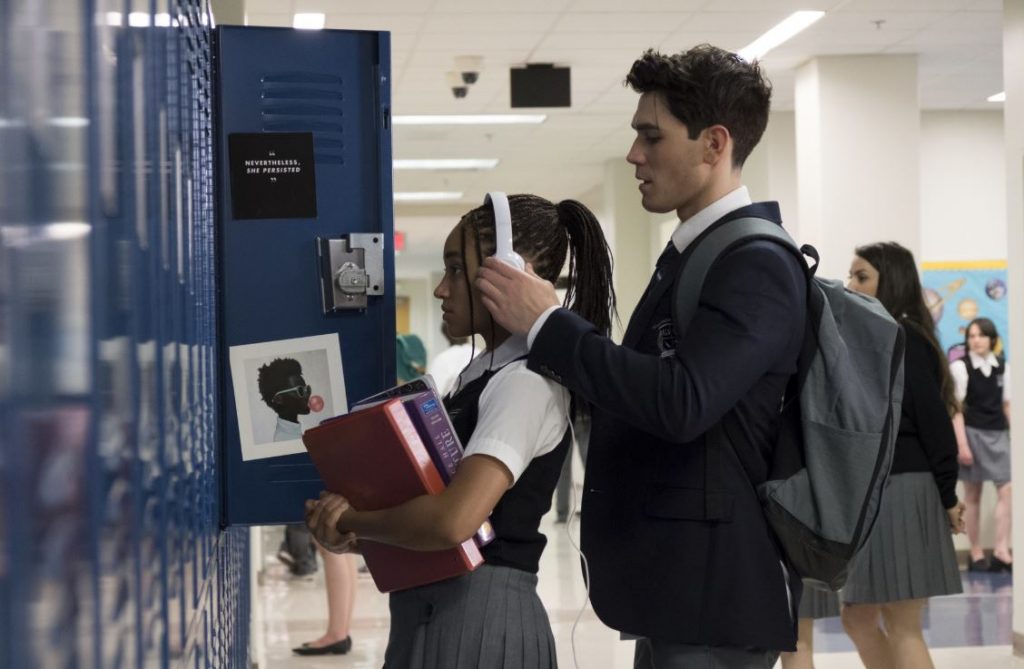 The peak of Hate's thematic aims is the police attack scene. Director George Tillman Jr.'s execution of the sequence ensures it ranks as one of the best scenes in recent memory. He takes the time to build the rapport between Starr and Khalil, which raises its emotional potency. They talk about their memories growing up together, such as how much they loved Harry Potter. They reminisce and then brush with an unlikely future through a kiss. The sequence encompasses humour and sweet romance and benefits from the note-perfect performances from Amandla Stenberg and Algee Smith. The way the moment turns tragic is terrifying and truthful of how these murders ruin the lives of innocent people.
Hate attacks the outcome of this incident from several interesting angles. It shows that the media is distracted by the dubious history of victims rather than demonising the cops who murder people. It is typical of the prejudicial reporting one would see on Fox News or A Current Affair. Hate also shows that white people empathise with the wrong side because of their skin colour. Starr's friend Hailey (white) subverts the 'mean girl' stereotype because they are friends for a long period only for her increasingly ignorant comments to strain their bond. Even Starr's uncle, a black cop, concedes that its systematic how cops treat people of colour differently during an investigation.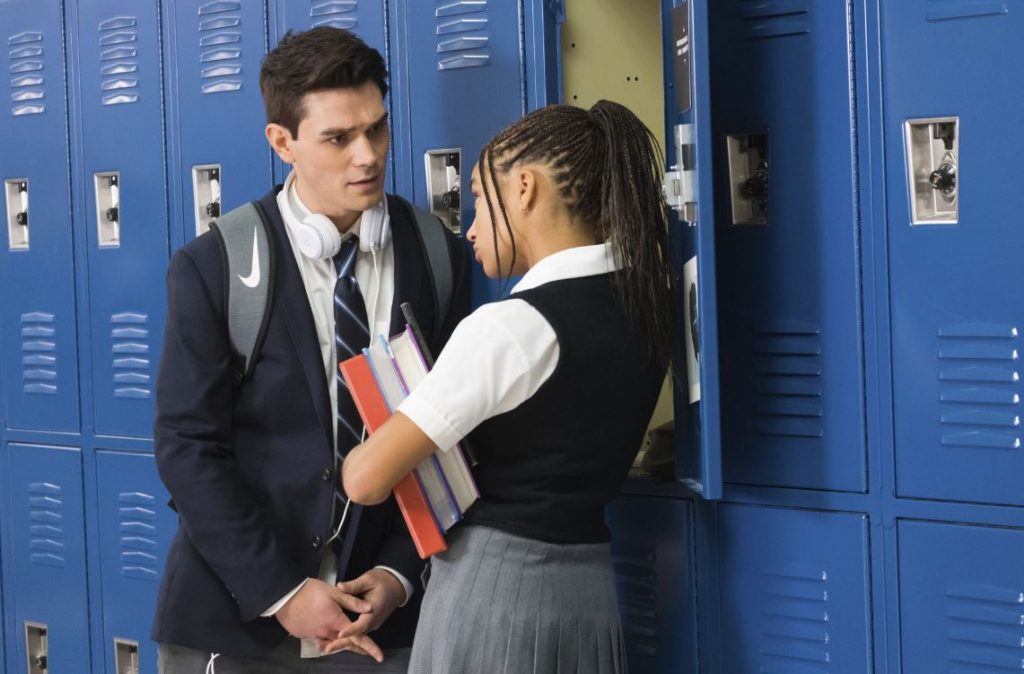 The performances are universally strong. Amandla Stenberg gives a charismatic, career‑making turn as Starr and embodies an important new black hero. She encompasses an emotional change from someone embarrassed by her identity to a young woman who understands the necessity for bravery in the face of social injustice and crime. Her expressions and humour when sharing time with the other black characters is joyful. There is empowerment in her predictable character arc but also in the comfort these black characters share with one another.
Russell Hornsby as Starr's father expresses a furious passion for protecting his children. He used to be involved with King's gang, which motivates him to stop the cycle of violence from affecting his children. One of his sons is to another woman because he and his current wife split briefly, and he spent time in gaol. The other family members are funny, vulnerable and believable. There's a great scene where Starr brings Chris home and introduces him to her dad who doesn't know he is white. At an early screening, the audience was laughing aloud.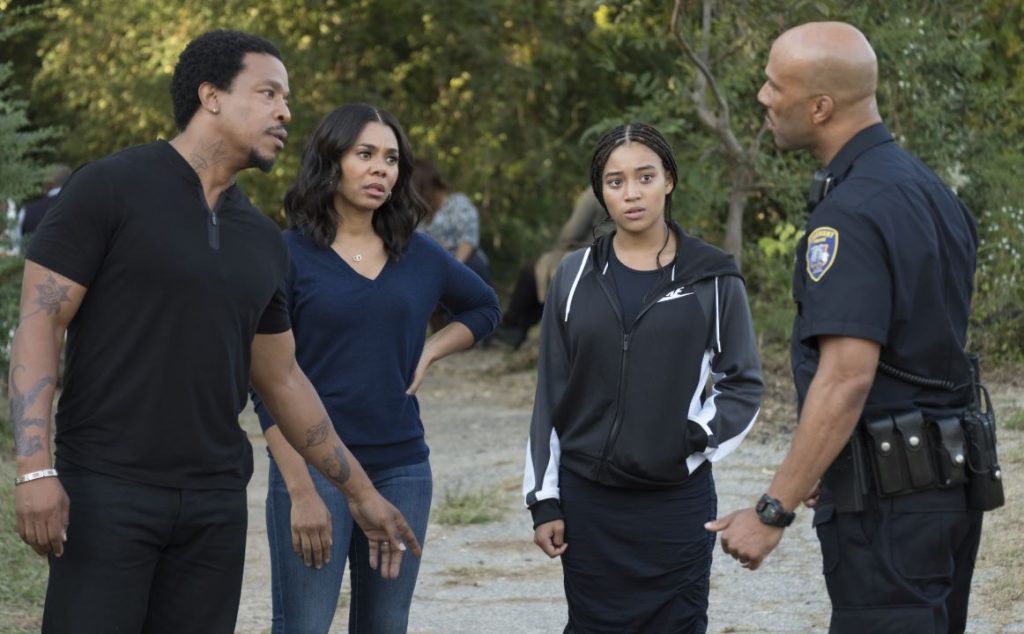 With minimal dialogue Anthony Mackie brings great menace to his role as King. K.J. Apa as Chris is understandably confused about what is happening with Starr but retains our sympathy by showing he is caring and can take responsibility when she needs help. Tillman Jr.'s only mistake is overusing Starr's voice over. The early scenes could have unfolded without her voice explaining what is happening on the screen. Nonetheless, the contrast between the voice over and her dialogue creates a meaningful distinction between her repressed inner thoughts and her high school voice.
The film's intense, breathless climax highlights the care we have for the characters. It reminds us of the film's title too, the meaning of which is explained. 'The Hate U Give' is a reference to the 'Thug Life' tattoo of deceased rapper Tupac Shakur. It is an acronym that states, 'The Hate U Give Little Infants Fucks Everyone'. It means that if you chastise people from a young age through discrimination you are intoxicating the whole world around you. The ignorant racists who tried to ban the book should take heed.
Summary: Director George Tillman Jr.'s execution of the police attack sequence ensures it ranks as one of the best scenes in recent memory.