Comics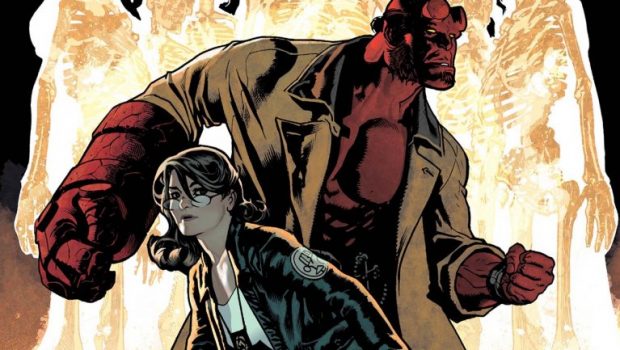 Published on September 27th, 2019 | by Alex Novus
THE HARVEY AWARDS ANNOUNCE 7 HALL OF FAME INDUCTEES FOR 2019
The Harvey Awards Steering Committee is proud to announce the 2019 inductees into the Harvey Awards Hall of Fame before the annual event held at New York Comic Con. With seven recipients being honored, this group represents the largest of all Hall of Fame induction classes in the 31-year history of the Harvey Awards. It includes two of the most respected contemporary creators in their field, Mike Mignola (Hellboy) and Alison Bechdel (Fun Home), and five of Harvey Kurtzman's core 1950s MAD collaborators, who will be posthumously inducted: Will Elder, Jack Davis, John Severin, Marie Severin, and Ben Oda.
Additionally, the Comics Industry Pioneer honor will be presented to Maggie Thompson for the work she and her late husband, Don Thompson, did as longtime editors of the Comics Buyer's Guide.
"My very first comic industry award was the 1994 Harvey Award for Best Artist on Hellboy. I never expected that award, but I took it as a sign that I might actually be on to something," says Mignola. "It is a great honor to be inducted into the Harvey Awards Hall of Fame—something I certainly never could have imagined. And I'll take it as proof that I haven't embarrassed myself too badly over the last 25 years."
"As someone who existed for so long on the crumbling newsprint margins, it's surprising and a bit unsettling to receive this recognition from the corridors of comics power. Where did I go wrong?" says Bechdel. "No, just kidding. If you had told me when I was reading Kurtzman parodies in my playpen that I would one day be inducted into the Harvey Awards Hall of Fame, I would have plotzed. I cannot imagine a greater nor a more furshlugginer honor."
Paul Levitz, longtime DC Comics executive, including 17 years as the publisher of MAD magazine, who will induct Elder, Davis, the Severins, and Oda during the ceremony, adds, "Inducting these five contributors to the Harvey Awards Hall of Fame is both redundant and obvious. As collaborators with Harvey on so much of the great work he did at E.C. Comics, they are already enshrined in every comics scholar and fan's hall of fame as legends, so they are certainly deserving of the honor of formal induction here. I had the honor of working and being friends with three of the five (Jack, Marie, and the inimitable Ben), and loved the work of the other two (Will and John). I can confidently say that they'd be amazed and ever so pleased."
The inductees will be recognized at the 31st annual Harvey Awards ceremony on Friday, October 4, at 8:30 p.m. at Hudson Mercantile.
For more information about the 2019 Harvey Awards, please visit harveyawards.com or the Harvey Awards' social media pages (Facebook and Twitter).
For a full list of content at New York Comic Con and more information, please visit NewYorkComicCon.com and NYCC's social media pages (Facebook, Twitter, and Instagram).