Events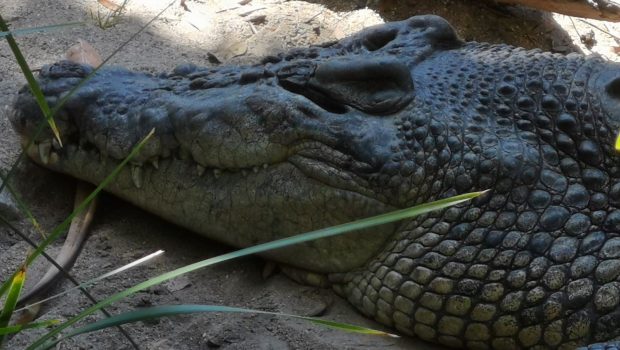 Published on August 27th, 2019 | by Andrew Bistak
The Hartley's Crocodile Adventures Experience (2019)
Located about 40-minutes from Cairns Australia is Hartley's Crocodile Adventures that is one of the largest wildlife attractions in North Queensland and while it celebrates the crocodylinae, more specifically the estuarine crocodile (aka saltwater crocodile), it is the home to other animals such as koalas and Komodo dragons to name a few of the creatures which grace this spectacular park. Hartley's Crocodile Adventures also embraces ecotourism with its conservation and adds interactivity to its edutainment experience.
Walking through the park gates of Hartley's Crocodile Adventures is like walking through Jurassic Park as its owners, the Freeman Family have made this wildlife attraction quite an authentic "adventure" as you see these animals in their "natural" environment. While this wildlife park is man-made, the attention to detail is unparalleled as you see these crocodiles living quite comfortably around this 10-hectare park. Upon entry, you are also greeted by the friendly staff who give you a map of Hartley's, including tickets to the boat cruise.
However the stars of this wildlife park are the crocodiles themselves and seeing them "up close and personal" really makes you appreciate these magnificent creatures and it's understandable how these apex predators have survived so long. We also learn that during the boat cruise on Hartley's Lagoon, crocodiles in the wild can lay up to 50 eggs, only a few survive (if at all any) and in this lagoon, the younger males try to out dominate each other but like life, there's always someone bigger out there like Boris.
Furthermore, Hartley's Crocodile Adventures is a destination for all ages with plenty of presentations and places of interest to visit throughout the day. These include self-guided walks such as the Cassowary Garden or the Gondwana Gateway to informative demonstrations such as crocodile feeding or the slithering snake show. As you can see from the timetable below from Hartleys Crocodile Adventures and needless to say, there's plenty on offer;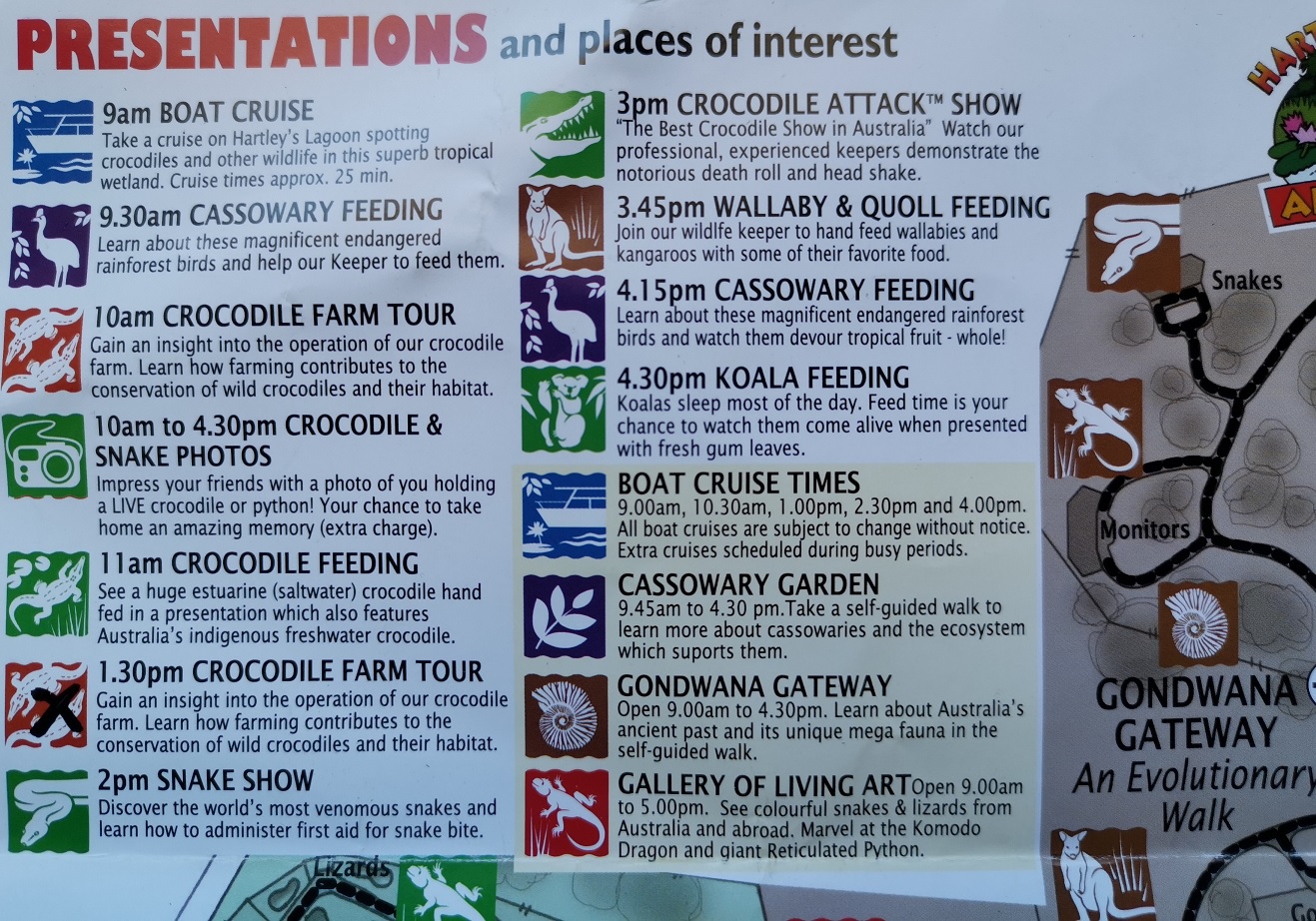 In terms of planning your time at Hartley's Crocodile Adventures, you need at least half a day to experience all the attractions available and if you wanted to take your time, a full-day would definitely do it without rushing around. Thankfully Hartley's has two restaurants available (Lillies Restaurant & The Gondwana Grill) with lots of delicious foods and drinks on offer, including snacks. For souvenirs, there is a gift shop available and for something more personal, there are photo opportunities with koalas, snakes, and even a baby crocodile.
The three main standout attractions for us was the boat cruise, the crocodile feeding and a tour of the crocodile farm. The boat cruise was a fascinating slow water adventure through this man-made lake system that allowed us to see these amazing creatures in something that was very similar to their own environments in the wild. It was also filled with interesting information thanks to the driver who joked that if a crocodile jumped on the boat, they would not get the past the rope and she would wrestle it back into the water. She also used bait to attract the younger crocodiles to it in order for them to breach the water. Add in some fun facts about their personalities and the pecking order in this area and all in all, it was a thoroughly enjoyable cruise.
The crocodile feeding presentation was also another jaw-opening moment as one of these living dinosaurs was fed by a keeper which just highlights how massive these estuarines crocodiles are. Finally, the crocodile farm provided a commercial insight into the breeding of these creatures who are eventually humanely slaughtered that help with funding Hartley's Crocodile Adventures, including conservation through the sale of their meat and after products such as leather. The guide also warned some of the tourists that if they don't agree to the farming of crocodiles, they can leave this part of the park but like he said, if we eat meet, there's nothing different to what Hartley's is doing here.
Final Thoughts?
If you're holidaying or visiting Cairns in Australia, Hartley's Crocodile Adventures is a must visit destination that really showcases these amazing creatures, especially the estuarines crocodiles who call North Queensland home. It's also the only place in the world that you will see so many of these crocodiles together and best of all, Hartley's Crocodile Adventures is a place for everyone for all ages, whether backpackers, couples, families or those from overseas, it's a truly fascinating destination in Far North Queensland.
Gallery
For more information on Hartley's Crocodile Adventures, please visit https://www.crocodileadventures.com/