Games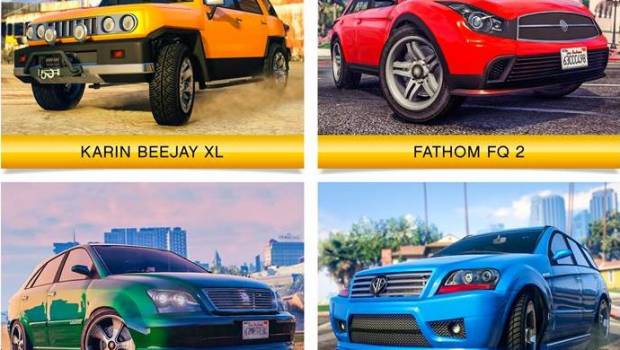 Published on September 12th, 2018 | by Admin
The GTA Online Southern San Andreas Super Autos Inventory Update
Four new vehicles hit Southern San Andreas Super Autos' inventory this week, including the Benefactor Serrano, Fathom FQ, Karin BeeJay XL and Emperor Habanero, along with a range of opportunities for players – from bonus items to Double GTA$ and more.
Unlocks also continue this week, with the Gefängnis T-Shirt and Sessanta Nove Multi-Color Livery for the Mammoth Avenger available to players who log in before September 17th.
Trading Places (Remix) also continues to deliver double rewards, in addition to Business Battles, a 2x Popularity Boost for completing Nightclub Management Missions, and more all through September 17th .
You've been casually stealing them ever since you first set foot on the streets of Los Santos. But now you're a crime lord with more underground garage space than you know what to do with, it's time you paid your respects: and what better way to show you remember where you came from than calling every one of these classics your own?
Head to Southern San Andreas Super Autos and take delivery of these fine automobiles today:
Log in to GTA Online any time through September 17th and unlock the Gefängnis T-Shirt to complete your nightclub ensemble. Plus, add some flair to your airborne command unit by logging in to unlock the Sessanta Nove Multi-Color Livery for the Mammoth Avenger during the same period.
The arena based bloodsport that is Trading Places (Remix) continues to pay out double rewards this week – suit up as the heavily armored Juggernaut or morph into the wild-eyed Beast as you reap 2X GTA$ & RP through September 17th.
Use your Super Jump ability to quickly vault obstacles and spring an attack from above or behind.
As any established entrepreneur will tell you, Business Battles are a great way to resupply your various enterprises on the cheap – and stomp out a few rival CEOs along the way. This week only, the value of all contested goods in Business Battles is being doubled to help keep your warehouses fully stocked and your profits on the rise.
Nightclub owners also see a 2X Popularity Boost for spreading the good word and completing Nightclub Management Missions, while underground arms dealers gain a 25% Speed Boost on Gunrunning Research & Manufacturing.
Turn a previous tenant's financial woes to your advantage this week courtesy of Maze Bank Foreclosures, who are offering a 25% discount on Nightclubs, Add-Ons & Renovations, as well as 40% off all Bunkers:
Whether you're looking to take to the skies with the Imponte Deluxo or leave competitors in the dust with the Pegassi Tezeract, a variety of high-end and unique vehicles are on sale at a substantial discount this week:
And give yourself an edge on the battlefield with discounts on Mk II Weapon Upgrades, Body Armor and more:
For more information on this week's events and bonuses, head to the Social Club Events page.