Events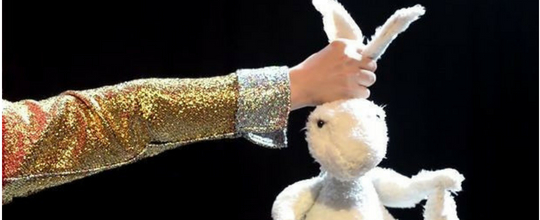 Published on June 15th, 2018 | by Admin
The Great Illusionist at Arts Centre Melbourne
Audiences are invited to jump into the enchanting tale of a young boy who longs to become a brilliant magician when Netherlands' acclaimed Het Filiaal theatermakers present The Great Illusionist at Arts Centre Melbourne's Fairfax Studio from August 4 – 5. The clever theatre production designed for families and children aged 8 years and above is a tale of daring and willpower, the importance of a good assistant, and of course, a white rabbit.
Packed with cleverly executed illusions and tantalising tricks, it proves there's more to magic than meets the eye. The rich, multilayered production features live music, a crazy rabbit chase, world-renowned hand puppets, a moving romance, impressive illusions and marvellous tricks. Made up of three intersecting story lines, audiences are given an insight into life backstage for a clever rabbit and magician's assistant, a young boy's dreams of being an illusionist and three large-scale illusions.
The Great Illusionist director and writer Monique Corvers says the creative team was fascinated by the backstage side of magic and read many books on neurology and magic to understand how the brain computes illusions.
"Scientists and magicians are in some ways the same type of people. The difference is that scientists explain how it works,'' Corvers says.
"As a theatre company, we weren't interested in making a 'Glitter & Glamour Magic Show.' We weren't attracted by the display window but in what it really takes to do magic well, all the effort that goes into it to practice tricks over and over and over again, just to fool people. And of course there's the drama of the assistant who in reality often executes the tricks, but doesn't get the credit for it."
Het Filiaal theatermakers is a large theatre company for families and primary school-aged children based in the Dutch city of Utrecht. The artistic team consists of (artistic) director Monique Corvers, composer Gábor Tarján and puppet maker and performer Ramses Graus. Its productions have been performed across the Netherlands and the world including Sydney, Shanghai, New York and Moscow. The company's internationally touring works include Baron Rabinovitsj, Captain Lindbergh's Ocean flight, House/Haus, Miss Ophelia, The Secret of Q and Falling Dreams. Graus was honoured with the prestigious Golden Cricket award at The Netherlands Theatre Festival for the production which was considered the 'most impressive stage performance in youth theatre' in 2015.
"A perfect balance between humour and drama." De Theaterkrant
"Amazing tricks, nimble fingers and philosophical questions." De Volkskrant
To view a video of the show click here 
Cast and credits
Writer and director: Monique Corvers
Music: Gábor Tarján
Performers:  Ramses Graus, Henke Tuinstra & Gábor Tarján
Set and lighting design: Claus den Hartog
Costume design: Lisa Louwers
Arts Centre Melbourne presents Het Filiaal theatermakers
The Great Illusionist
4 – 5 August
Saturday 4 August – 2pm, 6pm
Sunday 5 August *11am, 2pm
*Auslan Interpreted Performance
Arts Centre Melbourne, Fairfax Studio
Recommended for children aged 8+
Book: artscentremelbourne.com.au or 1300 182 183