Films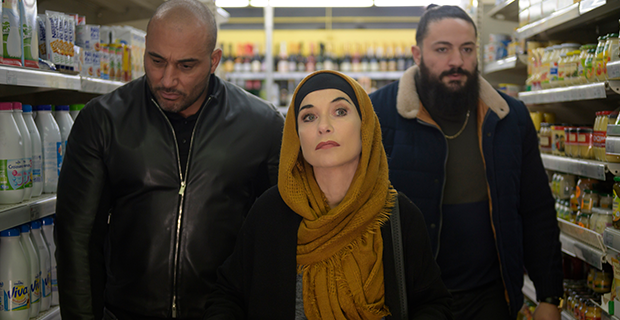 Published on May 11th, 2021 | by Tim Chuma
The Godmother (2020) Review
Summary: A fun French comedy as long as you don't think too much about the premise you will have a lot of fun.
When police interpreter Patience (Isabelle Huppert) finds out that the drug courier bringing in a big shipment from Africa is the son of her mother's carer, she sees an opportunity to set herself up and get help out some other people along the way. The only problem is that she does not know how to sell drugs but does have connections being that she is in the police and her father made his money "from things you would not agree with" as she puts it to the police chief who is also her lover Phillipe (Hippolyte Girardot).
If you look past the fact that a lot of this movies seems like a bit of a stretch, for instance they can't recognise Mama Weed's voice despite Patience being in the room with them all day, it is quite fun. The movie was called Mama Weed overseas which I think is the better title.
This movie is very French in its comedy style and if you are a fan of Isabelle Huppert you will enjoy it as she plays the part well and seems to enjoy having a double life. Hippolyte Girardot is an enjoyable doofus who really has no clue even when Patience has a case of money under her bed and suddenly wanted a retired drug sniffing dog when they started working on this particular case.
While it does have the crime elements it is not overdone and action packed like a lot of these sorts of stories seem to be lately. Due to Mama Weed being an outside in the crime world the police seem to be at a loss to try and find her. Even Patience's land lady knows what she is doing and gets in on it by helping her launder money.
I would recommend this one to fans of French comedies and who want to see an older leading lady in a starring role who holds her own against the police and the criminals.
Trailer:
Film details:
Director: Jean-Paul Salomé
Writers: Hannelore Cayre, Jean-Paul Salomé, Antoine Salomé
Starring: Isabelle Huppert, Hippolyte Girardot, Farida Ouchani, Liliane Rovère, Iris Bry, Nadja Nguyen, Nadja Nguyen, Rebecca Marder, Rachid Guellaz, Mourad Boudaoud
Country: France
Genre: Comedy/Drama/Crime
Length: 104m