Films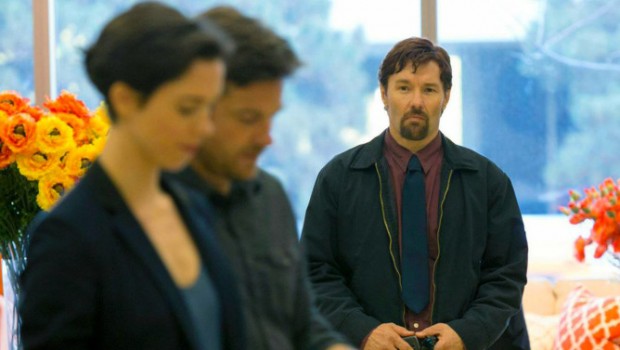 Published on August 26th, 2015 | by Curtis Mayfield
The Gift – Film Review
Reviewed by Curtis Mayfield M-H on August 14th, 2015
Roadshow Films presents a film by Joel Edgerton
Written by Joel Edgerton
Produced by Jason Blum, Joel Edgerton & Rebecca Yeldham
Starring: Rebecca Hall, Joel Edgerton & Jason Bateman
Music by Danny Bensi & Saunder Jurriaans
Cinematography: Eduard Grau
Edited by Luke Doolan
Running Time: 108 minutes
Rating: M
Release Date: August 27th, 2015
It's nice when local talent makes its way overseas, bringing a new humble charm to Hollywood's sugary image. Sydney's own Joel Edgerton is now a triple threat as he not only stars in The Gift but is also the sole writer and first-time director of the film. This psychological thriller asks whether or not everything that happens in the past stays there. For prodigal son Simon (Jason Bateman) and his wife Robyn (Rebecca Hall), this question gets raised a lot. The couple has moved back to California after a miscarriage forces them to leave Chicago and they attempt to find a new start back in Simon's old stomping grounds. A chance encounter has Simon running into high school acquaintance Gordo (Joel Edgerton). Gordo doesn't seem wrapped too tight as he begins to visit the beautiful couple a little too frequently, often leaving them unnecessary gifts at their doorstep. Robyn bares the brunt of Gordo's weirdness as she stays home during the day. She manages to look past his strange ways and sees his constant visits as a cry for help—though we can see there's something sinister happening under all of these gestures. The visits become too much and Simon tells Gordo to stop contacting him and his wife. Bad move man. Domestic terror begins as pet fish are poisoned and beloved dogs mysteriously disappear.
Edgerton is almost in disguise as the beady eyed, one ear pierced, goatee rocking loner and it works.  Supposedly, Edgerton separated his roles as actor and director by dedicating the first two weeks of production to directing and didn't get in front of the camera until the final part of shooting. As Edgerton wrote the film, it was probably no stretch for him to really get into the skin of this creepy character that is softly spoken but has a demon or two sitting dormant. The Australian filmmaker has also done a good job of creating suspense by having wide shots of Robyn potting around the house that alludes to the point of view of somebody lurking outside. There is also the occasional jump scare included for good measure.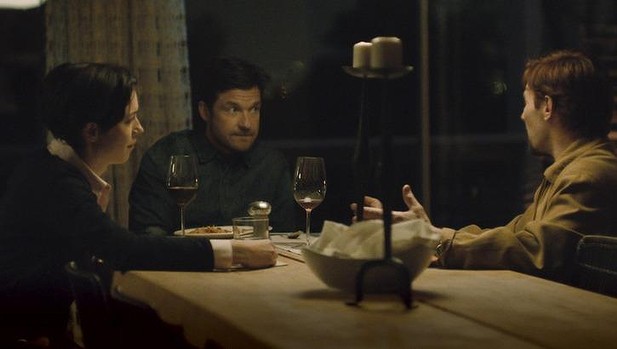 Bateman proves once again that he is capable of playing more characters than just the usual repertoire of hilariously deadpan, machine mouthed comedians. Though at first Simon is portrayed as the concerned husband who will more than likely save the day, as the film rolls on there seems to be something ominous just under his surface. In fact, Simon eventually erupts with an intensity that is so severe it would make Michael Bluth whimper. With a plot twist that will disturb and delight, Edgerton has mastered the role of writer as well. Rebecca Hall's great performance as a person who slowly unravels as the plot continues on shows that she has the ability to carry a film as a leading actor. All three of the main players work well together in creating this mystery ride that unfolds at a slow, necessary pace. The limited locations shown in the film really create this feeling of cabin fever, which Hall's character experiences after spending day after day as a housewife who has more to offer the world. We get thrown back and forth between the house and Simon's office then back to the house again. It does get slightly boring but the tension alone is enough to keep things exciting…or terrifying depending on which way you look at it.
Summary: The tension alone is enough to keep things exciting…or terrifying depending on which way you look at it.