Films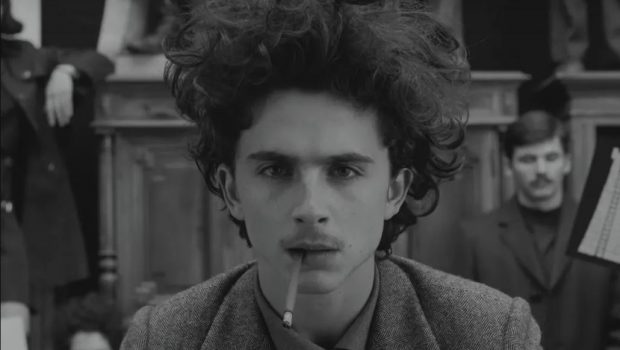 Published on December 22nd, 2021 | by Damien Straker
The French Dispatch – Film Review
Reviewed by Damien Straker on the 22nd of December 2021
Disney presents a film by Wes Anderson
Screenplay by Wes Anderson
Produced by Wes Anderson, Steven Rales, and Jeremy Dawson
Starring Benicio del Toro, Adrien Brody, Tilda Swinton, Léa Seydoux, Frances McDormand, Timothée Chalamet, Lyna Khoudri, Jeffrey Wright, Mathieu Amalric, Stephen Park, Bill Murray, and Owen Wilson
Cinematography Robert D. Yeoman
Edited by Andrew Weisblum
Music by Alexandre Desplat
Rating: M
Running Time: 108 minutes
Releases Date: the 9th of December 2021
As a sophisticated piece of pop art, Wes Anderson's tenth film, The French Dispatch, is an undeniable visual achievement. This quirky comedy-drama employs the type of highly symmetrical blocking and mechanised formations synonymous with the director's best work. However, Dispatch lacks the disciplined storytelling needed to prevent this artful but hollow anthology from being an overstuffed misfire. Despite predictably stunning visuals and frequently clever production design, we are left longing for a more coherent narrative and memorable characters worth caring about. The dazzling spectacle competes with Anderson's intrusive writing style as he fails to utilise an impressively collected ensemble.
Set in post-World War II, Dispatch explores the fictional French city of Ennui-sur-Blasé. Touted as a loving homage to journalism, the film uses Ennui-sur-Blasé to explore four different stories. The first involves a journalist, Herbsaint (Owen Wilson), who cycles and describes facts about the city to the camera. The next story is the film's best entry. Moses (Benicio Del Toro) is an inmate serving time for murdering two people in a bar. Yet he has also fallen in love with his gaoler, Simone (Lea Seydoux), who allows him to paint her in the nude. Their arrangement is complicated by Julian (Adrien Brody), an art dealer relentlessly pushing Moses to develop his work so he can turn him into a celebrity. The middle story is about the leader of a student revolution (Timothée Chalamet) who falls for an older woman (Frances McDormand) while struggling to write his own manifesto. The last episode is told by Roebuck (Jeffrey Wright), a writer who describes how a child kidnapping situation involving a famous Korean chef, Nescaffier (Stephen Park), was resolved. The authors of the four stories recall their findings to their boss (Bill Murray), the ageing editor of the American publication called the 'French Dispatch'.
The most reliable staple of Anderson's filmmaking is his dominant aesthetic style. Dispatch remains as confidently photographed and orchestrated as any of his films. Every frame throughout its four stories shimmers with a volume of visual trickery, movement, and style unique to the director's filmography. There is a scene where French prison guards burst through the gaol walls, leaving their bodies to fill nearly the entire frame of the camera. In another memorable moment, the camera crabs sideways through a police station in one take as if outlining the different aspects of the force. These scenes reflect Anderson's penchant for dynamic blocking as he briskly shifts actors across the screen like hurried chess pieces. Some flourishes are also humorous and vivid, such as an action scene where Moses pursues Julian in a wheelchair. Sometimes Anderson switches the images from black and white to colour too. The thought of losing his signature pastel colours was an unthinkable sacrifice. The cinematic artifice is an admirable rebuttal to naysayers believing the medium is on its last legs. However, while one is unable to question Anderson's visual imprint, his script leaves Dispatch exposed in a crucial manner.
The film's presentation is undercut by a relentless bombardment of dialogue. It is noticeable because one of the film's best scenes unravels in silence. In the second story, the bond between Simone and Moses, filmed in glorious black and white, unfolds with barely a word said. We see Moses studiously painting his gaoler before he is quickly returned to his cell, and she then dons her uniform. Their wordless bond is established within a handful of intense frames and the silence reflects the secretive nature of their arrangement. The moment is so skilfully and artfully arranged it begs to ask why Anderson drowns the rest of the film with constant, aggressive chatter. The persistent voice overs, paired with a plethora of speedy, back-and-forth dialogue, grows into a needless avalanche of information. It intrudes where the specificity of the images should speak for themselves. Consequently, Dispatch overflows with verbose details at such high frequency that it is clear why the prison story is its best and most coherent tale.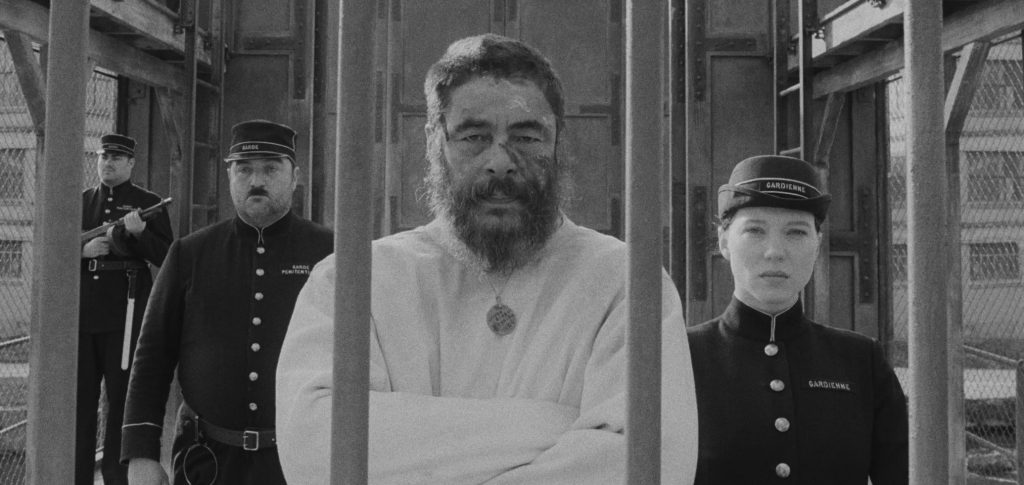 Meanwhile, Anderson fails to utilise some major players in his talented cast. The prison story benefits from Adrien Brody's excellent comic performance and some fine, moody work from Lea Seydoux and Benicio Del Toro. It is a bizarre story about the ownership and meaning of art and the pressure to perform from outside forces. The most confusing and weakest chapter is the student protest. Its leads, Frances McDormand and Timothée Chalamet, are not challenged enough and it misfires under its muddled storytelling. Sizable gaps in age and doomed relationships have featured in Anderson's films before, including Rushmore (1998) and Moonrise Kingdom (2012), but there is little time to develop the bonds, which leaves it feeling inconsequential. Only the incredible visuals continue to standout in this otherwise forgettable chapter.
The final story provides Jeffrey Wright and Steven Park some weighty moments, which somewhat counters the notion Anderson's films do not feature enough people of colour. Roebuck is a character supposedly inspired by James Baldwin. Yet the constant shifts in framing, from talking to the magazine's editor, a talk show interview (the host is played by Liev Schreiber), along with the chef and kidnapping plot, means the narrative is unfocused. Between stories, Tilda Swinton has a funny minor role as a writer providing an art lecture. In one funny moment, she accidently shows an embarrassing slide of herself. Disappointingly, other major actors are reduced to brief cameos, including Willem Dafoe, Saoirse Ronan, Christoph Waltz, Elizabeth Moss, Edward Norton, and Jason Schwartzman. A better script would have provided these actors with more activity and richer characters into which they could immerse themselves.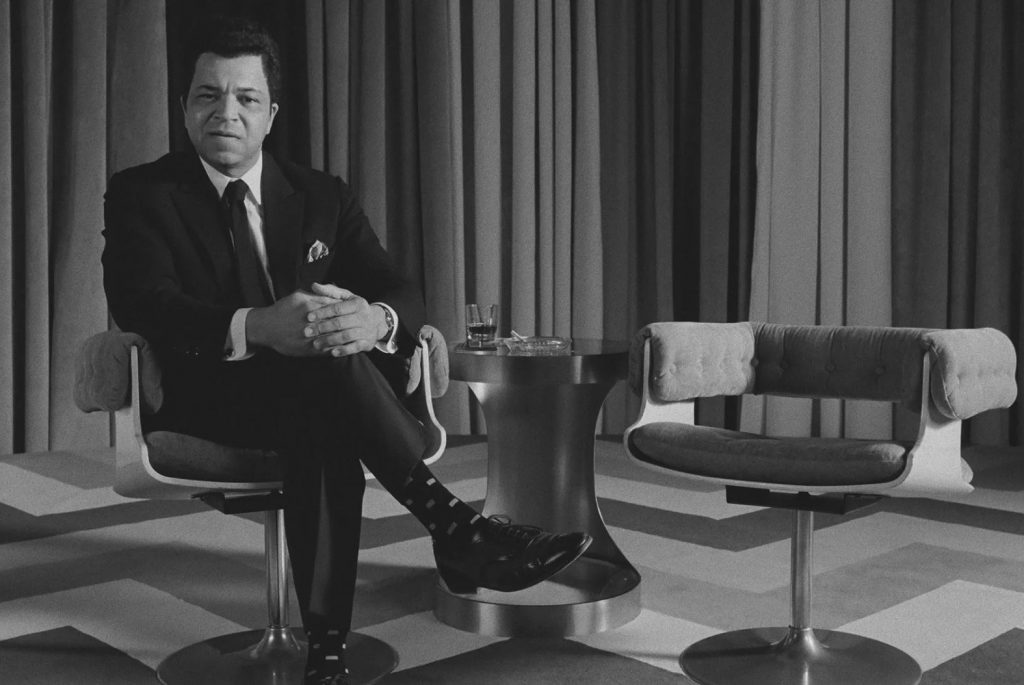 After more than two decades since his directorial debut, Bottle Rocket (1996), Anderson's work remains an acquired taste. Some entries have offered a brilliant marriage of inventive scripting and artfulness. The animated feature The Isle of Dogs (2018) was a great example of this pairing. If Dispatch's prison story were its own feature it might have joined them because of its intriguing relationship and rich stylisations. Sadly, the entire anthology proves busy but emotionally unsatisfying. It is difficult to unpack on a single viewing what Anderson is saying outside of his love for outlandish stories and the dangers of unlikely, doomed relationships. For a director prone to meticulous visuals, Dispatch's untidiness leaves it cluttered and over-scripted. It is a feast for the eyes, but a good journalist knows a strong story stands on its own.
Summary: For a director prone to meticulous visuals, Dispatch's untidiness leaves it cluttered and over-scripted. It is a feast for the eyes, but a good journalist knows a strong story stands on its own.