Comics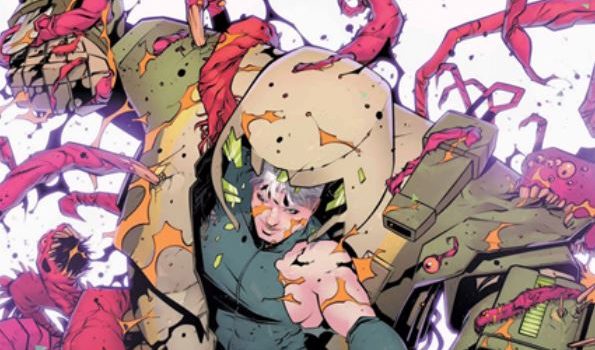 Published on March 15th, 2023 | by Howard Smith
THE FORGED #1 REVIEW @ImageComics #GregRucka @mercuryeric @MikeSHenderson
Summary: The Forged #1 is an engaging story with the potential to explode with elation.
A new sci-fi adventure begins, but there is a degree of specialty about Forged leader Victory.
Set in a distant future, The Forged #1 takes place in the year 13,817 A.D. under an imperial order. Humans have traversed the cosmos, colonized, and forged (no pun intended) pathways among the stars under the reign of the one they call, Empress Eternal. The story follows a squadron of unique soldiers codenamed Forged, who are about to embark on a recovery mission on the planet Gehenna. Led by squad leader Victory, she prepares her team by the names of Harpo, Pusher, Hap, and Crazy Jo for launch, but a powerful Cassandra (a.k.a. space witch) has other plans in store for Victory and her team. Locked and loaded, Forged members deploy. Not having a clue of what to expect when they reach the surface of the planet they are thrust into a heralding escape and left on a potentially hostile planet.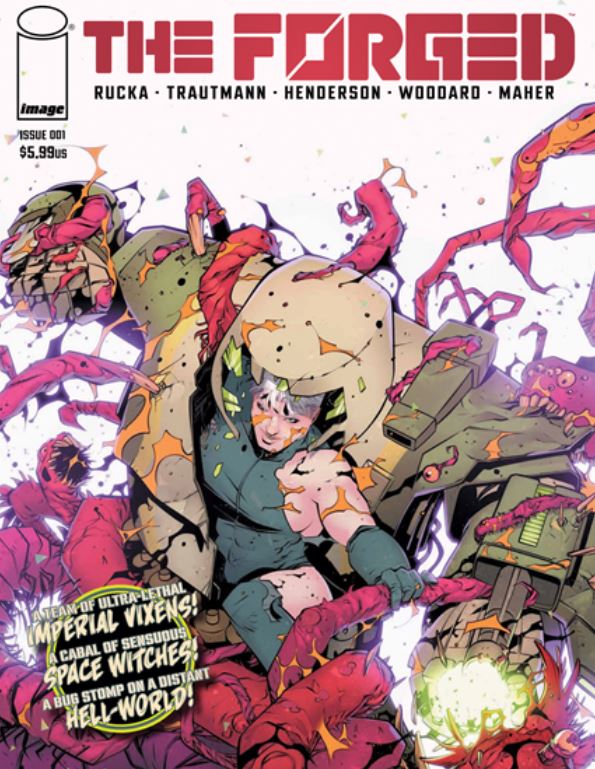 Brought to you by the creative minds of Greg Rucka (Wonder Woman, Batwoman, Lazarus) and Eric Trautmann (Action Comics, Shooters, The Mighty Crusaders) comes a story that a lot of science fiction readers may hop onto and stay hooked on. In The Forged #1, Rucka and Trautman devoted their time to bringing the reader into their world. At first, it seems slow, but it's designed to be that way. They wrote the story in a fashion that allows the reader to understand each sequence of events happening without concern of losing pace. To establish this world and everything in it, the dialogue was heavy, but it was effective. The comic book gives us a full spectrum of the people in this world, the team, what they do for a living, and how the ships work while traveling through space. Without these details intact the story would not have been as interesting. Thankfully, both writers took into consideration that this is a story people must be introduced to at a steady rate and they did it the right way. Additionally, the manner in which the characters interacted with one another felt genuine.
Mike Henderson (Children of The Atom, Nailbiter, Taskmaster), Nolan Woodard (King in Black, The Amazing Spider-Man, Heroes Reborn), and Mark Maher (Transformers: Shattered Glass II) lend their prolific talented skills to deliver optimal storytelling visuals. Compared to the writing, the artists matched the same level of devotion to the comic book. In terms of illustration, the linework and colors of the interior exceeded expectations. Panel-to-panel was synced with lettering, which added a nice touch of clear composition. The cover of the comic book accomplished a great deal of curiosity and draws attention. It's vibrant and gives a hint of what the future may come to for Victory.
However, the fascinating aspect of this comic book is that it has a fully fleshed-out backstory, map, and quotes pertaining to the unspoken details left out. Normally, this would be seen in hardcover editions, but not here. Uniquely, information dives deeper for those readers who want to know more about the world the main characters live in. The takeaway from this comic book is that it appears to only just beginning to get started. There's a hunch that the next issue of this comic book will be riddled with carnage, sexy time, and mind-boggling excitement. Mind you, this is not rated for everyone as it does depict a few graphic panels not suited for minors. It's one of those comic books that a person hides from their parents.
Hitting shelves and online platforms, The Forged #1 is an engaging story with the potential to explode with elation. If you wish to follow the story, be sure to check in with your local comic book store or shop online where they are available for purchase.
Comic Details
Writers: Greg Rucka, Eric Trautmann
Cover Artist: Mike Henderson
Artists: Mike Henderson, Nolan Woodard
Letterer: Mark Maher
Publisher: Image Comics