Films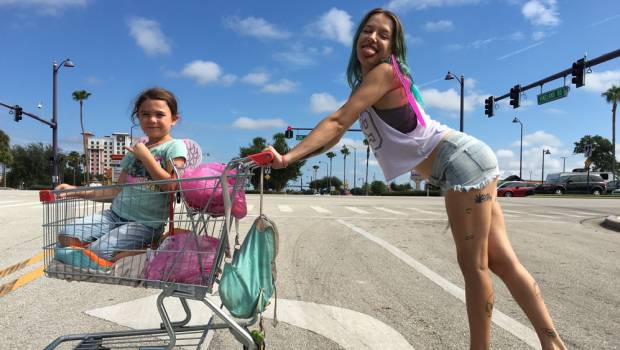 Published on December 17th, 2017 | by Damien Straker
The Florida Project – Film Review
Reviewed by Damien Straker on the 17th of December 2017
Icon presents a film by Sean Baker
Produced by Sean Baker, Chris Bergoch, Kevin Chinoy, Andrew Duncan, Alex Saks, Francesca Silvestri and Shih-Ching Tsou
Written by Sean Baker and Chris Bergoch
Starring Willem Dafoe, Brooklynn Prince, Bria Vinaite, Valeria Cotto, Christopher Rivera and Caleb Landry Jones
Music by Lorne Balfe
Cinematography Alexis Zabe
Edited by Sean Baker
Rating: MA15+
Running Time: 120 minutes
Release Date: the 21st of December 2017
The Florida Project is a world first: an uplifting comedy about child poverty, the US housing crisis and the crumbling American Dream. It's courtesy of filmmaker Sean Baker, a forty-six-year-old American who now confirms himself as a major talent. He frames the film's images with a deft stylistic eye that purposefully complements the narrative, and he also directs his actors translucently so that the lines between scripted moments and naturalism dissolve and the behaviour and mannerisms of the characters rarely seem premeditated.
Baker has an extensive filmography concerned with marginalised Americans. These films include Takeout (which featured an illegal Chinese immigrant), The Prince of Broadway (about a street hustler) and Tangerine (a transgender comedy). Tangerine is one of his best-known films as it was shot entirely on an iPhone. Florida continues a thematically similar exploration of social boundaries. The idea emerged while Baker was helping his mother relocate; he passed several motels and discovered they were not occupied by tourists but entire American families seeking residency. This film is set in a Florida motel called "Magic Castle" and its perpetually green, sun-drenched neighbourhood. Some of the real-life people Baker found living in the motels were cast as background characters, which reflects the verisimilitude he has sought to employ.
Florida captures the perspective of a group of small children as they see out their day-to-day lives together. The three main kids are Moonee (Brooklyn Kimberly Prince), Jancey (Valeria Cotto) and Scooty (Christopher Rivera). The plot of the film is inconsequential compared to the sunny, electric energy and black humour generated by these children through several slice-of-life episodes. Baker has them play together, ask people for money, get into trouble, hide, get bored—the kind of activities real children would find themselves involved with as "Movie Kids" would look on with obliviousness. The dialogue of the kids is extremely funny because of their unfiltered spontaneity, which disarms even full-grown adults. Until seeing the film, it's impossible to describe the authenticity in which these children move, speak and act.
While the children largely dominate the film, the adult characters are equally pertinent in Baker's exploration of social drama and black comedy. One of the breakthrough performances of the year is Bria Vinaite as Moonee's mother, Halley. She is a non-professional actress that Baker found on Instagram selling weed-themed clothing—which is either good fortune or a miracle. With matted dyed hair, torn shorts and a body covered in tattoos (which are all real), Bria Vinaite's dishevelled appearance and raw attitude are the types of traits that would have looked manufactured coming from a recognisable, professional actress. What makes this character enthralling and sad is that despite her own child-like penchant for disregarding rules and social norms, she is willing to do anything (including theft and prostitution) to provide for her daughter, such is the explosive energy that Vinaite has instilled and embodied in her.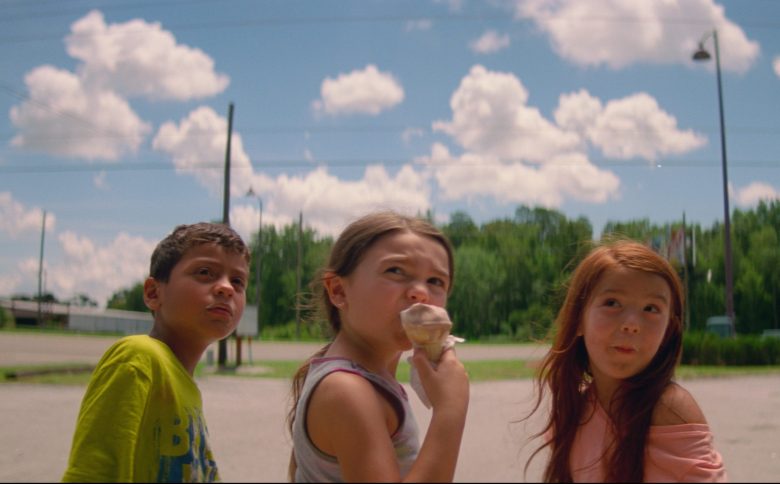 The film's conflict of personalities is shared between Halley's infantilism and the dogmatic nature of the motel's manager, Bobby. As Bobby, Willem Dafoe underplays this character not as a killjoy but a decent, ordinary man who employs a set of guidelines and expectations for running his business. Both Bobby and Halley have their own economic expectations, which regularly clash. At one point, she screams "you're not my father", thereby underlining an unexpected parent-child dynamic between them. However, Bobby is also not immune to empathy and does what he can to help Halley, perhaps because he has his own family issues, which the film wisely only hints upon. There's also a tense scene where Bobby sees a creepy old man approaching the children. Bobby calmly leads him away from them to buy a soda together. In this moment, Dafoe amplifies Bobby's seriousness and care for others by never casting his gaze away from this reptile.
Florida is also a sophisticated technical achievement that uses its formal patterns to enrich its thematic goals and transcend the colourless expectations of a gritty social drama. One of the ways the film breaks from these dour constraints is through the soundtrack, which humorously plays Kool & the Gang's "Celebration" over the opening credits. This is Baker's personal statement that childhood is the best time of anyone's life because you are free from or oblivious to life's expectations and drama. The film's first scene is then photographed through a wide shot, where the children are backed against the wall. The still, unbroken camera take shows the boredom of the children, before they call out to one another and start playing. The composition, shot selection and the dialogue characterise friendship as the agency for fun, exploration and adventure in a child's life, and become stylistic counterpoints to the notion that social realism in cinema must be bleak and dour to be meaningful.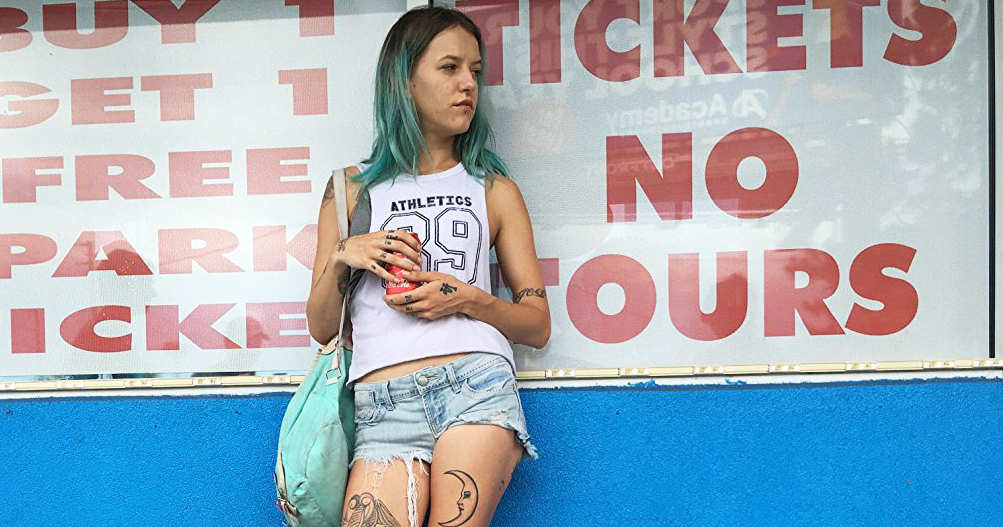 The purple pastel shadings of the motel further remove the film from the grey, bleak expectations of the social realist genre. The colour palette characterises the motel as a distorted mirror of Disneyland, which reflects the thematic idea that the children are too young to understand the difficulties around them but their enthusiasm for life and each other is never dulled by their limited socioeconomic circumstances. In one of the great shots of the year, the entire motel structure is photographed through a long shot allowing the building to resemble a doll's house. After the children switch off the motel's power, the residents emerge from their rooms to complain to Bobby. From a great distance, they appear as tiny figures emerging from a doll's house or comparable to characters from The Sims (2000) video game. This sequence and the miniaturisation of the adults reflects how the kids are bound to a fantasy universe where they're shielded from the impact their actions have on adults.
A similar stylistic outcome is achieved when the children are absent from the motel and playing together. The wide camera lens cleverly dwarfs the children against the backdrops of various commercial stalls and shops. This shows the economic gap between the children and the adult world, illustrating their disregard for dull social norms as they pester people for money to buy ice-cream. Sometimes this gap closes in narrower spaces when the children are close to a dubious adult situation but don't fully understand the circumstances. Baker employs dialogue alone to amplify drama off camera, such as an unseen man in Moonee's motel room talking while she is having a bath, or the kids walking past a motel door and describing their neighbour as being "in love with Jesus". Some scenes also evoke a strong degree of melancholy and nostalgia. Watching this childhood unfold is like reaching for a dream from your own past that you may only scarcely remember. These children are also oblivious to the reality and the permanency of their limited socioeconomic circumstances. An infantalised adult character such as Halley and her disregard for rules reflects the pressures of this emotional and economical stasis deep into adulthood.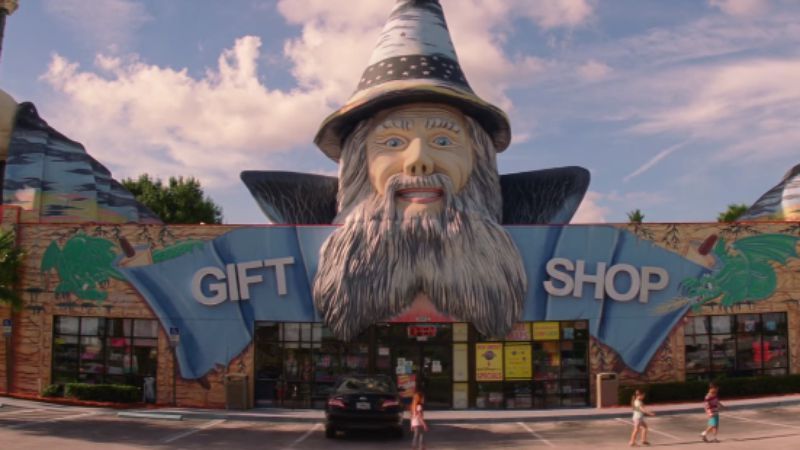 As a critique of America and the failure of the American Dream, Florida is as strong a political film as a humanist one. Against the warmth and sunshine of places such as Florida and fun tourist attractions like Disneyland, there is a growing rot swept deep beneath the middle-class where children are expected to become desensitised to poverty and cultural stagnation because they will never experience an alternative lifestyle. Meanwhile, the numerous advertising billboards in the film further typify the illusion of the American Dream where products become aspirational goals for children and adults as they stretch out for a better life, their own personal Disneyland. Baker says that the problem is not Disneyland itself but the American housing crisis. While a character like Halley is deeply immature, her fight at the centre of this crisis and her desire to provide a decent living space for her daughter is why we're never detached from this flawed character, but share deep empathy with her struggles.
Florida is an unexpectedly moving and upbeat film because it uniquely approaches its typically bleak subjects with wit, colour and clarity. Its energy is sustained because Baker allows the children to be completely natural and funny so that we never doubt the authenticity of their lives and their cultural obliviousness. He also employs clever shots that characterise the motel as a playset, showing the children's limited understanding of their actions and social circumstances. While the film's plot does become loose at times late in the second half, it is one of the few shortcomings and one that's forgotten during a highly emotional finale that balances social tragedy with a glimmer of fantasy befitting of friendship's positive nature. Unique is too small a word to describe the filmmaking somersaults Sean Baker has achieved with this excellent coming of age story.
Summary: Unique is too small a word to describe the filmmaking somersaults Sean Baker has achieved with this excellent coming of age story.