Comics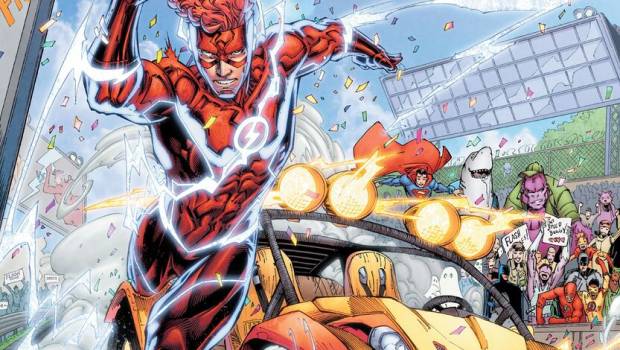 Published on June 1st, 2018 | by Mark McKechnie
THE FLASH – SPEED BUGGY #1 REVIEW
Summary: Good story and strong art, this issue is well worth a read.
Speed Buddies
This issue is a DC Comics/Hanna Barbara mash-up, and a surprisingly good issue.  It focuses on The Flash, and the Hanna Barbara character Speed Buggy.  The issue feels stylistically more like a DC book than a Hanna Barbara cartoon.  It treats the characters very respectfully and fits the origin of Speed Buggy well into the DC Universe.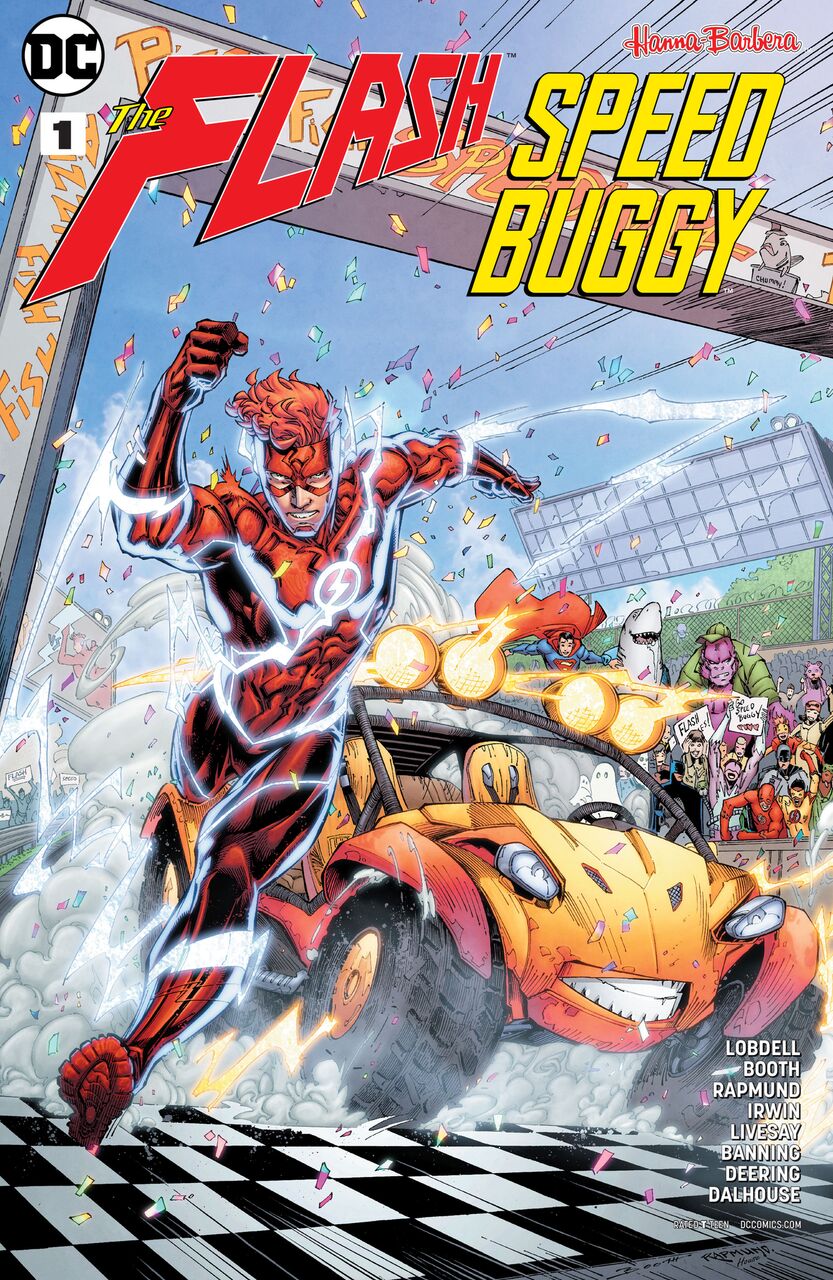 The cover looks great.  Wally West looks dynamic and as fast as The Flash should.  Speed Buggy also looks great.  Not out of place in the DC Universe, but like an actual part of it.  Brett Booth, Norm Rapmund, and Andrew Dalhouse do the primary cover, and give it a great feel.  If you were looking to brush this issue off without seeing it, this cover should be enough to change your mind.
The variant cover by Dan Mora is more in line with the Hanna Barbara animation style.  It features Wally and Speed Buggy in a race, with a collection of DC Super Heroes and Hanna Barbara characters in the stands.  The nice thing about both covers is that they both pay homage to the characters in a way that pays respect to their origins, while still looking good at the same time.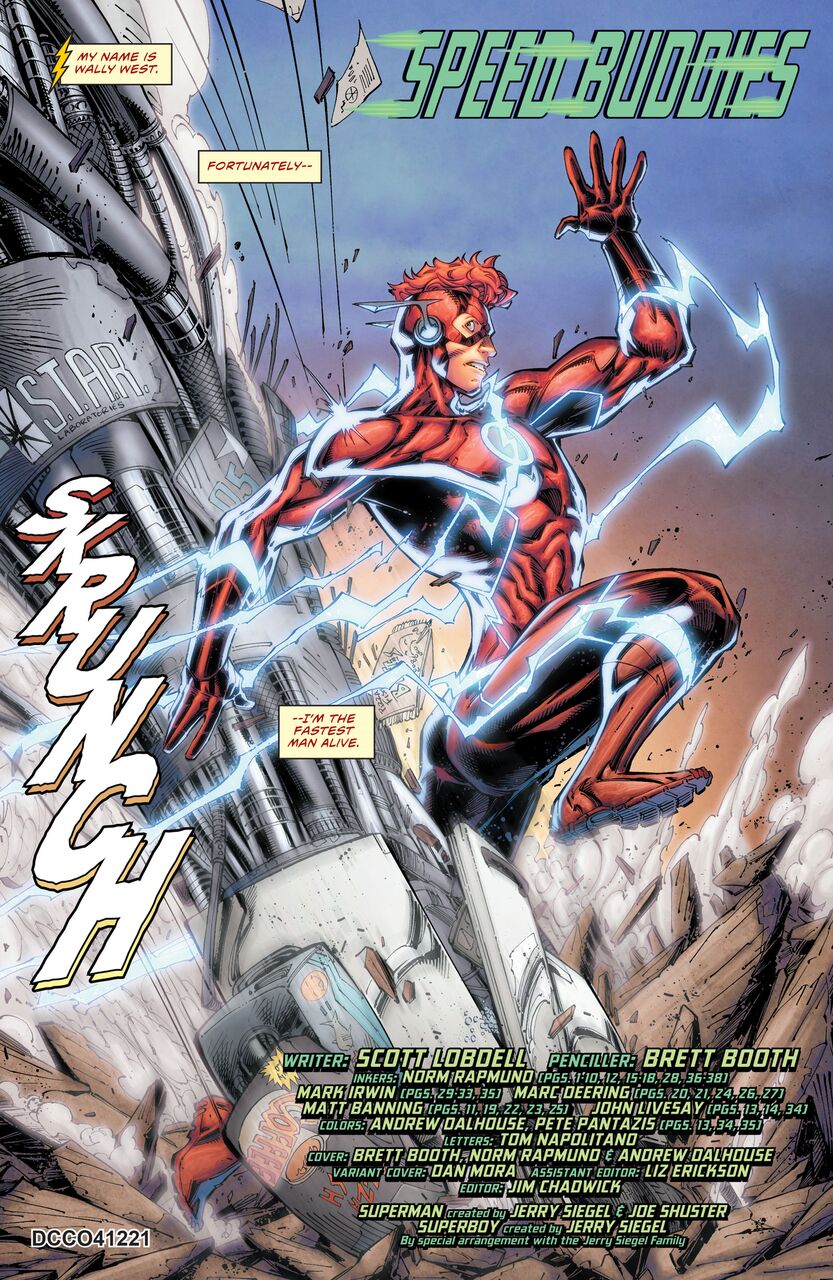 The story begins with Wally West engaged in combat with a S.T.A.R. Labs building that has become sentient, reformatted itself into a giant robotic monster, and has started calling itself Kilg%re.  That's right, its name has a percentage sign in it.  Wally is fighting a standard comic battle against this beast, when Speed Buggy makes its first appearance, bursting from Kilg%re's chest.  We learn that this vehicle is piloted by an old S.T.A.R. Labs scientist named Dr M. Blanc.  Wally takes him to task for driving in and out of the Speed Force, advising him that doing so could have major consequences.
Wally tries to talk Dr Blanc out of continuing his experiments with the Speed Force.  However, upon being unable to dissuade him, he decides to accompany him, in the hopes of keeping him safe.  It's at this point that things go wrong for Dr Blanc, as he merges with his Speed Buggy.  His mind and personality are implanted in the buggy, and the action begins in earnest.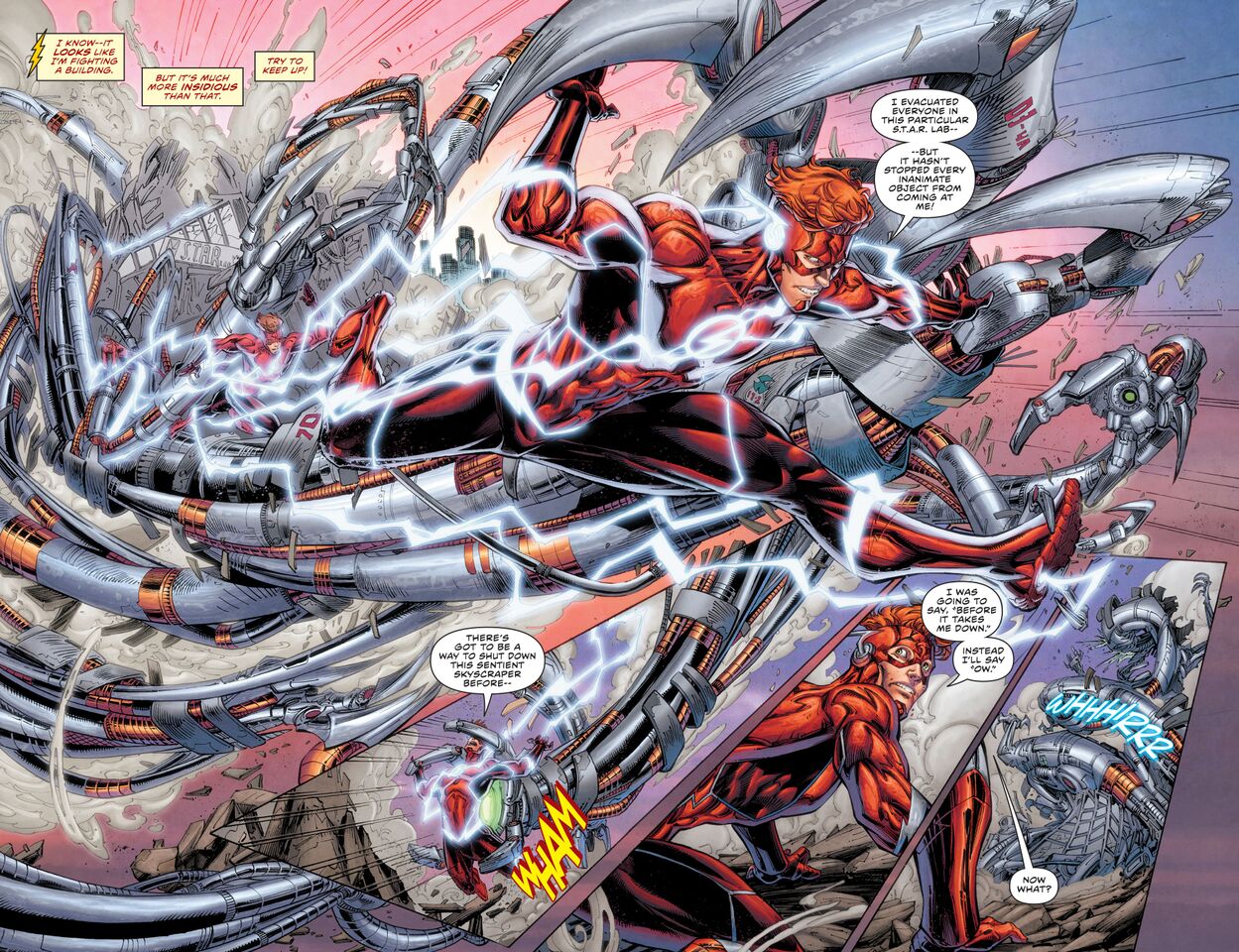 Upon discovering what had happened, we're introduced to our antagonists, Savitar, Reverse Speed Buggy, and Speed Demon Buggy.  Their evil plan is to destroy the lab of Dr Blanc to ensure that they can ruin their dark future forever.  Speed Buggy deals with his evil doppelgangers while Wally battles Savitar, in the hopes that they can prevent this future from coming to be.
This issue was a lot more fun than I thought it would be.  The story is well paced, full of action, and backed by really good art.  The mash up of DC and Hanna Barbara characters is really well done.  I really liked how Speed Buggy's origin is tied into experimentation with the Speed Force.  By having Speed Buggy's origin tied into the Speed Force, we have an organic way to tie the two leads together in a way that makes sense.  To top it off, the two of them worked really well together and it felt like they realistically developed a friendship over the course of the issue.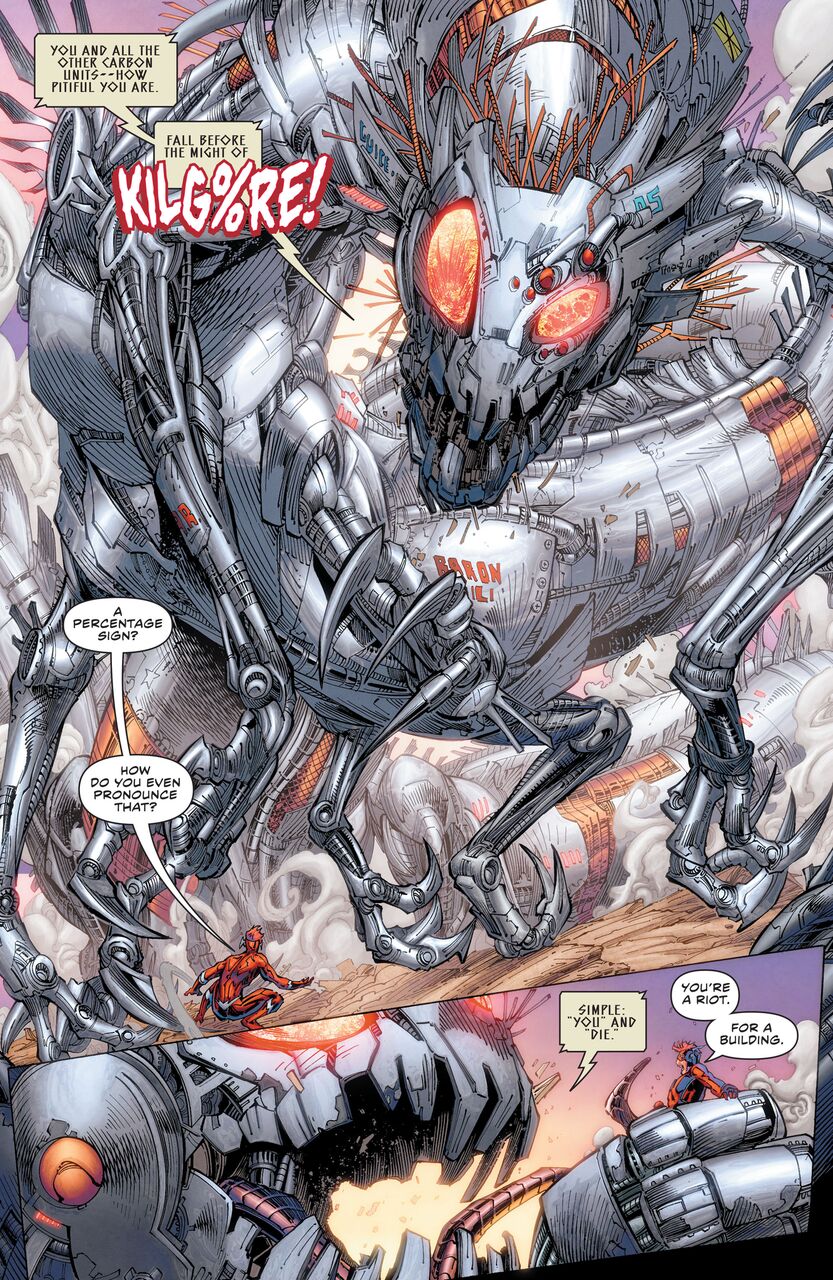 As I mentioned earlier, I was skeptical of this issue going in.  My thought was that a DC/Hanna Barbara mash up was going to be hokey at best, and downright terrible at worst.  Instead this issue was a pleasant surprise.  With a good story and strong art, this issue is well worth a read.  This warrants 4 stars out of 5.