Blu-ray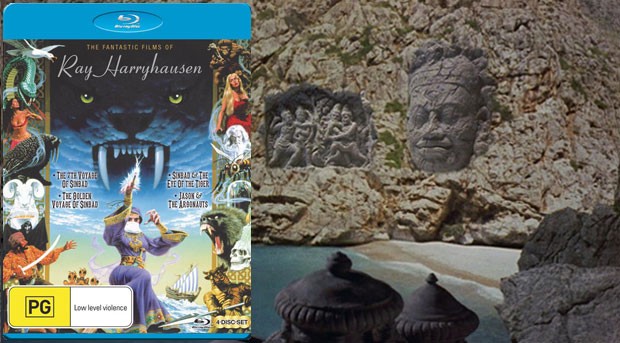 Published on August 12th, 2015 | by admin
The Fantastic Films of Ray Harryhausen Blu-ray Review
Summary: It's the fantastic films of Ray Harryhausen that boasts remastered films on Blu-ray and amazing background information on the man himself plus those classic special effects… enough said!
This 4-disc mega set from Via Vision Entertainment boasts four films from the legendary Ray Harryhausen which include Jason and the Argonauts (1963), The 7th Voyage of Sinbad (1957), The Golden Voyage of Sinbad (1973) and Sinbad & The Eye of the Tiger (1977) which have all been digitally remastered on Blu-ray. So who is Ray Harryhausen? Ray, who passed away in 2013 was an amazing visual effects creator, writer and producer who was known for his stop-motion modelling techniques which allowed creatures of myth and horror come to life on the big screen. Although Ray has a plethora of films linked to him, the ones collected in this 4-disc set are some of his classics and for our Generation X readers, Clash of the Titans was his 1981 hit that later became a popculture icon and unfortunately is not included on this release.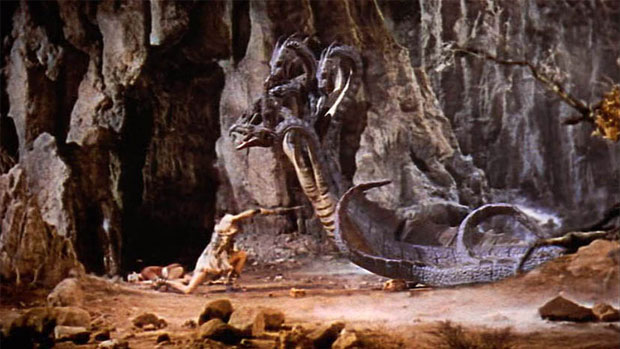 Besides the digital restoration of these four films, what makes this collection so special are the additional special features that accompany this collection and really give the viewer a true insight into the creation of the films and the wondrous mind of Ray himself who inspired many film makers of today like Peter Jackson, George Lucas and Tim Burton. Needless to say, these special effects truly revolutionised what Hollywood was capable of at the time and without his work, the film industry may be quite different to what it is today. So before I touch upon the special features in this collection, let's discuss the four films included in this release.
My favourite film of this collection and even growing up was Jason and the Argonauts that starred Todd Armstrong as Jason and the lovely Nancy Kovack as the beautiful Medea. Written by Apollonios Rhodios and directed by another legendary person Don Chaffey (One Million Years B.C.), Jason and the Argonauts was taken straight out of Greek mythology and revolves around Jason and his team of adventurers who were involved on a dangerous quest as they attempt to find the mythical Golden Fleece but like other classic Greek tales, the powerful gods used humans like pawns. However what made this film so special were the amazing special effects, especially that memorable battle scene that had the heroes fighting undead skeletons powered by stop motion. Other highlights include Hydra and also a Bronze Giant! Seeing this film again on Blu-ray definitely brought back some fond memories and I must admit that the special effects actually still look quite good today. The film also starred Patrick Troughton who would later go on to become Doctor Who.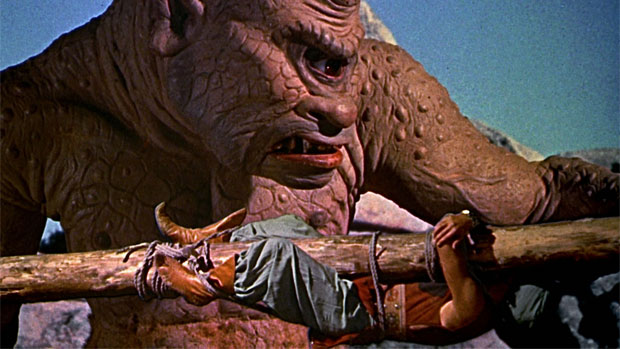 From here, the collection movies onto to the three Sinbad films that commences with The 7th Voyage of Sinbad that was directed by Nathan Juran (Attack of the 50 Foot Woman) and starred Kerwin Matthews as swashbuckling hero Sinbad. In this story, Princess Parisa (Kathryn Grant) is shrunken by the vile Sokurah the Magician (Torin Thatcher) and in order to restore her and prevent a war, he must visit a island that is crawling with monsters and horrors which includes a man-eating Cyclops. Apart from the swashbuckling action, it is on the island where this films shines with some glorious stop motion special effects. Following this film, we have The Golden Voyage of Sinbad that has director Gordon Hessler (The Cry of the Banshee) at the helm of this film with John Phillip Law as Sinbad and Caroline Munro who plays his love interest as Margiana. So when Sinbad and his crew come across a magical golden tablet that belongs to the sorcerer Koura, this villain attempts to thwart their quest in putting this artefact back together again. Like the previous film, it boasts a variety of mythical and fantasy creatures that really draws the viewer into this sword and sorcery film. Interestingly enough, Tom Baker actually plays the villain who of course becomes another incarnation of Doctor Who.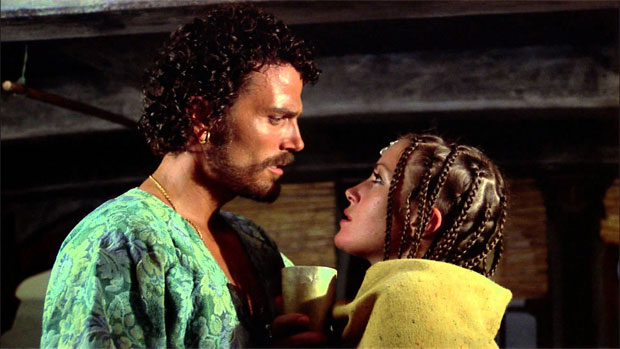 Last but not least and probably my favourite Sinbad film out of the three is Sinbad & The Eye of the Tiger which is directed by Sam Wanamaker (Superman IV Quest of Peace) that has Sinbad (Patrick Wayne) and his crew going head to head against a very dangerous witch in order to save a cursed prince. This film also features a more realistic version of Sinbad but just like all films with Ray Harryhausen involved, there's plenty of strange creatures to accompany the story. This film also boats some great actors that includes Jane Seymour, Patrick Troughton and even Star War's Peter Mayhew. I also enjoyed the more realistic special effects in this movie such as the more "mainstream" creatures.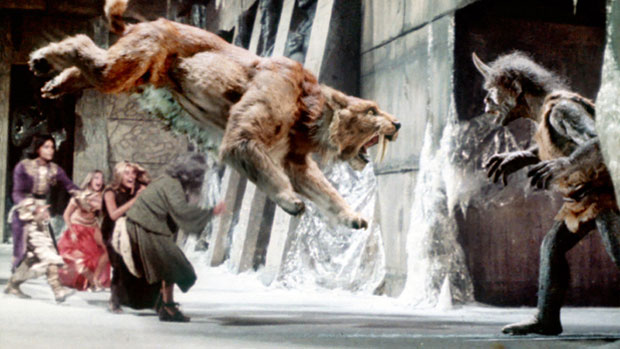 Video, Audio & Special Features
Well presented on Blu-ray with an aspect ratio of 16:9 (widescreen), this mega-collection also boasts Dolby Digital 5.1 and have all been digitally remastered. Sure, they may not look like the films of today but considering the age of these films, the quality is quite relative and definitely still look good in a classic Golden Age of Hollywood way. For special features, this collection boasts a wide variety of entertaining extras that include audio commentary from Ray himself on The 7th Voyage of Sinbad to some informative interviews, featurettes and theatrical trailers from the day. However the highlight of the special features are the ones focusing on this gorgeous stop-motion techniques which really highlight how far special effects have some since the 50's with the inclusion of digital. It should also be noted that one of the documentaries is narrated by the late great Leonard Nimoy as well!
The 7th Voyage of Sinbad – Special Features:
Audio commentary with Ray Harryhausen, visual effects experts Phil Tippet and Randall William Cook, author Steven Smith, and Arnold Kuner
Featurettes:
– Remembering the 7th Voyage of Sinbad (23:31)
– The Harryhausen Legacy (25:32)
– The Music of Bernard Herrmann (26:52)
– Ray Harryhausen – Interviewed by John Landis (11:52)
Stills gallery (9:34)
Sinbad May Have Been Bad, But He's Been Good To Me music video
Vintage featurettes:
– A Look Behind the Voyage (11:47)
– This is Dynamation (3:25) 

The Golden Voyage of Sinbad – Special Features:
"Mysterious Island" featurette (11:13)
3 Worlds of Gulliver" featurette (7:12)
"Earth vs Flying Saucers" featurette (11:52)
Theatrical Trailer (2:47)
Sinbad And The Eye Of The Tiger – Special Features:
"This is Dynamation" featurette (3:25)
Theatrical Trailer (2:15)
Jason & The Argonauts – Special Features:
Audio commentary by film historian Tony Dalton
Audio commentary by director Peter Jackson and visual effects artist Randall William Cook
Original Skeleton Fight Storyboards
The Harryhausen Legacy" featurette (25:32)
Ray Harryhausen interviewed by director John Landis (11:52)
The Harryhausen Chronicles documentary (narrated by Leonard Nimoy) (57:57)
Final Thoughts?
It's the fantastic films of Ray Harryhausen that boasts remastered films on Blu-ray and amazing background information on the man himself plus those classic special effects… enough said!
Blu-ray Details
Film Genre – Adventure
Label – Via Vision Entertainment
Region Coding – B (Blu-Ray)
TV Standard – PAL
Rating – PG
Year of Release – 1957
Primary Format – Movies/TV – Blu-Ray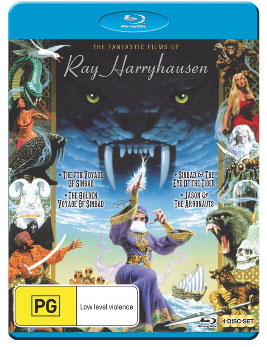 Review by Tony Smith