Comics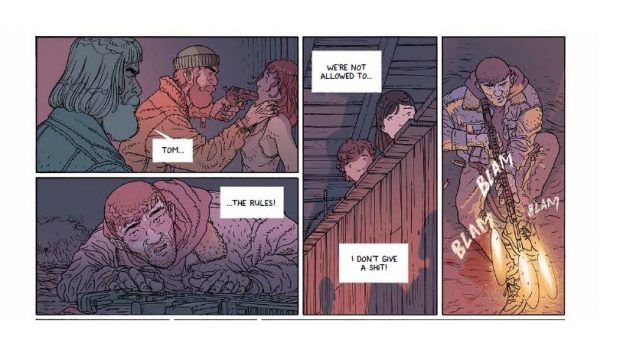 Published on March 22nd, 2021 | by Tim Chuma
THE FALL, VOL. 1 Trade Paperback (2021) Review
Summary: A bit rough going and very serious in tone and content. Maybe have a look at this one before you buy it. If you enjoy serious stories and end of the world tales you will get more out of it.
Given everything that has happened with the Coronavirus during 2020 you would be forgiven for not wanting to read even more about a pandemic and the breakdown of society. In Australia people got into fist fights over toilet paper and Mad Max was based on the road accidents out near where I live that people are still trying to recreate on the road outside my house every night.
This story follows a family through the outbreak of the "Summer Flu" and economic downturn which is much more severe and the creator actually started writing it three years ago. They did want to do a story set after the apocalypse but ended up making one about how society devolved to that point.
I did like the artwork it does seem realistic for this type of story as it is set in the real world and makes a good counterpoint to other stories as these are real people who can die at any time which makes the stakes much higher.
The creator makes a point of having different characters in the story such as the refugee doctor from Syria and the former child soldiers from Africa. Even the main protagonist ends up being sick for a lot of the story and the focus shifts to his daughter trying to help him and her brother.
This is very heavy going and I would recommend it to people who want a serious story with drama rather than something light. It does have some action but it is rooted in reality and nobody seems that heroic at the end of the day.
What might put some people over the edge of maybe staying away are the sexual assault themes and child endangerment in the story. It is a serious drama but you should be warned about these things before you go into the story.
If you were going to read this I would recommend having a look through a bit of it first before you commit as it is a collection of issues from this story and you have to like it going into it or you will not have a good time.
Comic details:
Writer: Jared Muralt
Artist: Jared Muralt
Genre: Drama
Warnings: Adult themes, violence, death, sexual assault, child endangerment
Publisher: Image Comics
Published: March 17, 2021
156 pages, colour