News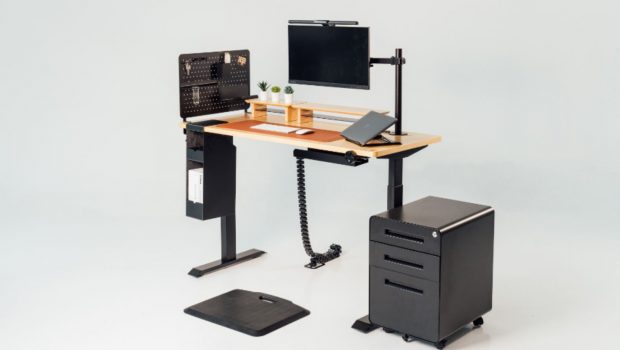 Published on November 17th, 2022 | by Andrew Bistak
The EverDesk Max Standing Desk Review (by Northday – EverDesk Max Review) #ErgoTune
If you're looking for a fully customisable electronic standing desk with (literally) "all the bells and whistles" and useful real-world features, then I think I may have found the answer. This is the EverDesk Max Standing Desk by Northday who are part of ErgoTune, a Singaporean company who have made it their business to create high quality office products, whether for the home or office. They also have a strong focus on design, ergonomics and are health focused which greatly assists those people who spend hours upon hours working at their desks.
We also reviewed their ErgoTune Supreme office chair (August 2022) which are one of their highly popular and very comfortable office chairs, however today we're checking out their top of the range EverDesk Max Standing Desk that as mentioned above, really comes with all the bells and whistles due to the customization options available.
Unlike stock standard electric desks that are made up of just the base and the table top (which is still possible through Northday), if you really want to "pimp" out your desks (e.g. make the desk more usable and clutter free) but still have the ability to control the height of the desk, then you're really in luck. However if you have a budget and can't afford "the works", you can purchase additional accessories gradually which makes it more affordable over time.
Another important feature of standing desks such as the EverDesk Max is that it may reduce the potential health risks associated with long-term sitting as humans were never designed to be sedentary creatures. Nick Dewey (Masters of Physiotherapy and Bachelor of Applied Science in Human Biology – Canberra University) discussed the benefits of using sit-stand desks that has also been mirrored by other health specialists such as Dr Charlotte Edwardson (Associate Professor of Physical Activity Sedentary Behaviour and Health, University of Leicester).
These benefits include reducing the risk of obesity, type 2 diabetes and cardiovascular disease, including some cancers. Additionally it addresses poor posture that is generally linked to the neck, shoulder and back from incorrect workspace arrangements, including seating. Compared to sitting, standing can burn up to 50 calories per hour more so as you can see, there is a myriad of health benefits. Another accessory for standing is the Anti Fatigue Mat which is a sturdy soft foam mat that reduces strain from your feet, knees and hips which allows you to stand longer.
Features
Health Coach™ Controller
Stay active while working with smart sit-stand reminders
Unlimited Customisation
Unlock peak productivity with a desk tailored to your workflow
UniGroove™
Defeat messy cables with a multi-purpose organiser built into your table top
Dual Motors System
Remain focused with the fastest, quietest and strongest standing desk
Quiet at <50DB
Sit-to-standin 3 seconds (4.5cm / sec)
Withstands < 120kg weight
The Setup
The first piece of the puzzle is the EverDesk Max Frame (conveniently labelled open first) has a RRP of $879AUD (Nov 2022) and is the heavy duty frame, including the electronic components which allow you to raise or lower the desk. The control system for this component is called the Health Coach that not only allows you to control the height but gives you gentle reminders (e.g. vibration) to move. For example, if you have been sitting for too long, it will vibrate as a prompt for you to stand, including a sit-stand timer and alarm which is displayed on the screen.
.
The dial on the Health Coach allows you to adjust the height by moving it to the left (lower) or to the right (raise). You can also program different heights and the Health Coast automatically locks to prevent any children (or other users) from moving the desk. To unlock, you turn the dial all the way to the right and then move your fingers as an arc (left to right) across the touch screen to give you full access to the Health Coach. The control system is quite simple to use and Northday include a very informative guide online.
Health Coach Manual: https://cdn.shopify.com/s/files/1/0559/5843/8096/files/Health_Coach_Manual_web.pdf?v=1637232944
The last part of the desk puzzle is the table top itself which comes in a range of sizes and colours. We chose the Raw Ashen Oak with a size of 160 x 70cm that costs $230AUD.  Assembling the desk was super easy and the first part of the setup was attaching the frame to its two legs. Given how durable the desk is, I love the inclusion of the step guard that with the foot plate locking mechanism allows you to push each leg into the frame securely as some force is needed for it to be clipped in. This locking mechanism helps keep the legs firmly attached to the tabletop frame.
Following this is to lay the table top on the ground (top facing down) and then align the frame with the available screw holes to easily attach it with the included Allen Key. Once this is completed and before turning it over, you need to install the power box to the desk, including the health coach and if you want to move your desk in the future, the All-Terrain Castor (Lockable) Wheels ($39.00) are a fantastic option. This entire process took around 30 minutes to complete and the EverDesk Max Standing Desk was ready to go. In relation to the wheels, they are a great option as it allows you to move the desk which is not a common feature on most desks. I love it!
Compared to a traditional desk with drawers, storage is not usually available on most standing desks, however Northday offer a plethora of options. This includes two different shelves, the "Small Shelf" ($99) that measures at 36cm to the "Standard Shelf" ($119) at 58cm with both firming attaching to the rear of the table top via the Unigroove. I also like how both shelves match the colouring of the table top which for us was Raw Ashen Oak and helps keep everything uniform.

Curvi Mobile Pedestal



Another clever option is the White Pegboad ($69) which can be aligned to either the left, right or rear of the tabletop that gives you additional shelving and with the accessories bundle ($69) adds holders, pegs and hooks etc. For even greater storage options, there is the Switch Underdesk Storage ($149) which simply slides onto the table top (your choice of location) and the Curvi Mobile Pedestal ($299) which is a stylish white cabinet with 3 lockable drawers. Gone are the days are glum drawers.
Setup Gallery
Cables cables cables everywhere …
While the EverDesk Max has a built in cable management system on the rear of the table top called the Unigroove, it's the cable clutter underneath that looks unsightly. Fortunately there are plenty options to help hide the cable clutter and keep it tidy. The White Cable Tray ($49) goes underneath the table which allows you to hide plugs and cables… it's also great to store a powerboard on it. The option of the White Cable Spine ($39) is perfect for managing those dangling cables (e.g. power cords, display cables) and can either be magnetically attached underneath the desk or it can be mounted.
So what is the UnIGroove? While it increases the aesthetics of the desk, it is also part of the EverDesk Max worktop that adds to the modular design by allowing it to be used for a plethora of uses from attaching accessories to it, cabling or using it to hold smart devices. It also ensures that cables don't fall through the gap and onto the floor with grey Styrofoam holders.
If you want to spruce up your desk from an aesthetic point of view, ErgoTune offer a tanned Leather Desk Mat ($49) and Leather Mouse Pad ($29) to add some more style to your new desk. Need lighting? No problem, add in the Hover Lightbar ($39) and this clips onto your monitor to give you light and save you money on  electricity bills. What I loved about the Hover Lightbar is that it connects to USB and is has different levels of brightness, including both cool and warm options. They also offer monitor arm stands, however due to the size of our Samsung "49 gaming monitor, their arms unfortunately don't support screens that wide or heavy which is around 12kg.
In terms of build quality, I cannot fault the design or materials used to create the EverDesk Max and its multiple accessories. It's impressive that Northday offer a myriad of table top colours to choose from and the Raw Ashen Oak is quite bold and open that with the white frame, it does open up and lighten the office.
Further, everything feels quite sturdy, particularly the table top and frame and nothing feels cheap. As a safety mechanism, it does have an automatic cut-off switch should it detect something underneath the desk when it is moving down. The EverDesk Max is also super quiet when the table moves up and down which won't disturb anyone in your household if you are using the standing desk at night. In terms of warranty, EverDesk provide an extra 4-year free warranty valued at $150 for additional peace of mind to the buyer.
Final thoughts?
The EverDesk Max by Northday Standing Desk is a top of the line sit-stand desk that cannot be faulted. The install process is a breeze and if you should run into any issues, there are YouTube videos available which I did use to help me attach the frame to the tabletop. Paper instructions are included (also online), however for me, the videos were short and easy to follow as I am a more visual person. Furthermore, this is no plain standing desk and Northday have really focused on pleasing aesthetics that can be tailored to your home, office or personality. So whether you're a gamer, streamer or working in an office, the the EverDesk Max by Northday Standing Desk goes beyond what a humble desk is.
Brilliant!
For more information, please visit https://au.northday.com/products/everdesk-max
Gallery
Oh… with wheels and if space is a concern, you can build in another room!
Here is my before setup;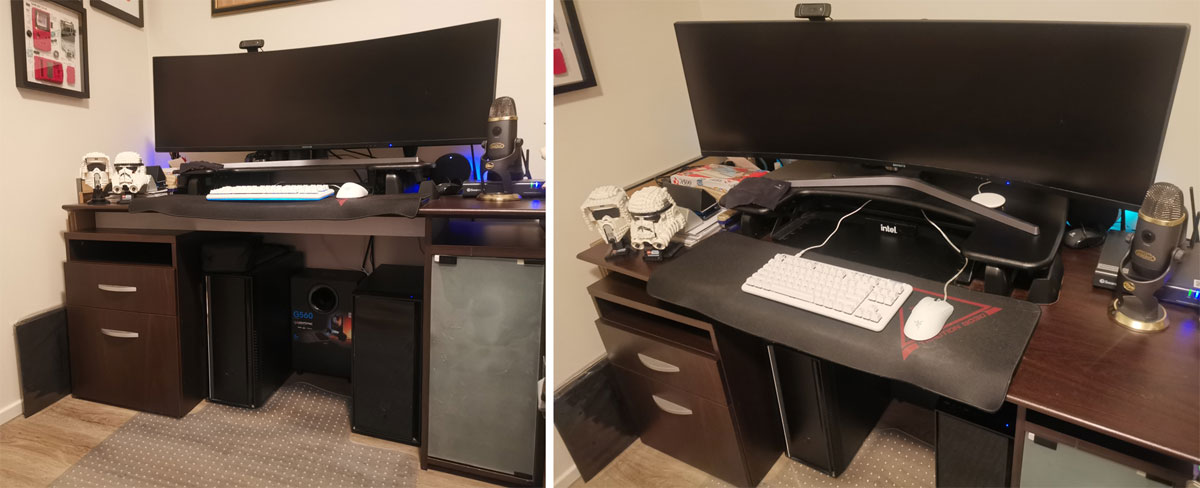 and now the 200% improved EverDesk Max setup;