Games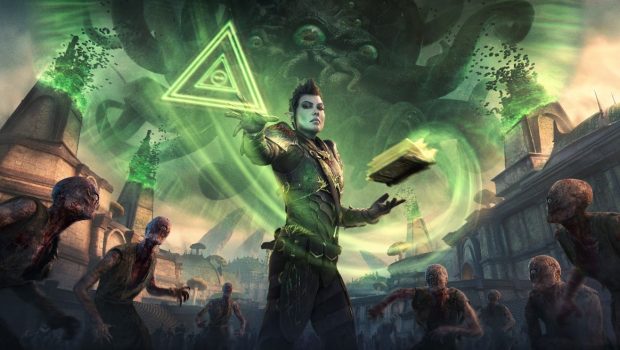 Published on June 6th, 2023 | by Adrian Gunning
The Elder Scrolls Online: Necrom Chapter Now Available on PC
Today, ZeniMax Online Studios and Bethesda Softworks launched the latest Chapter in The Elder Scrolls Online saga, The Elder Scrolls Online: Necrom. This new Chapter features more than 30 hours of new content and introduces two new zones to explore, a brand-new class, the Arcanist, to master, and a sinister plot to uncover that threatens reality itself. The Necrom Chapter is available now on PC/Mac, and on June 20, 2023 for Xbox One, Xbox Series S|X, PlayStation 4, and PlayStation 5.
Check out the official launch trailer here: https://www.youtube.com/watch?v=kOr81YujDbg
Necrom continues the story that began with the Scribes of Fate DLC; however, players do not need to have completed the previous DLC in order to experience everything this Chapter has to offer.
Telvanni Peninsula and Apocrypha
Home to the devious mages of House Telvanni and the city of Necrom, the Telvanni Peninsula's towering mushroom forests might feel familiar to those who have ventured to other parts of Morrowind. This new zone contains a host of unique encounters for players to discover, including new side quests, world bosses, delves, public dungeons, and more.
Necrom also allows players to explore Hermaeus Mora's own realm of Apocrypha. While this mysterious part of Oblivion contains near-limitless knowledge, be warned, many mortals have lost their souls while navigating its endless libraries. Additionally, players will be able to explore an all-new part of Aprocypha – Chroma Incognito. This new area is unlike anything ever seen before, but like the rest of Apocrypha, contains myriad hazards and secrets for players to discover.
Learn more about Necrom's two explorable zones in this preview.
The Arcanist
Necrom brings one of the most requested updates, a new playable class — the Arcanist. As the first new class added to ESO since the Elsweyr Chapter's Necromancer in 2019, the Arcanist wields the forbidden powers of Apocrypha to deal damage, absorb incoming blows, and heal yourself or your allies.
Learn more about the Arcanist in a trailer here.
New Challenges, Companions, and More
The Necrom Chapter also includes a new group challenge, Sanity's Edge – a 12-player trial along with a new world event, Bastion Nymic. Necrom also brings players two new companions, Sharp-as-Night and Azandar Al-Cybiades. Both Companions can be recruited, levelled up, and equipped in this new Chapter, and each brings their own stories, combat skills, and questlines for you to unlock.
The Elder Scrolls Online: Necrom is available to buy now in four editions:
The Elder Scrolls Online Deluxe Collection: Necrom
The Elder Scrolls Online Collection: Necrom
The Elder Scrolls Online Deluxe Upgrade: Necrom
The Elder Scrolls Online: Upgrade: Necrom
Both Collection editions include the base game, the Necrom Chapter, and ALL previous Chapters. For those who already own ESO and its previous Chapters, both Upgrade editions grant access to the Necrom Chapter. For the required PC/Mac specs to run Necrom check out the game's requirements here: PC, Mac.
To find out more about Necrom and tips on getting started, check out this blog.
The Elder Scrolls Online: Necrom is part of the Shadow Over Morrowind yearlong adventure and is now live on PC/Mac and arrives on June 20, 2023, for Xbox and PlayStation consoles. Players can purchase the new Chapter through the ESO Store, retailer or platform store of their choice. For the latest updates and information, remember to keep an eye on our official website and forums.