Comics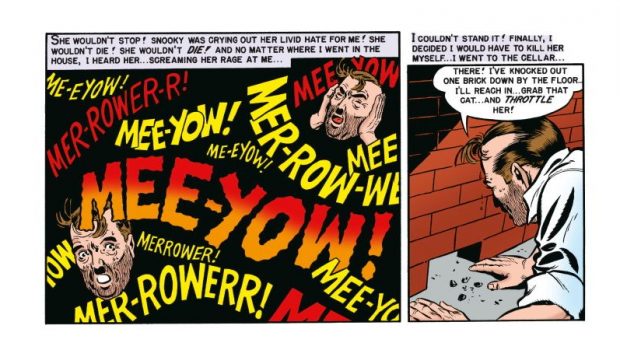 Published on October 18th, 2021 | by Tim Chuma
THE EC ARCHIVES: THE HAUNT OF FEAR VOLUME 1 Trade Paperback (2021) Review
Summary: While not so scary by today's standards, this is an excellent collection of stories if you have an interest in the history of horror comics and spooky stories and a recommended purchase for horror fans.
Collecting issues #15-#17 and #4-#6 of the classic series of EC comics in the horror genre from the 1950s I have not read any of these stories before but they have influenced a lot of people since they even managed to get Robert Englund to do the forward.
Due to the time the comics came out in there were restrictions as to what could be shown due to the comics code. A lot of the time there are drawings of people describing horrible things that have happened out of frame or in the case of some stories they do not do any visuals at all.
I do enjoy the artwork and the cheesy horror vibe from the stories. At one point the publishers get trapped down in the sewer and are forced to sign a publishing deal with the Keeper of the Crypt of Terror, the Keeper of the Vault of Horror and the Old Witch would not let them out the manhole until they agreed to publish her also.
A lot of the stories do have a moral element of wrongdoers being punished for their crimes in strange and unusual ways as was the style of the time. There are a lot of innocent victims who get dispatched for no real reason as with any horror story.
I had not read any of these stories before but they seemed familiar somehow, a lot of them seemed to have crept into popular culture and influenced other writers and movie makers leading to things such as the Creepshow movies and others.
I would recommend this book to people who are interested in the history of horror stories and how they used to be presented when they were seen as tacky and not as widespread as horror is today.
It is a good length to and you can pick it up and put it down after reading just one of the stories and not feel like you have to rush to finish it at all.
The original stories are hard to find now so it is great they are collecting them like this and it is a good one to get to go with your other graphic novels.
Comic details:
Writer: Johnny Craig, Ivan Klapper, Gardner Fox, Bill Gaines, Al Feldstein, Harvey Kurtzman
Artist: Johnny Craig, Al Feldstein, Harvey Kurtzman, Harry Harrison, Wallace Wood, Graham Ingles, Jack Kamen, Jack Davis
With forward by Robert Englund
Cover Artist: Johnny Craig
Genre: Classic, Horror
Publisher: Dark Horse
Publication Date: November 03, 2021