Games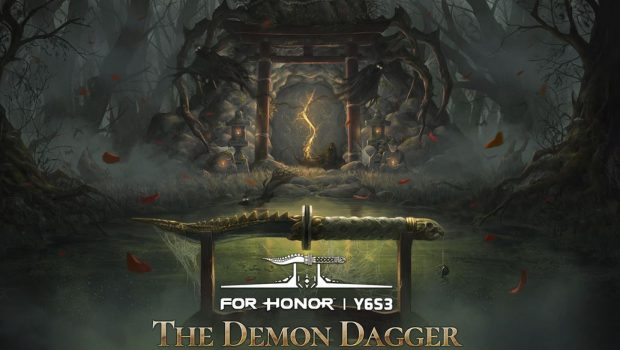 Published on September 14th, 2022 | by Adrian Gunning
The Demon Dagger Appears in For Honor's Year 6 Season 3
Today, Ubisoft revealed the content coming in For Honor's Year 6 Season 3, The Demon Dagger, releasing on September 15. For centuries, an ancient cave was sealed off until the Cataclysm cracked it open, unleashing spirits and demons from Japanese folklore into Heathmoor. Inspired by Yokai legends, this season introduces a new Battle Pass and Battle Bundle, The Yokai Nightmare event, and brings back the Testing Grounds from September 15 to September 22 focusing on Valkyrie and Tiandi. Phase 2 of cross-platform play also launches later in the season.
In the new season, players face off in Dominion on Temple Garden with ambiance and art updates that showcase how the Yokai have twisted the Myre, its inhabitants and hints at the true nightmare to come. Taking place from September 15 to September 29, Y6S3's launch event, The Yokai Nightmare, includes new lootable weapons, a free event pass, and new orders. More surprises will be revealed later in the season.
Phase 2 of cross-platform play also comes later this season allowing for group play with cross-platform friends or players. With this update crossplay rollout is complete, and players will be able to invite others to their group even if they are playing on a different platform.
Year 6 Season 3's Battle Pass will be available at launch with 100 tiers of different rewards reflecting the season's theme. Players can grab the traditional Battle Pass for $14.95AUD, or the Battle Bundle is available for $36.95AUD, which includes the Battle Pass and instantly unlocks 25 tiers.
With over 30 million players, For Honor is available to play now on Xbox One, Xbox Series X|S, and PC with Xbox Game Pass, as well as on PlayStation®4 and Ubisoft+, the Ubisoft subscription service. For Honor is also playable on PlayStation®5 and Xbox Series X | S through backward compatibility.
For more information about For Honor, please visit forhonorgame.com and follow us on Facebook at facebook.com/forhonorgame and on Twitter at twitter.com/forhonorgame.