Games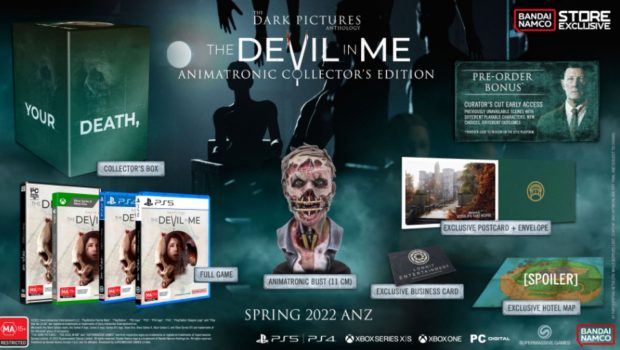 Published on July 8th, 2022 | by Adrian Gunning
The Dark Pictures Anthology: The Devil in Me reveals its distressing location in a new trailer
Coming this Spring in Australia and New Zealand, The Devil in Me opens its doors to a whole new cast and terrifying story. This trailer gives a short but disturbing tour of what's to come for its unsuspecting cast.
The Lonnit Entertainment TV crew receive a pressing and mysterious phone call from a man called Granthem Du'Met, with a promise of a tour around a faithful recreation of the H. H. Holmes murder castle, an idea that Lonnit Entertainment founder Charlie Lonnit believes might just save his show.
Oscar nominee Jessie Buckley stars as a member of this ill-fated crew that visits this strange hotel location, a place that quickly turns into a deadly trap made by their disturbed host Granthem Du'Met. Observed, isolated, and manipulated like rats in a maze, it soon becomes clear that the crew's check-out is compromised, and they will have to make some impossible choices that they might live to regret or just not live at all!
Ready to book a room of your own and face the killer? Enter the hotel in this new trailer https://youtu.be/Ey7wsyC7mv8and  please enjoy your stay!
The Dark Pictures Anthology: The Devil in Me is available now for pre-orders on Bandai Namco Official store here and at your local retailers, in Standard and Animatronic editions. In addition to the game, The Animatronic Collector's Edition includes:
An animatronic bust figurine (11 cm),
An exclusive postcard and envelope,
A Lonnit Entertainment business card,
A trusty map of the Hotel Island.
Collectors Edition only available on Bandai Namco Store.
Moreover, a new diorama of The Curator, and a vinyl of the game's soundtrack is also available to pre-order now.
The Dark Pictures Anthology is a series of stand-alone, branching cinematic horror games, designed to present a new terrifying experience on a regular basis. Each game is unconnected and will feature a brand-new story, setting and new cast of characters.