PS5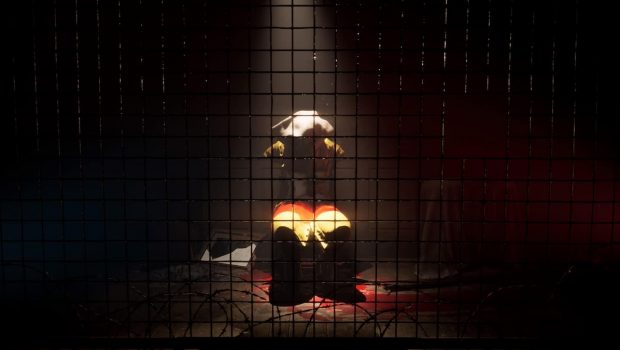 Published on November 24th, 2022 | by Abdul Saad
The Dark Pictures Anthology: The Devil in Me PS5 Review
Summary: While I found The Dark Pictures Anthology: The Devil in Me much more engaging than the previous installment and with a better premise than most, it didn't do much else to distinguish itself from other installments narratively.
The Dark Pictures Anthology: The Devil In Me is the latest installment in the Dark Pictures series. Aside from providing a whole new set of characters and a new plot, it also goes one step above previous titles by incorporating new gameplay features. 
The game follows five new characters, Jamie, Mark, Charlie, Kate, and Erin, the documentary production crew of Lonnit Entertainment. We quickly learn that Lonnit Entertainment isn't doing well and is on its last leg due to failing works. However, the team is given a chance to save their jobs via a mysterious call from one Mr. Dumet, who invites them to film his family's replica of the famous murder hotel made by the infamous serial killer H.H Holmes. Not wanting to miss this opportunity, the crew takes the generous offer and explores the hotel, finding all manner of horrors, hurdles, and a malicious visitor.
Devil in Me's opening is perhaps my favorite in the series. It takes players to the 90s to show them how the infamous killer conducted his murders and a preview of the hotel they'll come to familiarize themselves with throughout the game. While the premise is exciting, the rest of the story isn't the most interesting as the relationships between the characters itself is not especially interesting, and while the jump scares and discoveries have some effort behind them, they aren't incredibly engaging. 
However, players will still come to understand each character's personality and dynamics. Erin is a timid overachiever, Kate is a bit of a diva, Charlie is the insufferable leader, and Mike and Jamie seem to be the only ones who care about being diligent at their jobs and complain the least despite their gripes on the production issues. However, like in previous games, all characters can be as good or bad as you want them to be, so depending on your choices, the cast can tolerate and help each other as much as possible or the complete opposite.
Gameplay-wise, each character has their own unique gameplay tools that will be used throughout the game for traversal and puzzle solving. This ranges from simple tools like Jamie's flashlight and Charlie's card used for unlocking certain locks to Mike's camera stand and lens flasher and Erin's sound-locating instrument. The game also includes several puzzles, some of which are repeated, none of which are particularly hard, as they all basically require you to find a password or pay attention to basic instructions.
There are also noticeably more traversal sequences in Devil in Me, especially compared to older games that are much more linear. This includes climbing, jumping, and moving objects around in order to progress. While not particularly groundbreaking, these sections do a good enough job of offering series fans a new, engaging element. When not solving puzzles, players will pick up new items like collectible coins, along with the usual clues, scattered documents and records, and, if you're lucky, a premonition to impending danger or a character's death. Returning mechanics also include bearings and a chart showing the relationships between characters.
Visually, The Dark Pictures Anthology: The Devil sports detailed visuals and object models, incredible Ray-Traced reflections, and character models, which are probably the best out of all the installments. The game also sports a slew of excellent customization options for both visuals and performance.  However, I'd be remiss if I did not highlight the awkward facial gestures occasionally seen on the characters. Their bad facial motions prove that the developers have yet to perfect the art of Mocap, and it's also almost worse that it isn't consistent throughout. Another jarring aspect of the gameplay is the laggy and awkward transitions between gameplay segments that are reminiscent of older titles and proves the game still needs some optimization updates.
Final Thoughts?
Overall, The Dark Pictures Anthology: The Devil in Me is a decent installment that provides the most in terms of gameplay compared to other games in the series. While I found it much more engaging than the previous installment and with a better premise than most, it didn't do much else to distinguish itself from other installments narratively.