Books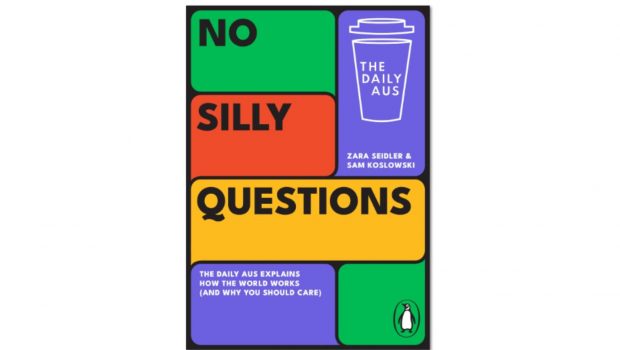 Published on June 28th, 2023 | by Adrian Gunning
The Daily Aus announce debut book No Silly Questions
From the creators of the phenomenally successful news service The Daily Aus comes your ultimate playbook for how the world works.
'TDA are masters of un-newsing the news, and making important information neutral, accessible and digestible.' – Zoë Foster Blake
Understand the news stories that matter, be part of the important conversations and feel confident – whether you're walking into a date, a job interview or a voting booth.
No Silly Questions is the perfect book for 'not-news-people' – those overwhelmed by the news cycle, but still value feeling informed and want to understand the facts behind the day's headlines.
Zara Seidler and Sam Koslowski, creators of The Daily Aus – Australia's leading social-first news service – are here to plug your knowledge gaps so you can avoid the anxiety of asking the 'silly' questions and move through the world more knowledgeable and assured.
They provide jargon-free explainers covering six topics, answering a range of questions on each that you may have been too afraid to ask. For example:
Politics – how does preferential voting work? How does our political system work?
The Economy – what exactly is inflation? What's a budget deficit?
The Climate – where is Australia at with renewable energies? What does net zero mean?
Society & Culture – is there still a gender pay gap? Where are we with First Nations rights?
Science & Tech – what on earth is crypto and how does it work? Is vaping bad?
The World – what do major global organisations like the UN and NATO actually do?
ABOUT Sam Koslowski and Zara Seidler
Sam Koslowski and Zara Seidler are the co-founders of The Daily Aus. In only a few years, Sam and Zara have built massive Instagram and TikTok audiences, two chart-topping podcasts, and rapidly-growing newsletter and video channels in one of the hardest industries to crack – the news. After starting with a vision to bring their friends up to speed with the news, the pair became known for breaking down the complex ideas that sit behind current affairs with simplicity, respect and honesty.
Now, they run the fastest-growing youth news company in Australia – and a newsroom full of young journalists explaining key concepts to their peers. They are business leaders, journalists, presenters and commentators, speaking to over a million young Australians every month across social accounts, newsletters and podcasts. In 2022, Sam and Zara were listed in the Forbes 30 Under 30 and named as two of Good Weekend's 52 'newsmakers' of the year. It's a unique start-up story still unfolding.
They have announced the book on Instagram today: https://www.instagram.com/p/CuA9qWHOVZc/?hl=en