Blu-ray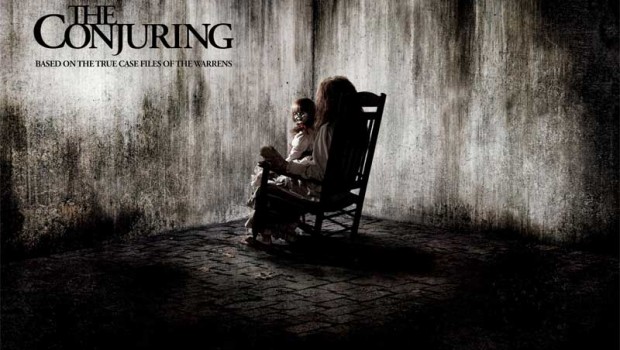 Published on November 23rd, 2013 | by admin
The Conjuring Blu-ray Review
Summary: Overall, The Conjuring is a fun horror that successfully ticks all the right boxes and should definitely be watched with someone else unless you want to remain awake all night!
Title: The Conjuring
Distributor: Warner Bros
Running Time: 112 Minutes
Rating: MA15+
Reviewer: Tom Smith
The Conjuring may be clichéd a horror film that uses every Hollywood trick in the book but if you want a relatively mindless and entertaining scarefest and you love the supernatural than there are far worse films out there, especially those that employ handheld cameras. The Conjuring focuses on real-life paranormal investigators Ed (Patrick Wilson) and Lorraine Warren (Vera Farmiga) who established The New England Society for Psychic Research in the 1950's as they travelled the United States attempting to either debunk the supernatural or actually help families afflicted by it. Interestingly, their most famous case was that of Amityville, however this case took place a few years before and revolves around the Perron family and their farm.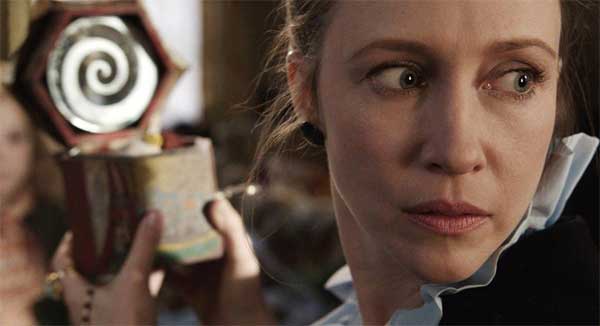 When Carolyn (Lili Taylor) and Roger Perron (Ron Livingston) move to a secluded farm with their five children, things really go bump in the night which forces Carolyn to seek help as these unexplainable events start to become dangerous. With some help, she comes across the Warrens who are lecturing near the Perron's home and begs them for their assistance. Ed is reluctant to help, however with some persuasion from Lorraine, he agrees and upon entering the home, they find a myriad of supernatural occurrences.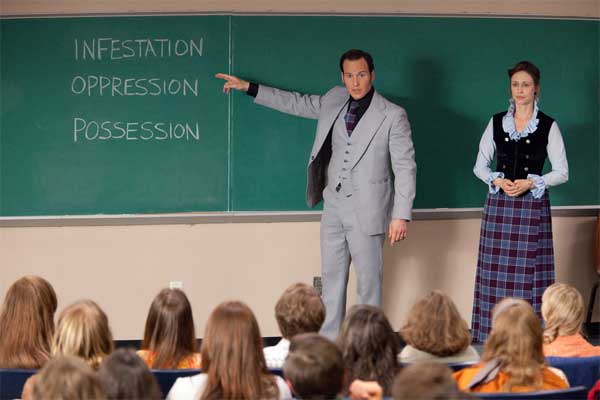 The film is also steeped in Catholicism as both the Warrens are Catholics, however Lorraine has an ability to sense spirits and Ed is the only sanctioned demonologist outside the church which does open the movie to some really clichéd dialogue such as God brought us together for a reason.
However as they both commence their investigation, they soon discover that this house has dark secrets that is connected to witchcraft, human sacrifice, demons and spirits. When the evil within the home starts to physically attack its inhabitants, an exorcism is required but the Catholic Church will only sanction an exorcism if there is proof and thus begins a journey of good versus evil plus a healthy amount of clichés from slamming doors to hideous smells and even possession.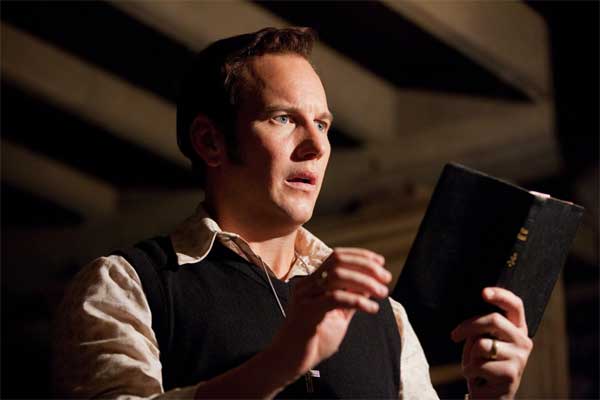 Nonetheless, director James Wan (Saw, Insidious) successfully manages to throw in a few really impressive frights throughout the film and I must admit that the ending was quite refreshing, especially compared to other horrors. The stars of the film Patrick Wilson and Vera Farmiga who play their characters well and more importantly, they are quite likeable.
Add in some great special effects and Wan delivers an above average horror movie about spirits, demons and possessions that goes back to those classic haunted house films of yesterday opposed to the violence and gore of the modern cinema. Obviously Wan is a fan of the supernatural and it really pays off in this film, compared to Insidious which erred more on the unbelievable than believable.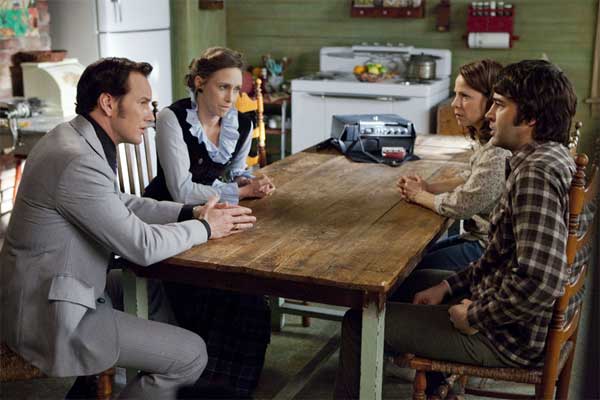 Special Features
Scaring the "@$*%" Out of You – Director James Wan (Saw, Insidious) welcomes you into his world and gives an inside look at the secrets that scare the "@$*%" out of moviegoers time and time again.
The Conjuring: Face-to-Face with Terror – Relive the real-life horror as the Perron family comes together to reflect back on the farmhouse they shared with diabolical spirits for nearly a decade.
A Life in Demonology – The real demonologist and paranormal experts from The Conjuring take you inside their life's work and into their personal occult cellar, where they keep haunted and unholy relics from their many cases.
Warner give the viewer a nice collection of special features from a great little number called Scaring the "@$*%" Out of You that is basically a documentary going into the insights of how to scare viewers. But the highlight of the special features is A Life in Demonology which goes into the real lives of Lorraine and the late Ed Warren plus The Conjuring: Face to Face with Terror that interviews the real family behind the Perron Farm. Both these featurettes lend some credibility to the story, although I'm sure the film was more glorified than it was allegedly was. Nonetheless, they are quite interesting to watch.
Video, Audio
On Blu-ray, the video quality is outstanding with sharp images, strong colours and deep blacks. There was only some minor artifacting but overall, it's right up there in quality. Audio is equally impressive, especially the Dolby Digital 5.1 DTS-HD track which boasts some exceptional sound quality, especially when the frights are let loose upon the viewers.
Final Thoughts
Overall, The Conjuring is a fun horror that successfully ticks all the right boxes and should definitely be watched with someone else unless you want to remain awake all night!