Comics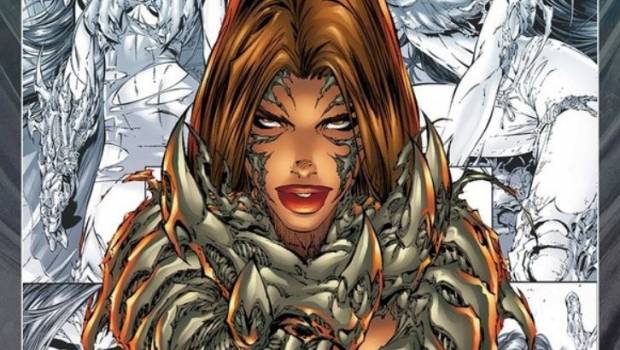 Published on June 16th, 2020 | by Chris O'Connor
The Complete Witchblade, Vol 1. TPB Review
Summary: See not just the origin of the Witchblade (for Sara Pezzini at least) but also see some early work from some popular names in comics.
Witchblade is one of those titles that has been on my peripheral for some time and I've had a chance to look at a few issues before (the last one was a more modern telling which I really liked). The Complete Witchblade is somewhat a time capsule for this particular title and to some extent comics in general which is both good and bad.
Writing
The writing here is full on action packed, it's the sort of stuff that wouldn't be out of place in an early Arnie or Stallone film… actually the best comparison would probably be to The Last Action Hero. The dialogue is that same sort of action movie banter that we came to know and love. What is frustrating is the placement of the text boxes. The stories are quite wordy so there's a lot to fit on a page and unfortunately back in the day letter placing was not as well thought out as it tends to be now, as a result you may find yourself going back and forth on some pages as you realise the text you thought was next is in fact meant to be a few comments later or vice versa.
Artwork
The costumes are tight and revealing, the bad guys are either well dressed businessmen or unnaturally muscled brawlers (or both) and the overall feel is women are objects to be ogled and men are brutes to be feared and respected. The viewing of this may well need to be done in context because this is the art from the original issues, so it is getting on a bit now and obviously societal views have changed. Having said that, if you liked the 90's style comic art for it's unique flair then this should be right up your alley.
Final Thoughts?
I have mixed thoughts about this collection. On the one hand the story can be quite entertaining, over the top and grandiose… but that letter placing really is frustrating at times and I found myself getting confused on more than one occasion. Sure you can work it out in a fairly short amount of time, but it breaks the flow of the narrative and takes you right out of the story. The collection does stand as a great time capsule piece though. It is a great representation of not just what comics were like at the time (in terms of layouts and art styles) but also society. If you are a fan of the character or 90's comics then I think this will be a great addition to your collection, if you can't view an older piece of work for the context of when it was created then this might not be to your taste.
Publisher: Image Comics
Writer:  Christina Z., Brian Haberlin, Warren Ellis
Artist: David Finch, Billy Tan, Nathan Cabrera
Cover Artist: Michael Turner
Genre: Supernatural, Superhero, Crime & Mystery
Format: 624pgs, FC, TPB
Release Date: 25th March, 2020