Comics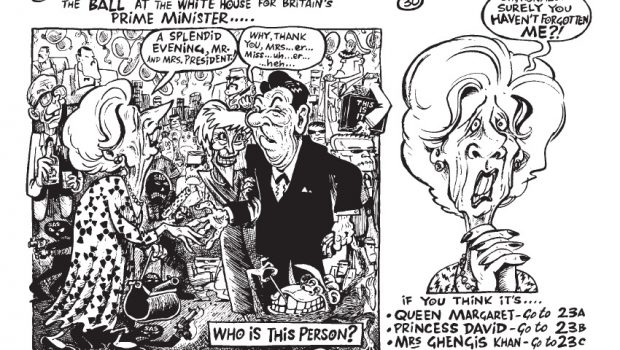 Published on May 25th, 2023 | by Tim Chuma
The Complete Dice Man Review (2023)
Summary: While a fun concept for a gaming book some of the games are a bit annoying but there is plenty to keep your interest in this. Worth a look for pen and paper RPG fans.
Originally released during the adventure book game boom of the 1980s, this series has never been reprinted in its entirety before. Various characters from the 2000AD universe embark on various adventures using your choices, a character sheet and die for the results of combat or other actions.
I do remember reading choose your own adventure books and trying for the good ending the whole time or holding my place to go back if I didn't like it. This wasn't really like that as the system encourages you to trust in your own decisions and deal with the consequences. I did have to go back and look at the rules page as the stories have unique scoring systems.
For this review I choose three different stories to play through as a representative of the book and will go through each one in turn. I will not discuss story spoilers, mainly the experience of playing them.
House of Death
This one was fairly straight-forward with Judge Dredd exploring a mysterious house where a disturbance was reported. My first run ended in death but I decided to have a second go straight away and managed to beat it on the second round. I would mainly play this one if you are really into Judge Dredd and wanted an easier game to play.
Cauldron of Blood
This one was more of an adventure style game and the difficulty level spikes significantly with the combat encounters. I found this one a bit frustrating due to instant death after managing to make it through a particularly tough encounter and then dying from sitting on a chair.
Twilight's Last Gleaming
I skipped over a bunch of the stories but this one playing as Ronald Reagan as the president trying to avoid war with the USSR kind of jumped out at me. The kicker is that you are encouraged to make decisions who you think Ronald Reagan would react so you are making the worst choices each time.
The scoring system is rather complex with 3 different figures to keep a track of Popularity (POP), Sanity (SAN) and Tensions (TENS) as well as individual selections you are asked to make at some stages. Also this game suddenly asks you to roll 3 die at one point without saying that is required on the rules page. I did still enjoy this game and it was the funniest out of the three of them.
Overall
This is something different if you are interested in the 2000AD comics and want to have a new experience with the characters.
I would say it is half way between reading a normal storing and roleplaying as you have to maintain a character sheet with figures, but not so complicated as a traditional pen and paper RPG. Maybe this one is good for a gateway book if you are getting into those sorts of games or if you already play those and want something a bit different.
This is also ideal if you don't have a lot of people to play with and want something just to entertain yourself for an hour or so.
Book details:
Writers: John Wagner, Pat Mills & Simon Geller
Artists: Bryan Talbot, Garry Leach, Graham Manley, John Ridgway, Kevin O'Neill, Mark Farmer, Mike Collins, Nik Williams, Steve Dillon, David Lloyd, Hunt Emerson, Glenn Fabry & David Pugh
Letterer: Steve Potter
Publisher: Rebellion
Published Date: 24th May 2023
Edition: Hardback
ISBN:  139781786189417
Length: 336 Pages
Weight: 1.4kg
Stories include:
House of Death
Cauldron of Blood
Dragoncorpse
Ring of Danu
Torture Tube
The Garden of Alien Delights
Killothon
Space Zombies
Volgo The Ultimate Death Machine
In the Bronx No One Can Hear You Scream
Dark Powers
Bitter streets
Murder One
The Tomb of Terror
Twilight's Last Gleaming