Comics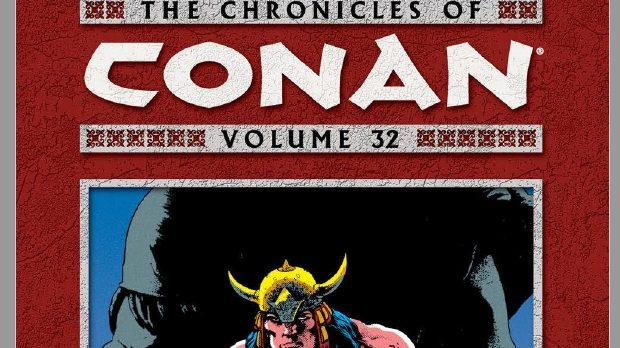 Published on July 25th, 2016 | by Chris O'Connor
The Chronicles Of Conan Volume 32 Comic Book Review
Summary: Conan seeks to return home, but no voyage for Conan can ever be without incident, this is no exception.
Conan the Cimmerian has gone on many adventures, this collection tells of some of those tales of heroics. The Chronicles of Conan Volume 32 sees Conan tormented by dreams of fire and death, with these images weighing on his mind he sets off to see if his tribe still lives in his homeland of Cimmeria. Along the way his journey is interrupted by the undead and the forces of the witch Vammatar who once held Conan in chains.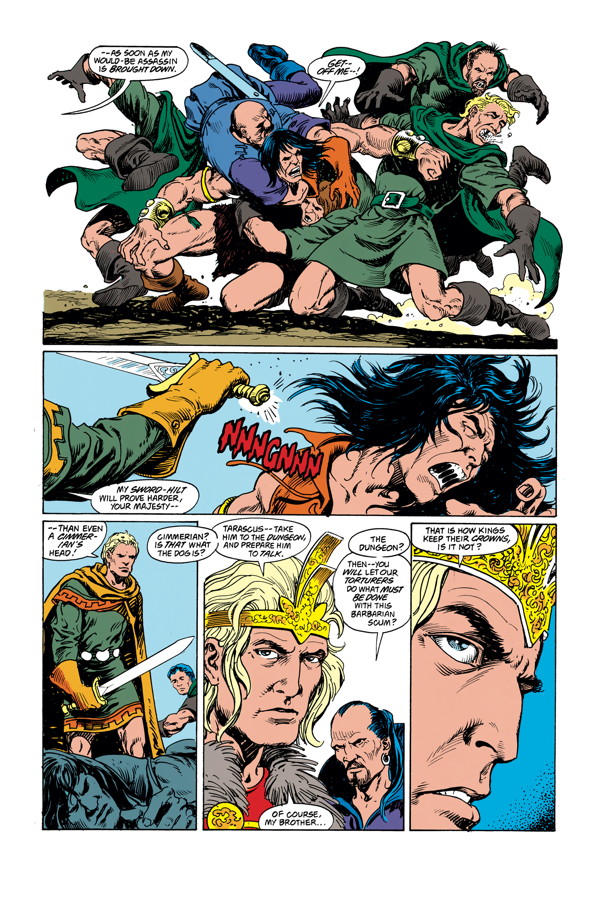 Not one to shy away from a fight, Conan gets caught up in the evil plot of Vammatar and her undead army, taking him deeper and deeper into a supernatural conflict that would spell certain death to anyone but our Cimmerian hero. Most importantly this collection contains some Conan tales that have not been available to the public for over twenty years. As if a bard had appeared in a tavern and brought with him the tales of a period of Conan's travels previously unspoken… come now and enjoy tales of bravery, death and heroism.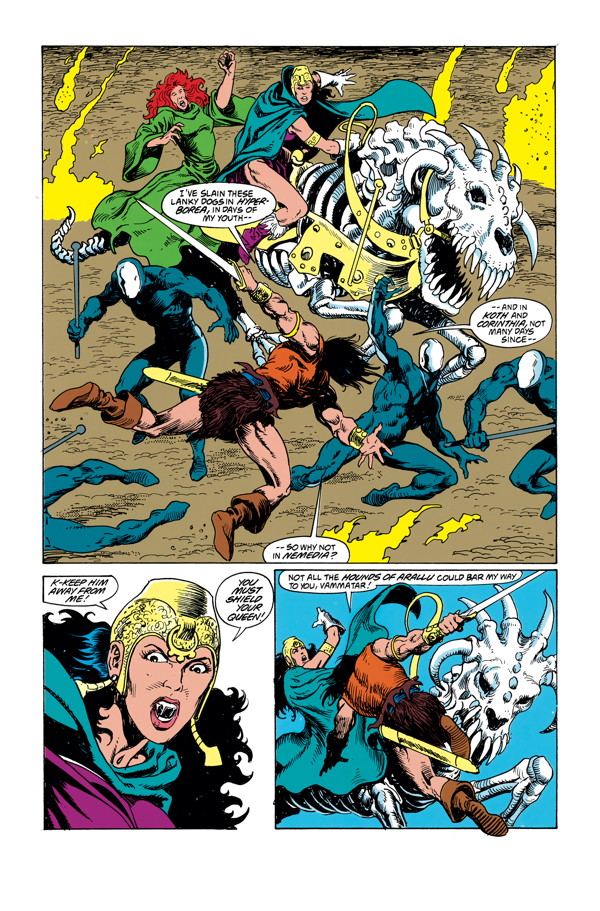 Writing
There is always a classical style to the writing of Conan, I would almost say there are hints of Shakespearean flair. Names of ancient evils, witches, warriors are scattered throughout. Grand events and locations are spoken of and a sense of reverence for the god/s of tribes permeates all. We have known of Conan as a Cimmerian but we don't often get to explore his connection to his homeland… will we get to now?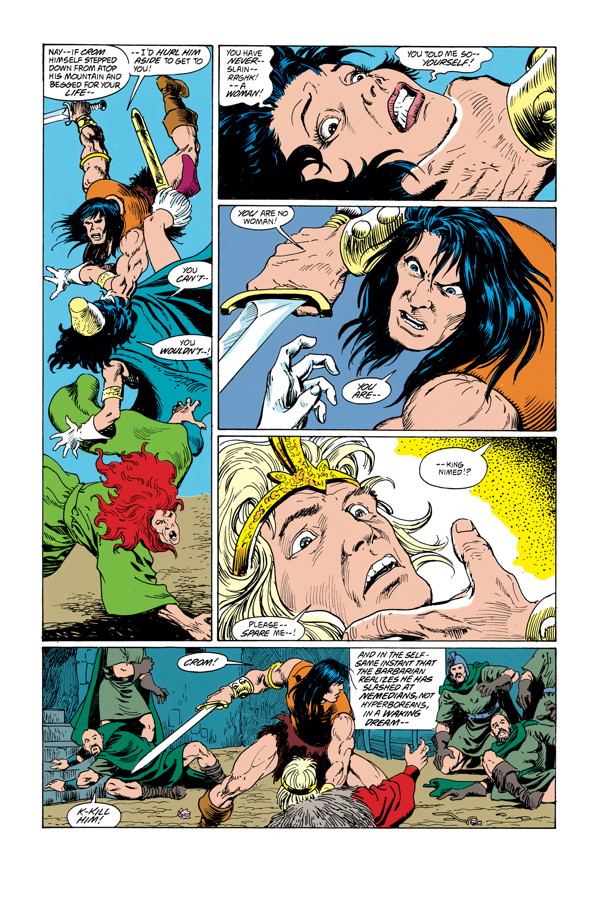 Artwork
The artwork in this compilation has it's own style (obviously) but what I mean by that is it is very reflective of the classic comic art style, or at least what I think of as the classic style. There is lots of cross hatch shading and simple colour palettes, it gives the pages a clear ability to let the eye find the key points with ease. It's not the sort of artwork that you are likely to sit and star at for a long period of time, it's far more utilitarian in that it helps to flesh out the story and give momentum and action to the key points.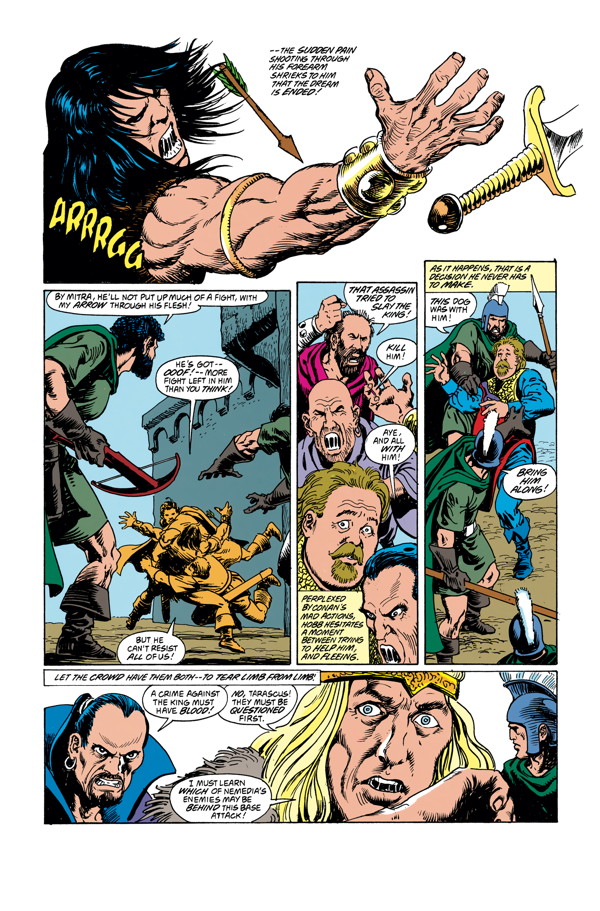 Final Thoughts
Being able to jump into the heart of Conan's adventuring is a thrill. With all the superhero movies and tv shows we have these days it's easy to forget about the more modest heroes, those who are "mere mortals" yet stand against giants, or at least witches and legions of undead. Through these stories we get to see Conan's honour and loyalty and the strength and courage that he is known for. It's a great addition to any Conan collection and a great gift to let these stories see the light of day after so long hidden from his adoring public.
Comic Details
Publisher: Dark Horse
Writer: Roy Thomas, Sandy Plunkett 
Artist: Penciller: Sandy Plunkett, Mike Docherty, Dave Hoover Inker:Ernie Chan, Alfredo Alcala, Dell Barras, Ricardo Villagran
Colourist: Nel Yomtov, Dave Samson
Cover Artist: Steve Lightle
Genre: Action/Adventure, Fantasy 
Format: FC, 240 pages; TP, 7" x 10"
Release Date: 20 July 2016