Films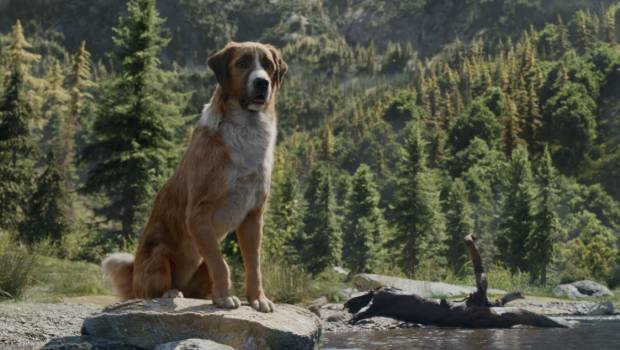 Published on February 22nd, 2020 | by Damien Straker
The Call of the Wild – Film Review
Reviewed by Damien Straker on the 22nd of February 2020
Disney/Fox presents a film by Chris Sanders
Produced by Erwin Stoff
Screenplay by Michael Green based on The Call of the Wild by Jack London
Starring Terry Notary, Harrison Ford, Dan Stevens, Omar Sy, Cara Gee, Karen Gillan, Bradley Whitford, and Colin Woodell
Music by John Powell
Cinematography Janusz Kamiński
Edited by William Hoy and David Heinz
Rating: PG
Running Time: 100 minutes
Release Date: the 20th of February 2020
A biopic about author Jack London's life would have been infinitely more interesting than this subpar family film. The Call of the Wild is based on a story London wrote in 1903, which explored the Klondike Gold Rush of 1896. Thousands of explorers travelled through tough snowscapes to reach north-western Canada and pan for gold. London capably wrote about this type of adventure because he was an explorer and a sailor. At one point in his life, he was even an oyster pirate. It was his experiences as a twenty-one-year-old during the gold rush and his participation in heavy industrial jobs that would determine his political alignment. His socialist beliefs, drawn from his time in the city of Oakland, were covered in many of his stories and novels.
As a professional writer, London could escape the strenuous labour and unfit working conditions imposed by the upper class, the same oppressive political forces his socialist rhetoric opposed. Writing was also imperative to London's personal survival by allowing him to escape poverty. He chose to tell Wild through the eyes of a dog named Buck, whose transition from domesticated to pack animal perhaps mirrored London's separation from materialism. It is also ironic that London's socialist alignment has been reworked by a deeply capitalist enterprise in Disney. Walt Disney's treatment of his workers was at long odds with London's socialist, pro-union views. The political disconnect is visible throughout Wild because of the shallow treatment it has received.
One must ask why this needed retelling since there have been numerous other versions, including a television series, and a 1935 film starring Clark Gable. This latest entry, and the most expensive with a production budget of around US$150m, is directed by Chris Sanders from a screenplay by Michael Green (Logan; Blade Runner 2049). Chris Sanders has decades of experience with animation, including writing credits on Aladdin (1992), The Lion King (1994), Mulan (1998), Lilo & Stitch (2002), and How to Train Your Dragon (2010). Given Sanders' expertise, it might have been more unique if this version was animated rather than live action.
Like London's story, the plot is set during the Klondike Gold Rush and involves a big dog named Buck (motion capture by Terry Notary). He is an untameable St. Bernard-Scotch Collie who lives at home in a large Californian house where he springs across beds and down hallways. After causing a terrible mess at a party, he is left outside and kidnapped by evil dognapers who have the courtesy of writing his name on a massive container.
Following his escape, Buck is noticed by a grizzled old prospector, John Thornton (Harrison Ford), who thanks him for retrieving his harmonica. Buck is then sold to a mailman, Perrault (Omar Sy), and his co-worker, Françoise (Cara Gee), who lack punctuality. Buck is enlisted in their dogsled team to deliver packages. However, he struggles to cope with the rigors of the conditions, leading to animosity with the other dogs. Only the vision of a wolf spurs him to take ownership of the team. Later, Buck and John are reunited on a journey to find gold but are hunted by the vengeful Hal (Downton Abbey's Dan Stevens). He mistreats dogs and does not understand that they cannot be bullied into crossing frosty landscapes.
Wild will not be remembered as a benchmark for storytelling and visual effects. No one can doubt Terry Notary's motion capture performance, or the leaps that this technology has taken due to pioneers, such as Andy Serkis. However, it needs more time. The film's CGI is noticeably poor. In various shots, Buck's body is rendered so large he appears disproportionate compared to his surroundings. His movement never convinces either, which breaks the illusion. This is despite a large amount of detail his face has received in close-ups. Meanwhile, what is the point of costly photo realistic technology if the scenarios are improbably staged?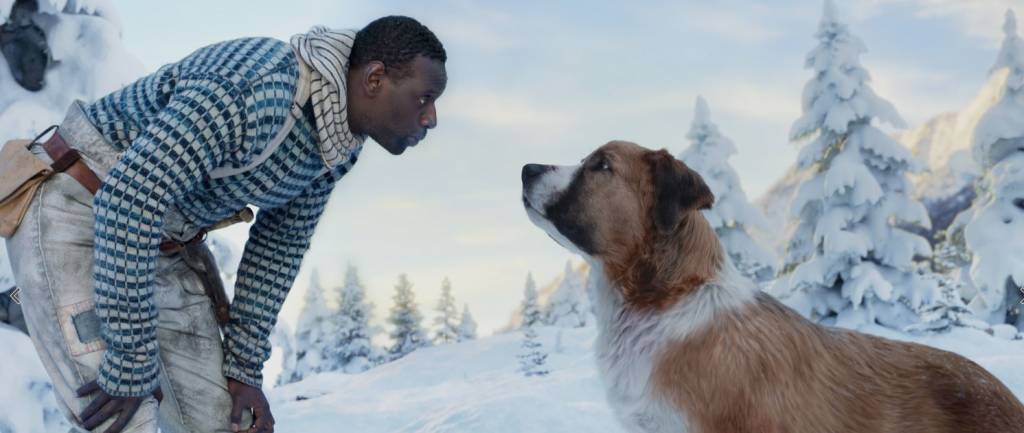 In one action scene, Françoise slips through the ice and looks set to drown. Buck dives underground to save her. He then ferries her under the water by carrying her on his back to safety. It is beyond preposterous. Similarly, he sprints across ice and smashes through branches without taking damage. There is no physicality to the action, which makes set pieces, including a cheesy standoff with a glowering dog on a hill, long and corny to behold. Even the cinematography lacks vividness. There is a top-down shot of the ship upon which Buck is imprisoned that resembles a video game image. The scenery is filled with noticeable CGI shots, which further stresses how this technology does not always enhance a film's visuals, especially when depicting naturalism.
Wild's narrative is a collection of storyboards loosely strung together by set pieces. From Buck escaping his containment, sliding across the ice, or escaping avalanches, there is rarely anything substantial between these sequences. This visual approach works efficiently with animated films but lacks the depth a live-action feature demands and makes Wild resemble an amusement park ride. The gags are predictable too, including a beautifully organised table inevitably destroyed by Buck. While mercifully Buck does not talk, the dispensable humans do not create the necessary emotional attachment. Omar Sy, an energetic, likeable but underused actor, is saddled with terrible dialogue such as, 'this is not just mail. It is love and life!' Françoise recites a painfully cliché line where she says, 'he's never believed in anything as much as he believes in you'. After the middle act these two characters vanish and never return, which typifies the story's episodic form.
As Hal, Dan Stevens turns in a shockingly one-dimensional, over-the-top performance that hails from a different movie. If it was unclear that Hal is evil from his sunglasses and moustache, he also mistreats animals. Consider this numbingly predictable setup where he confronts John. Buck, who has secretly followed John to a bar, waits outside the venue. While drinking, John is violently confronted by Hal and you will never guess what happens next. The scene is so routinely written that the outcome grinds the moment the camera lands on the building.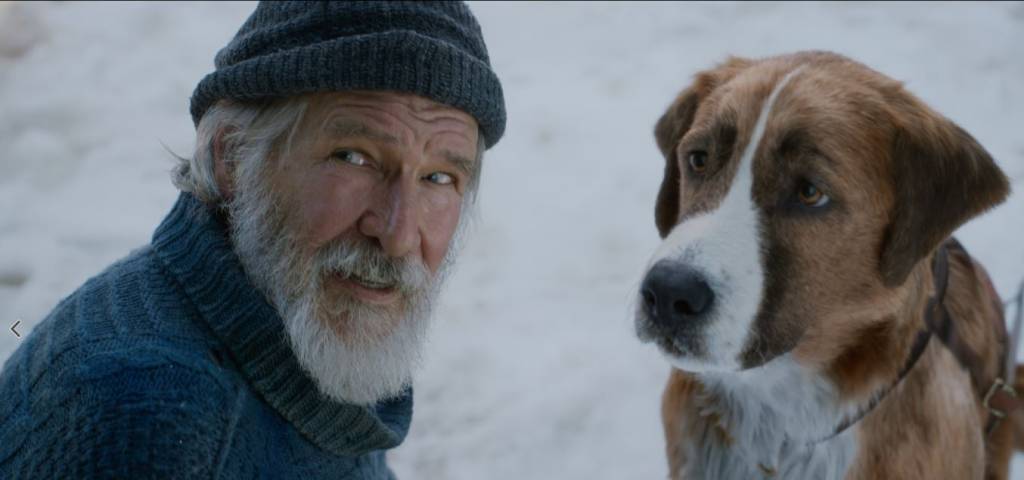 In general, Ford escapes with his dignity intact by playing John straight as a man wounded by lingering family dramas and grief. There is no winking, only the reliable intensity of this no-nonsense actor. There is also a decent sight gag where John pans for gold and misses something crucial. One concession is that aside from an early cameo, John's story is delayed until an hour into the film. In the meantime, his intrusive self-explanatory voice over explains images visibly dramatised. Lines such as, 'Buck knew he couldn't withstand a man with a club', suggest the narration was included only to prolong Ford's otherwise limited participation.
While small children will enjoy the action and the presence of an energetic dog, Wild is a hard sell. The CGI effects are noticeably poor and the weightless action scenes are uninvolving. While Buck himself is unconvincing there is even less to say about the bland humans, bar Ford's character. Aside from leaving the house and the presence of some gold at the end, the tissue connecting to London's socialist viewpoints is tenuous at best.
Instead, this is a boring Disney+ feature with a generic message about family that somehow landed a cinema release. At the film's early screening, there were occasionally some laughs and reactions. Yet it was noticeable how some families left early. A few returned but it appeared several others luckily fled. It could be because children and some adults have short attention spans, but it is more likely because Wild is unimpressive. The bad CGI and threadbare story make it a worthy successor to Cats' mediocrity.
Summary: A biopic about author Jack London's life would have been infinitely more interesting than this subpar family film. It will not be remembered as a benchmark for storytelling and visual effects.