Consoles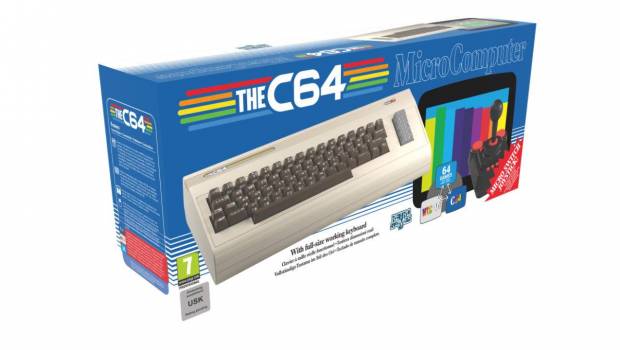 Published on January 6th, 2020 | by James Wright
The C64 Review (THEC64)
Summary: The C64 provides some great retro fun plus access to classic ROMS!
Before the words "gaming console" were ever linked, there were personal computers (PC's) and one of these was the highly popular Commodore-64 that was built for gaming… <cue fancy TV commercial>
This PC was originally released in August 1982 and now 37-years later, retro-gamers can now re-experience the wonders of a fun and simpler time in this full-size replica unit. While the C-64 mini was released in October 2018, the company behind this resurgence has given gamers another option of a full-size replica that includes a working mechanical keyboard and an equally kitsch joystick which are the main differences compared to the mini.
Box Contents
THEC64 full-size computer*
THEC64 microswitch joystick (1.5 m cable)
HDMI cable (1.2 m)
USB power cable (1.2 m) with AC adapter
* The use of this home computer requires an HD TV or monitor with an HDMI port and speakers.
Apart from playing games, you can even jump into the O/S which gives you access to the C64 or Vic 20 which allows you to engage in basic programming. My knowledge of programming doesn't go beyond…
10 PRINT "Hello World"
20 GOTO 10
RUN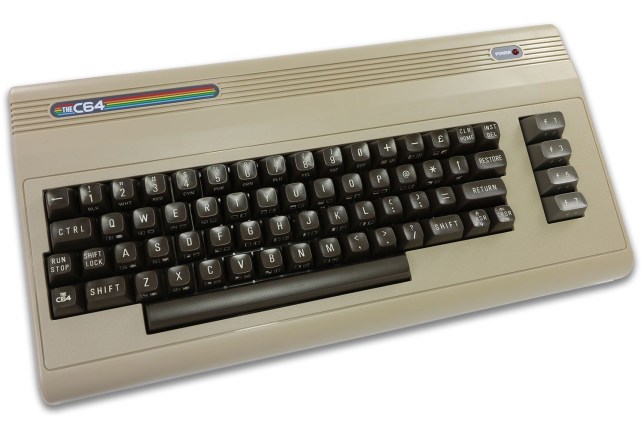 Kids across the world really abused that above code on display units!
Needless to say, we were super excited to trial out the C64 (which is really labelled THEC64) and once unpacked, it was almost a perfect carbon copy of the original unit. However since then, inputs/outputs have changed and while HDMI or USB never existed in the early 80's, this "update" now does which allows for 720p resolution.
This home personal computer also comes with 64 pre-loaded games. However as this is a fully functional working PC, you can load ROMS via the USB port which does increase the amount of content available. Developers Knights of Bytes have even created a new C64 game for 2019 with Sam Journey's that takes this hero on an unexpected journey to a strange world and is a fun little platformer.
Furthermore, classic games such as California Games, Cosmic, Trailer Blazer, Impossible Mission and one of my favourite games growing up, Boulder Dash are some of the highlights of this retro release… for me anyway. Given that, most of these games brought back great memories of growing up as a kid and while the gameplay and graphics are a little to be desired, it was still a fun experience and some of those platformers such as Impossible Mission are still a blast to play. You can even tweak the experience to offer a more 'classic' style of graphics and audio format for those true purists.
Full Games List:
Alleykat
Anarchy
Attack of the Mutant Camels
Avenger, Battle Valley
Bear Bovver
Boulder Dash
Bounder
California Games
Chips Challenge
Confuzion
Cosmic
Causeway
Cyberdyne Warrior
Cybernoid II
Deflektor
Destroyer
Everyone's a Wally
Firelord, Galencia
Gateway to Apshai
Gribbly's Day Out
Gridrunner (VIC 20)
Heartland
Herobotix
Highway Encounter
Hover Bovver
Impossible Mission
Impossible Mission II
IO
Iridis Alpha
Jumpman
Mega Apocalypse
Mission AD
Monty Mole
Monty on the Run
Nebulus
Netherworld
Nodes of Yesod
Paradroid
Pitstop II
Planet of Death
Psychedelia (VIC 20)
Ranarama
Robin of the Wood
Silicon Warrior
Skate Crazy
Speedball 2
Spindizzy
Steel
Street Sports Baseball
Street Sports Basketball
Summer Games II (includes Summer Games events)
Super Cycle
Sword of Fargoal
Temple of Apshai Trilogy
The Arc of Yesod
Thing Bounces Back
Thing on a Spring
Trailblazer
Uridium
Who Dares Wins II
Winter Games
World Games
Zynaps
As this version has a working mechanical keyboard which the mini didn't, this allows you to easily play Planet of Death which is a text-based adventure game and yes, in a galaxy far far away, games were once text based and you might even got luck with ASCII graphics. Oh… the joystick is pretty darn impressive and accurate, particularly with its micro switches and if you don't know what a joystick is, it's basically the analog sticks on modern controllers.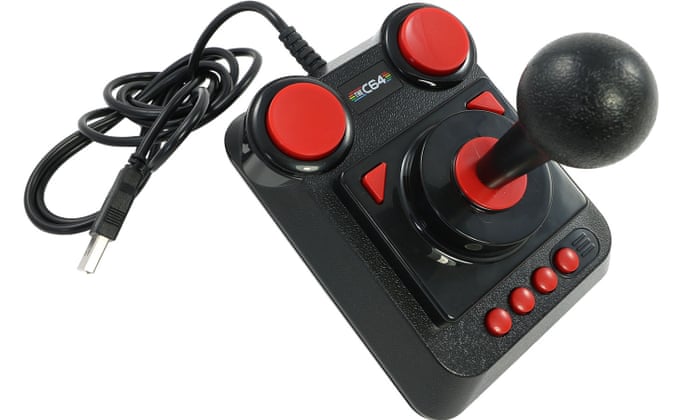 When it comes to quality, THEC64 feels like an item from the 80's and boasts a very sturdy build that mirrors the retro-aesthetics of the original perfectly, albeit with the inclusion of new ports… and thankfully no tape deck accessory to load games and once again, this is how some people loaded games back in the day.
Final Thoughts?
For those old enough to remember, THEC64 provides an enjoyable walk down memory lane, however if you're still gaming now, you will notice that this medium has improved considerably. While it is fun playing these games again, there would probably be only a handful that I would sit down and replay due to the limited gameplay of these titles.
However with the ability of loading your own ROMS which are available online… I'm not sure how the copyright works on these or if the digital copyright lapsed but I believe that's where most people will get their enjoyment from, hunting down the classics and then installing them on this perfect clone!