Films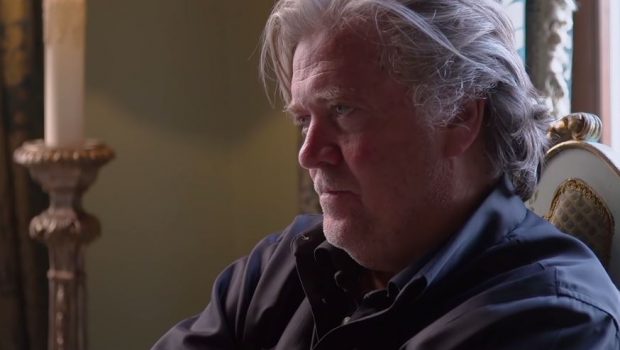 Published on September 24th, 2019 | by Damien Straker
The Brink – Film Review
Reviewed by Damien Straker on the 24th of September 2019
DocPlay and Nixco present a film by Alison Klayman
Produced by Alison Klayman and Therese Guirgis
Starring Steve Bannon, Sean Bannon, and Raheem Kassam
Cinematography by Alison Klayman
Editing by Brian Goetz and Marina Katz
Music by Ilan Isakov and Dan Teicher
Rating: N/A
Running Time: 90 minutes
Release Date: available exclusively on DocPlay from the 19th of September 2019

The documentary The Brink opens with its subject, Steven Bannon, recalling his visit to the Auschwitz concentration camp. He speaks in awe of how real people were able to cast aside any moral consciousness and successfully collaborate on the creation of the death camp. The scene typifies the mindset of the film's director, Alison Klayman. She is a Jewish American filmmaker and journalist intent on warning people about Bannon's manipulations and underlining his moral bankruptcy. Manipulation is one element where Bannon, founder of Breitbart News and former campaign strategist for Donald Trump's 2016 presidential bid, indisputably exceled.
This is solid but unremarkable fly-on-wall treatment follows Bannon's schemes from the time he is fired by Trump and labelled 'Sloppy Steve' through to the mid-term elections. In the film, Bannon reads a quote from Abraham Lincoln. 'We are now on the brink of destruction', Lincoln stated, which gives the film its title and suggests the contemporary urgency of American politics. In terms of persuasion though, Klayman could have projected a stronger viewpoint. In the absence of Klayman's voice, audiences not well-versed on political movements might not fully grasp the nuances of Bannon's techniques for mayhem.
The documentary's most interesting angle depicts Bannon working as a political consultant before the 2018 US mid-term election. His gimmick was collaborating with far right-wing conservatives throughout Europe to create a unified scheme for 'economic nationalism'. This meant emphasising isolationism and suppressing globalisation, foreign trade, and mass migration. One major political figure involved was Nigel Farage. He and Bannon hatched ideas together for Brexit. Bannon refers to his political movement as a 'global revolt' and compares it to the French Revolution. However, nothing this sociopath says is new or revolutionary. It belongs to the classic Republican handbook, where people are divided by race and social problems are blamed on migrants.
When he is told he is racist or anti-Semitic, such as in a heated interview with The Guardian, Bannon's rehearsed answer is that he is not racist but attacked by 'outrage culture' or political correctness. He weaponizes these terms and conjures media attention. The wicked strategy evokes how Trump's campaign was self-funded by unpleasant but frequent media coverage. Some of these strategies are brought forth at a chilling scene at a dinner. Bannon, a confident charlatan and salesman, sells his pitch to a room full of skin‑crawling conservative fleabags. They froth at the mouth so regularly as he speaks that if he told them the South won the American Civil War they would stand and applaud.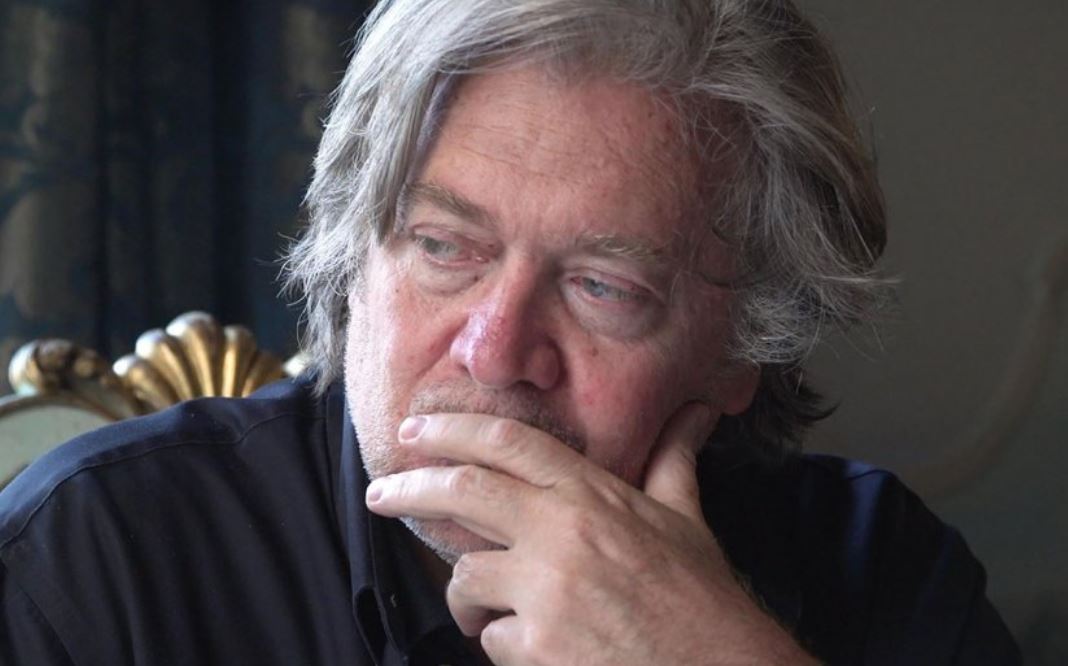 Klayman photographs these scenes with intimacy. She frames Bannon in extreme close-ups so that her camera narrows in on the blotchy red skin of his face. The bristles of his lumpy unshaven jawline grow visible and his grey, overgrown hair slicks backwards in the shots. His unkempt presentation is deliberate. He portrays himself as a rustic, ordinary man, seemingly uncaring about his appearance, but simultaneously banks his entire product on presentation. His rhetoric for example is often laughably simplistic. 'I'm about one thing. I'm about winning!' he claims. The slogan clearly made an impression on Trump who told his voters that they would grow sick of winning under his presidency.
The close quarters shooting style sees Klayman follow Bannon and his nephew, Sean, throughout his luxurious house, inside right-wing meetings, down corridors, and in cars. Klayman records a lot of activity, some more interesting than others, but she does not penetrate Bannon's façade. She fails to conclude whether he truly believes his words or whether he's a slickly rehearsed con-artist. Perhaps all that matters was that he was deposed by the aspects of society he resents, such as multiculturalism. Though for the sake of access it seems that the film has resisted pushing back on him too much.
Brink's punctuality creates meaningful dramatic irony. It is enjoyable watching Bannon scramble towards the mid-term election when we already know the positive outcome for the Democrats. It is fascinating how Bannon monitors the election results as though he is still enlisted in the Trump administration. He anxiously scrambles for answers as the success of progressive Democrats swiftly ends his narcissism and severs his ties to the European radicals. Equally satisfying is seeing his personal connections disintegrate. His partnership with Raheem Kassam, the former editor of Breitbart News London, falters because Bannon deems him lazy and disorganised. Raheem remains opaque throughout the documentary. Why this fellow, raised as a Muslim by his Tanzanian parents, supports a racist like Bannon is undisclosed.
After watching the documentary, I recommend viewing a short interview between Klayman and Vanity Fair. She breaks down key scenes and clarifies Bannon's dubious strategies into clear bullet points, such as 'he puts winning above values' and 'he embraces retail politics'. Some of these same points could have been intercut between the footage as commentary to strengthen Klayman's viewpoint and resistance. Bannon would not have approved or given her as much access if she did, but according to the man's own shaky principles, there is no such thing as bad publicity. Maybe that only flies when you are winning and not when you're Sloppy Steve.
Summary: A solid but unremarkable documentary that could have pushed back harder with some commentary from the director, Klayman.