Games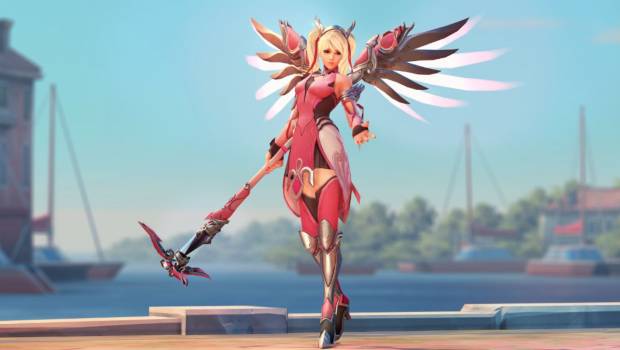 Published on July 10th, 2018 | by Admin
THE BREAST CANCER RESEARCH FOUNDATION TO RECEIVE HISTORIC $12.7 MILLION USD DONATION FROM BLIZZARD ENTERTAINMENT
The two-week fundraising campaign was supported by Overwatch® players around the world 
SYDNEY, AUSTRALIA — 10 JULY, 2018: The Breast Cancer Research Foundation (BCRF) today announced that it will receive an unprecedented $12.7 million USD donation from Blizzard Entertainment. The donation was tied to worldwide sales of a limited-edition "Pink Mercy" hero skin for Blizzard's internationally acclaimed best-selling game Overwatch®, along with a special T-shirt created to support the cause. ("Skin" is a game industry term for an alternate version of a character's outfit or appearance.) The gaming community rallied around the fundraising effort, making it the largest donation by a corporate partner in one year in BCRF's 25-year history.
The special charity skin was designed for the Overwatch hero Mercy, a scientist and the "guardian angel" of the game who has dedicated her life to helping others. The limited-edition skin was offered as an in-game purchase on PC, PlayStation 4, and Xbox One, with Blizzard Entertainment donating 100% of the proceeds it receives from sales of the skin to BCRF.
"Blizzard Entertainment's record-breaking commitment to activate change for women's health by mobilising the gaming community worldwide will have a lasting impact," said Stephanie Kauffman, Chief Strategic Alliances Officer at BCRF. "Blizzard's support of BCRF will help accelerate breakthroughs in prevention strategies, improved treatments, survivorship and quality of life for breast cancer patients worldwide."
In addition to the charity skin, players showed their support for the cause with a purchase of a limited-edition Pink Mercy T-shirt, available for men and women, designed by community artist VICKISIGH. Blizzard also coordinated charity streams on Twitch with 14 star Overwatch players from around the world, who collectively raised more than $130,000 USD for BCRF during the two-week campaign.
"BCRF does critical work every single day to support women's health and develop new research and strategies for preventing, treating, and curing breast cancer, and we're proud to make this contribution to their efforts," said Mike Morhaime, CEO and cofounder of Blizzard Entertainment. "I'm grateful to all of the Overwatch players around the world who made supporting such a good cause possible with their enthusiasm for the game and their generosity."