Comics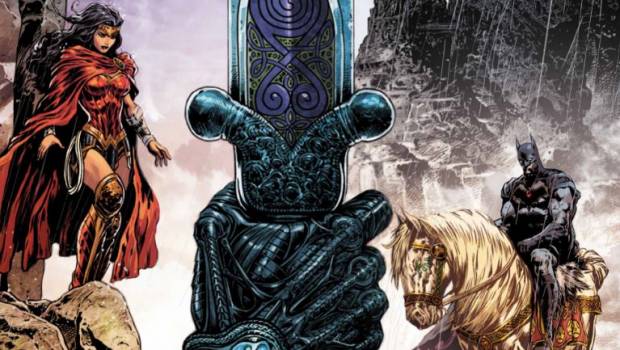 Published on May 19th, 2018 | by Andrew Bistak
The Brave and the Bold: Batman and Wonder Woman #4 Review
Summary: The Brave and the Bold: Batman and Wonder Woman #4 creates more answers than questions
Welcome back to chapter 4 of one of the ultimate superhero team-ups of the year with Batman and Wonder Woman who are investigating the murder of a King in the faerie realm of Tir Na Nog. With the uneasy peace almost broken in Tir Na Nog and with a very complex history, Diana and Bruce turn their attention to Queen Ethne for answers in an attempt to help solve this murder before an innocence is put to trial. They hope that by questioning her, they may find additional clues that will point to the killer or killers.
While Queen Ethne recounts to the heroes of Earth, a tale of wonder, mystery and one that is beautifully drawn by artist and writer Liam Sharp, it's pure comic eye-candy as we are indoctrinated into this fantasy world. Given that, Sharp successfully creates a modern day fairy tale and just like we are the readers of this comics, so is Batman and Wonder Woman as the Queen retells the politics, battles and enemies of this world which helped forged it to what it is today.
With the new information from the Queen, this leads Batman and Wonder Woman to the tomb of King Nuada who was slain on the battlefield and had an arm made of pure silver. However as the two enter the tomb, the Queen accuses them of desecration and before her guards can attack, Batman informs her that someone has stolen a relic from this dead King, the arm made of the purest silver as the mystery continues. Without spoiling this issue, there's plenty of world building and given the amount text, you do need to concentrate in order to put the pieces together like our favourite Dark Knight.
Final Thoughts?
As the story continues, things are definitely building up in Tir Na Nog and with two more issues to go, Liam Sharp has created a gripping detective tale set in another realm with some storytelling, good dialogue and amazing artwork.
Recommended!
Gallery