Events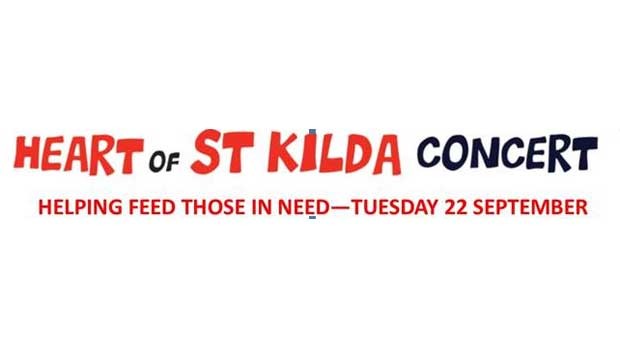 Published on July 21st, 2015 | by admin
THE BLACK SORROWS TO JOIN THE HEART OF ST KILDA CONCERT LINE UP
Sacred Heart Mission has announced that The Black Sorrows will be joining the dazzling line-up for its annual fundraiser, The Heart of St Kilda Concert at the Palais Theatre St Kilda, on Tuesday 22 September.
The Black Sorrows: The Black Sorrows continue to be one of Australia's most successful bands, delivering their special blend of blues and roots music on stages coast to coast. Having sold over a million albums worldwide, Joe Camilleri celebrates 50 years in music, and has earned the reputation as a musician who knows how to connect with his audience.
Now in its eighth year, this highlight of the Melbourne live music and comedy calendar attracts Australia's finest musicians and comedians and this year is no exception, with irrepressible RocKwiz co-presenter, Brian Nankervis as the MC:
Kasey Chambers: Australia's most popular country music performer with three successive albums reaching #1 on the Australian album charts, each achieving multi-platinum sales. Kasey's signature tune Not Pretty Enough hit #1 on the ARIA singles charts.
Arj Barker: Firmly established as one of the golden boys on the international comedy circuit Arj is arguably Australia's favourite American comedian having recently spent more time in our country than his own. His stand-up is both insightful and pointed, like a mind-reading thumb tack, if there was one of those.
Col Joye: Celebrating 57 years in the Australian music industry as a performer and entrepreneur, Col Joye is a pioneer rock musician, was the first Australian rock and roll singer to have a number one record Australia-wide with Oh Yeah Uh Huh, and experienced a string of chart successes in the early Australian rock and roll scene.
Denise Scott: Denise first started working as a professional actor and comedian nearly thirty years ago, but it has been in the last decade or so that Scotty has gone supernova – winning awards, selling out theatres, appearing on high-rating TV shows and writing two popular memoirs.
British India: Australian indie rock band British India formed in Melbourne in 2004 and have released four studio albums. They recorded their debut EP and first album, Guillotine, with Harry Vanda and won an AIR Award for Best New Independent Artist in 2007. In 2015 the band released Nothing Touches Me which debuted on the ARIA album charts at #5.
Leonard and Slava Grigoryan: Since their first Australian tour in 2002, Slava and Leonard have astounded audiences worldwide with their guitar virtuosity. Regarded as Australia's finest classical guitar duo, the brothers also take the guitar into genres such as Latin, jazz, folk and contemporary music.
David Hobson & Colin Lane-Opera Guy/Comedy Guy: David Hobson and Colin Lane have been friends for almost 25 years. From vastly different performance disciplines, they have always thought it would be nice to have a go at what that other guy does… At last they have the opportunity to see whether the grass is indeed a little greener! Incorporating music, comedy, opera, song and dance, it's a unique and hilarious experiment that promises to enthral and entertain.
Tim Rogers, Rebecca Barnard, Billy Miller & The Caravan Choir: The power of close to 100 voices raises the roof, as they back the likes of Tim Rogers, Billy Miller and Rebecca Barnard. Tim Rogers is an ARIA award-winning, platinum and gold record music icon who shot to fame as front-man of You Am I, and is a solo artist and theatrical performer. Tim is currently working with The Bamboos. Rebecca Barnard is the emotive lead singer and songwriter of Rebecca's Empire, and darling of the music scene as a solo artist and collaborator. Billy Miller is a founding member of The Ferrets, of No 1 hit Don't Fall In Love fame, more recently working with Paul Kelly and Stephen Cummings and producing solo records and film soundtracks.
Luke McGregor: This award-winning writer and comedian has been selling out venues at local and international comedy festivals and lighting up the small screen in programs from The Project to Utopia.
Emma Donovan: A member of the renowned Donovan family, Emma has been nominated for multiple Deadly Awards, including Female Artist of the Year. Her singing and song writing blends reggae, gospel, soul and country music as well as her indigenous Gumbaynggirr heritage.
Dave Callan: Dave Callan has popped up on Rove Live, the Melbourne International Comedy festival Gala, Good News Week, Spicks and Specks, Chaser's Media Circus, Triple J and can currently be seen on ABC's Good Game. Functioning chocoholic, Meditator.
The Meltdown: One of the hottest 8 piece jazz soul/rhythm & blues groups on the Melbourne scene will be the house band at this year's Heart of St Kilda Concert.
And the explosive drumming of TaikOz: Since 1997, TaikOz has developed a reputation for dramatic performances that couple explosive energy and extreme dynamism with refinement and grace. Combining the visceral power of the taiko drum with the ethereal sound of the bamboo shakuhachi, TaikOz is exploring a synthesis of East and West, old and new.
This year's Heart of St Kilda Concert aims to raise enough funds to provide more than 25,500 hot and nutritious meals to people experiencing homelessness, disadvantage and social exclusion. The Mission serves over 160,000 meals each year out of its dining hall in Grey St, St Kilda.
Don't miss out on this huge night of entertainment and give a helping hand to this great cause. Sacred Heart Mission and the Heart of St Kilda Concert – helping feed those in need.
TICKETS ON SALE NOW
HEART OF ST KILDA CONCERT
TUESDAY 22 SEPTEMBER
PALAIS THEATRE, ST KILDA
Ticketmaster: 136 100 or www.ticketmaster.com.au
A-Reserve $99; B-Reserve $79 For an easy and convenient way to get to the concert, Tram numbers 16 and 96 stop outside the Palais Theatre