Comics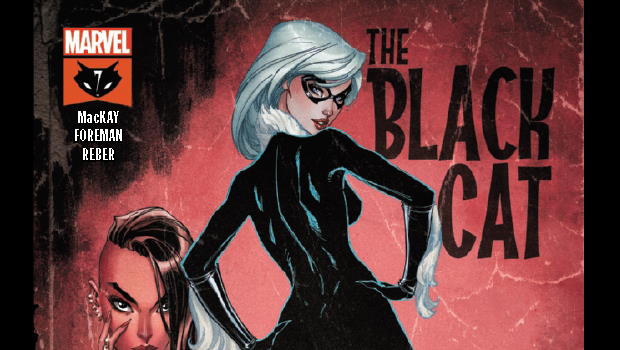 Published on December 18th, 2019 | by Chris O'Connor
The Black Cat #7 Comic Review
Summary: Odessa Drake believes she has Black Foxes number... but perhaps she needs to recheck her figures?
Black Cat finally takes on Odessa Drake! With her mentor, Black Fox, kidnapped Black Cat will seemingly stop at nothing to get him back… including taking on Odessa Drake and the Thieves Guild of New York. But things won't be simple, she'll have to fight an army of ninjas and a cabal of wizards to get him back!
Writing
The main point of this story seems to be more a backstory, fill in session and it's one that certainly helps flesh out some aspects of the story of the thieves guild and how Odessa Drake got to where she is now. The interrogation works well as an excuse to give this history lesson and though you could somewhat sense it coming, the shift in power dynamic is a nice change and is handled well when Black Fox starts to add some texture to the past.
Artwork
J. Scott Campbell's cover is beautiful and instantly recognisable. Travel Foreman's art whilst mostly fine, does suffer from a few things I find less appealing (though it is of course just a personal preference). The first of these is what I assume to be computer shading… some panels have a nice "texture" to their shading, but others look like a simple colour grading from light to dark and it just looks a bit flat. The other issue is with details… it's a tough one to gauge, how much detail to put into background scenery or characters and whilst there are some decent backgrounds, overall they seem to lack much detail and the result it it kind of feels like the panels are taking place on a barren stage.
Final Thoughts?
If you've wanted to know more about Odessa Drake and how she came to be who she is, this is a great issue to purchase. If you just want lots of Black Cat action… this may not be quite to your taste… she's there and she does kick butt… but she's really ancillary to the main story.
Comic Details
Publisher: Marvel
Writer: Jed MacKay
Artist: Travel Foreman
Cover Artist: J Scott Campbell
Genre: Action/Adventure
Format: 23pgs, FC, Ongoing
Release Date: 4th December, 2019