Films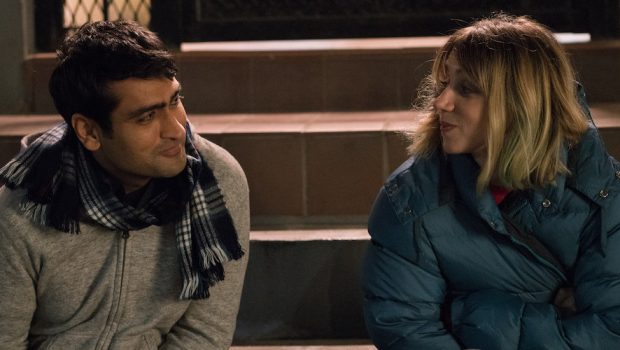 Published on September 15th, 2017 | by Debbie Zhou
The Big Sick – Film Review
Reviewed by Debbie Zhou on the 14th of September 2017
Roadshow presents a film by Michael Showalter
Producers: Judd Apatow and Barry Mendel
Starring: Kumail Nanjiani, Zoe Kazan, Holly Hunter, Ray Romano, Adeel Akhtar, Anupam Kher and Zenobia Shroff
Written by Kumail Nanjiani and Emily V. Gordon
Music by Michael Andrews
Cinematography by Brian Burgoyne
Edited by Robert Nassau
Rating: M
Running Time: 124 minutes
The Big Sick is an introspective look at cultural identity, based on the real-life relationship between co-writers Kumail Nanjiani and Emily V. Gordon. If you are looking for a delightful romantic comedy that goes beyond the genre's often exhausted tropes, look no further than The Big Sick.
The film is beyond merely affecting: it rakes you up to care about its characters. With outrageous humour that bubbles to the surface, director Michael Showalter's film is most importantly, not without hard-hitting questions, dabbling with issues of cultural identity within a poignant illustration of a couple's relationship.
The Big Sick follows Kumail (played by himself), an aspiring stand-up comedian in Chicago, who finds himself connecting with Emily (Ruby Sparks' Zoe Kazan), after a one-night stand together. However, when it is revealed that Kumail's Pakistani family wishes for him to enter an arranged marriage, their relationship teeters on the verge of a breakdown. During this break-up, Emily suddenly suffers from a rare medical condition that brings her into a medically-induced coma. Kumail is forced to re-evaluate how he chooses to prioritise his family values with his own. Meanwhile, a whirlwind of hilarious but earnest conversations with Emily's parents finds himself attempting to locate self-identity within clashing customs.
The set-up of Kumail and Emily establishes a dynamic bond that sparks almost instantly. Emily shouts out in the middle of one of Kumail's stand-up acts, and afterwards, he approaches her at the bar. Quick banter ensues, showcasing their magnetic connection, and an inability to avoid each other from that moment onwards. This is exemplified through a hilarious exchange that culminates in Kumail driving Emily back to her apartment after their one-night stand as her Uber driver. The easy-going and amusing portrayal of each character makes the quick development of their love for each other believable.
Interspersing between Kumail's stand-up acts on the Chicago stage, his relationship with Emily and her parents, and his own culture dilemmas, Nanjiani's story is at the forefront of this romantic comedy. It entangles these three story threads interconnectedly, crescendoing to a discovery and final acceptance of himself.
The fact that Emily remains in hospital for most of the film's duration results in the focus centring around Kumail's connection with her parents, who he didn't meet before their break-up. Kumail's relationship with Emily's parents is surprisingly charming: Holly Hunter and Ray Romano give charismatic performances, evoking open, semi-geeky personalities that make their interactions with Kumail gratifying.
This isn't your typical meet-the-parents situation: they dislike Kumail at the first instance. Instead, their bond strengthens over their attendance of Kumail's stand-up comedy show, and participating in a late-night comfort food indulgences. There's a playfulness in these episodes with Kumail, but somehow it also still slips into earnest, quieter moments. The marriage problems of Emily's parents inform Kumail's own assessment of the ups-and-downs of relationships and love.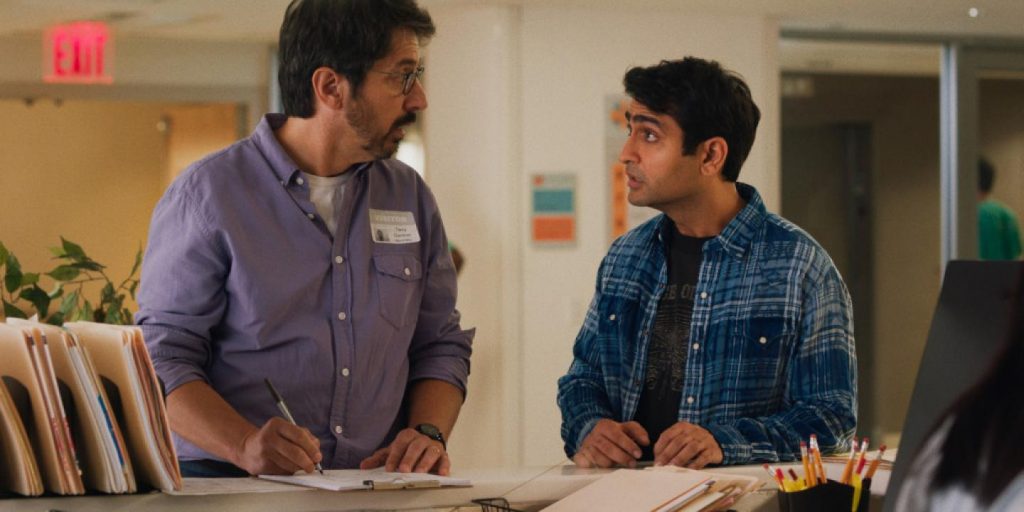 Yet Kumail and Emily Gordon's script rarely shies away from outrageous humour, and is often unafraid to shift into bold territory. In one sequence between Kumail and Emily's parents, an awkward question by Terry about 9/11 confronts Kumail's religion as an identifying Muslim. The frankness shocks; it tackles stereotypes with a cheekiness that avoids offensiveness. Kumail swerves this sensitive subject into light-hearted jabs, but never does so with ridicule—he gives deeper meaning to self-deprecating interplays about race.
In its portrayal of an interracial relationship, The Big Sick isn't without criticism. Some critics have pinpointed it as another example of a South-Asian man falling in love with the white woman, thereby disregarding the South-Asian women's experience in the process. While acknowledging that these stories are more often told (in the few Asian-American films we able to see), the mix of genre and experience that Kumail brings to the film is unique: it echoes the authentic conflict between cultures—the story of the second-generation immigrant in America.
The tension between his family's expectations of an arranged marriage and his own wish to pursue another relationship with an Anglo-Saxon threatens Kumail's maintenance of healthy correspondence with his own family. While played for comedy, his mother's constant arrangement of girls who appear at the dinner table who "drop in" serves as a reminder of living up to the sacrifice of immigrant parents. Even his parents (played by Zenobia Shroff and Anupam Kher) aren't depicted stereotypically: they hope for things from him, but they also can't cut him off. It's just another reminder of how genuinely The Big Sick portrays cultural differences, finding both the natural optimism and complexities that attach themselves alongside the navigation between clashing cultures.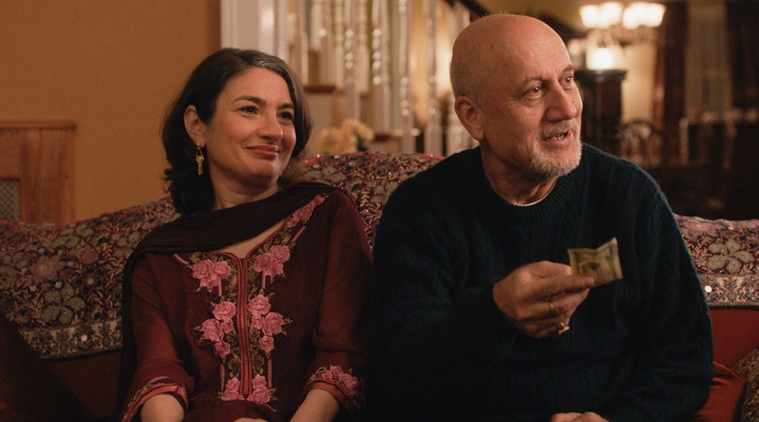 The heart of this film is truly that Kumail never sacrifices this important part of him, even with its imperfections. In one of the greatest sequences of the film, Kumail presents a one-man show purely about his culture to a small crowd of people in a theatre. When his friends tell him that it's "good" (it's really just a lecture about Pakistan), Kumail doesn't change it. We see a replay of it at the end of the film, and it hasn't been altered one bit. This is Kumail's story and his self-conscious mocking suffices only so long; he never relinquishes the core of his own identity at any point of the film, but instead, embraces it.
Summary: If you are looking for a delightful romantic comedy that goes beyond the genre's often exhausted tropes, look no further than The Big Sick.