Blu-ray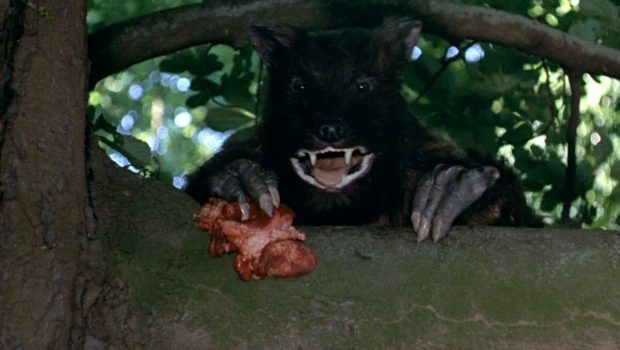 Published on January 5th, 2022 | by Tim Chuma
THE BEAST (LA BÊTE) (1975) (BEYOND GENRES #13) BLU-RAY REVIEW
Summary: This is worse than porn, it is boring porn. Some things should just be left alone.
I have heard of this and also that it was banned for a long time but had not actually seen it before. It turns out to be one of those movies like the Devils I expect that is good in theory, but when you watch it there is nothing there that is actually worthwhile.
The story is a fantasy about a beast sexually assaulting a countess hundreds of years ago in France and then in the present day the housekeeper is trying to get his "shy" son married off to an heiress as part of a will from the count.
Supposedly this is meant to be some sort of artistic porn. I don't see that it is just boring porn with delusions of being artistic. The furries will be hot for this one as there is a dude in a fursuit chasing a women who happens to lose all her clothes in the chase. She gives the beast a footjob by accident hanging from the tree and again willingly when she submits to the beast. There is heaps of beast ejaculate. Something about not being able to show an erect human penis on screen without it being classified as actual porn but horse reproduction and furry porn is fine.
There is actual masturbation in the movie or at least heavily implied with the heiress using a rose (hopefully not the thorns, ouch!) Also she tears her nightgown while having erotic dreams and is forced to run around naked.
The religious stuff is pretty weak and laid on with a trowel, it is pretty much the most obvious thing you can go for with a movie like this in that the beast has so much sex he ejaculates himself to death.  The paedophile priest stuff can get directly into the bin.
I can't really recommend this to anyone as I am perplexed as to who would actually want to see it even if you are a fan of this director or want to see what all the controversy was about with this movie.
Trailer:
Film details:
Director: Walerian Borowczyk
Writer: Walerian Borowczyk
Starring: Sirpa Lane, Lisbeth Hummel, Elisabeth Kaza, Pierre Benedetti, Guy Tréjan, Roland Armontel, Marcel Dalio, Robert Capia, Pascale Rivault, Hassane Fall, Anna Baldaccini, Thierry Bourdon, Marie Testanière, Stéphane Testanière, Jean Martinelli, Mathieu Rivolier, Julien Hanany
Genre: Erotic Fantasy
Content Advisory: Sex scenes, rape, murder, bestiality, paedophile priest, animal reproduction scenes
Disc details:
No. of discs: 1
Running time: 99mins
Audio format: 2.0 Mono DTS-HD MA
Region:
Format: 1080P
Colour: COLOUR
Languages: French
Aspect ratio: 16:9
Subtitles: English
Year of Production: 1975
Distributor: Umbrella Entertainment
Release Date: 3/11/21
Extras:
THE MAKING OF THE BEAST
INTRODUCTION BY FILM CRITIC PETER BRADSHAW
THE FRENZY OF ECSTASY FEATURETTE
INTERVIEW WITH WALERIAN BOROWCZYK
WALERIAN BOROWCZYK BIOGRAPHY
STILLS GALLERY
TRAILER