Blu-ray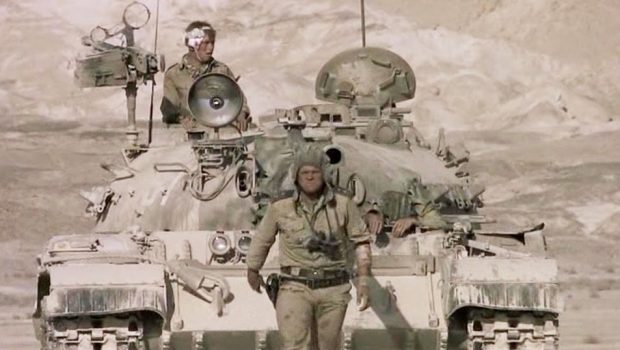 Published on September 6th, 2022 | by Tim Chuma
The Beast (1988) Blu-ray Review
Summary: Seems "ripped from the headlines"only because things have not really changed that much since when it was made. Difficult to watch but still worthwhile.
Set in the first few years of the Soviet/Afghan war in 1981 we see a tank crew carrying out a retribution raid on a mountain village that ends with the tank crew running over someone in their tank pretty much just out of spite and the tank crew having their tank damaged and going off on their own into what they do not know is a dead end but the locals do.
The movie feels quite familiar as it is similar to other war movies with the same tropes but does lay it on with a trowel portraying the Russians as evil. One character Kostantine has a "are we the baddies?" moment and is left tied to a rock to die for his trouble by the tank commander. You would have to be blind not to work out how this ends.
While made when the war was winding down it does feel "ripped from the headlines" to the current Russian/Ukrainian conflict that has been going six months as of writing and has already cost as many lives for the Russians as the entire 10 years of the conflict in Afghanistan. The NATO aligned countries were happy to help the USSR get bogged down then and they are doing so now. It is only hinted at in the movie that the Mujahideen are getting external help but it is present.
Be warned that the film is very brutal and they do show the person not only being run over by the tank but also their remains afterwards.
The tank does seem to be a super-powered tank in this film for purposes of the story and can run on aviation fuel somehow at one point? Recent experiences in Ukraine show how vulnerable Soviet era tanks actually are in battle. The tank used in the movie is a Soviet T-55 that was purchased over a round of drinks from the IDF. They did load water into the blank shells to give them an authentic kick when there was a round fired.
Watching this in the context of the withdrawal of the USA and Australian forces in 2021 and the Taliban took over again straight away does seem like nothing really changes. Even when other countries went in trying to help it still did not work. Some countries are really only lines on a map and not really a country in the normal sense.
The commentary and documentary have been recorded recently so would add more context to the movie if you want to go into it further.
I would recommend this one to fans of war films and also people with an interest in geopolitical events from the Cold War era of the 20th century.
Movie details:
Director: Kevin Reynolds
Screenplay: William Mastrosimone adapted from his play
Starring: George Dzundza, Jason Patric, Steven Bauer, Stephen Baldwin, Don Harvey, Kabir Bedi, Erick Avari, Chaim Jeraffi, Shoshi Marciano, Yitzhak Ne'eman, David Sherrill, Moshe Vapnik, Claude Aviram, Victor Ken, Avi Keedar, Osnat Mor, Rami Heuberger, Avi Gilor, Roberto Pollack, Beni Baruchin, Dale Dye
Genre: Drama
Label: Imprint
Audio: English (LPCM 2.0 Stereo)
Region Coding: B
TV Standard: HD
Rating: M
Special features:
1080p high definition presentation
Audio commentary by author David J Moore (2022)
Nannawatail: Inside the Beast – feature length documentary (2022)
Trailer