Comics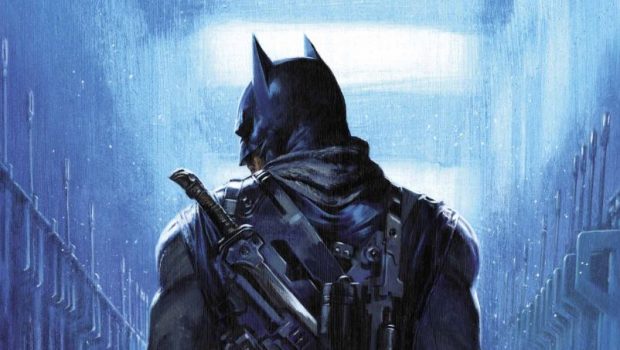 Published on March 13th, 2019 | by Andrew Bistak
The Batman Who Laughs: The Grim Knight #1 Review
Summary: The Batman Who Laughs: The Grim Knight #1 gives us the origin to the Bat with guns!
Writers Scott Snyder and James Tynion IV return to the twisted Dark Multiverse Batmen in this origin story about The Grim Knight! Imagine Batman as the Punisher but an even badder badass and this is who The Grim Knight is. The story opens with this hellish version of Batman taking a prisoner through the sewers of Gotham as they make their way to Crime Alley, the place which became the catalyst for many Bruce Waynes from the multiverse becoming their own Dark Knight.
While a young Bruce Wayne witnesses his parents murdered in Crime Alley in this alternate universe, this criminal willingly throws his gun on the ground as he searches for the pearls from Martha Wayne. However this version of Bruce does the unthinkable as he collects this gun and unloads its rounds into the man who just murdered his parents. Similar to the Bruce of the main DCU, he travels the world in order to learn the discipline he needs to become something else, a weapon, an angel of death. Inspired by a bat, he transforms himself into this tainted Batman as he kills the wealthy men and women of Gotham who funded the criminals of this city.
With the criminal element of Gotham City now under threat, they employ Commissioner Gordon to take the Batman down who fails miserably. The Grim Knight also forces Gordon to watch as he takes out his revenge on the denizens of Blackgate and Arkham Asylum by crashing hydrogen cell balloons into these facilities. Although this Batman brings order to Gotham, this world's Gordon hunts him down, more specifically his alter ego Bruce Wayne whose whereabouts were given to him by Alfred who became weary from his master's violent ways. However back in the present, The Grim Knight wants this world's Jim Gordon to know that his way is right and before he can pull the trigger to end his life, he is intervened by The Batman Who Laughs.
Final Thoughts?
Scott Snyder and James Tynion IV deliver an impeccable origin story about The Grim Knight who really bring this character to life, particularly from his emotional state. I also like how they swap between past and present in order to tell these stories. Furthermore, the dialogue works well as is the great contrast that they bring with two different yet familiar worlds and how a twist of fate can change the outcome of two Bruce Waynes. There's also some stellar art by Eduardo Risso who draws a truly horrifying interpretation of a Batman who isn't afraid to use guns.
Recommended!
Gallery