Books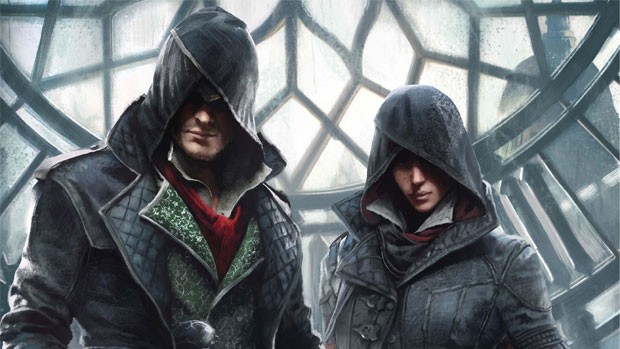 Published on November 23rd, 2015 | by Andrew Bistak
The Art of Assassin's Creed Syndicate Review
Summary: The Art of Assassin's Creed Syndicate is a beautiful book by Titan Books that takes the reader behind the scenes of this amazing game
This beautiful hardcover book from Paul Davies with a forward by Thierry Dansereau takes readers to the virtual world of Assassin's Creed Syndicate which is set in London 1868 at the height of the industrial revolution and revolves around twin assassins, Jacob and Evie Frye. Unlike other Assassin's Creed games, this title was set closer to our time and included two great protagonists as players explored the city of London in an attempt to get the upper hand on the nefarious Templars.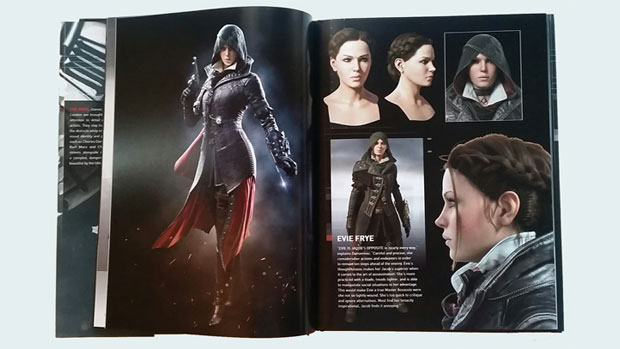 At just shy of 200 pages, The Art of Assassin's Creed Syndicate is introduced by Thierry Dansereau, who was the art director behind this hit game and explains the vision of this title and how it diverted from the other games which created a new look at this franchise. The book also highlights the two heroes of the game from their early designs to the finished models which graced this title with an explanation to their creation. Add in some of the colourful weapons, locations and equipment from the game and it really makes this book a "Behind the Scenes" experience.
In terms of contents, The Art of Assassin's Creed Syndicate is split into the following sections.
Foreword by Thierry Dansereau
Jacob and Evie
Westminster
The Strand
Allies and Enemies
The People of London
City of London
Whitechapel
Transport
Southwark
Transport
Lambeth
Time Anomaly – WWI
The Thames
Present Day
Acknowledgements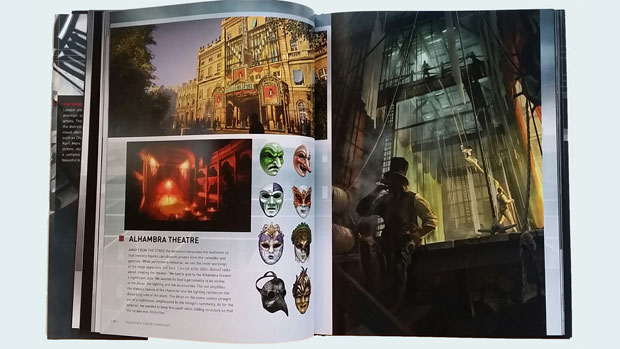 However for me, the highlight was definitely seeing the beautiful paintings of the various locations in the game such as Westminster, Buckingham Palace and Big Ben. Add in other characters, both real and fictional such as Charles Darwin, Graham Bell to the nefarious Templars and this book is quite an insightful look into the creation of this entertaining game which really makes you appreciate the work and effort gone into making this hit game of 2015.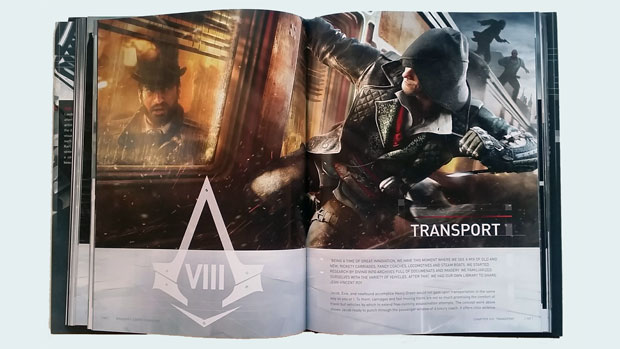 It's also a book that you can pick up anytime and just flick through it again because the images are truly stunning, whether it's the various times of day showcased, the foundry or revisiting the Blighters, it's a true work of art. Another highlight for me was seeing the costume creation of Evie which led to the final designs of the character we all know and love. It should also be noted that the presentation from Titan Books is first class from not just the high quality paper stock but also the bounding and even fold-out pages.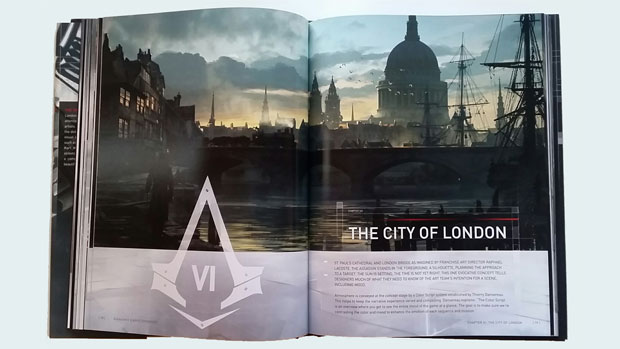 Final Thoughts?
If you enjoyed the game, then the Art of Assassin's Creed Syndicate is a beautiful tome that goes into the creation process of the game which boasts some true pieces of art from sketches, paintings and CGI images. It is also a well presented book that not only makes the perfect coffee table book but allows you to revisit the game with some fond memories that is accompanied by some great information.