Games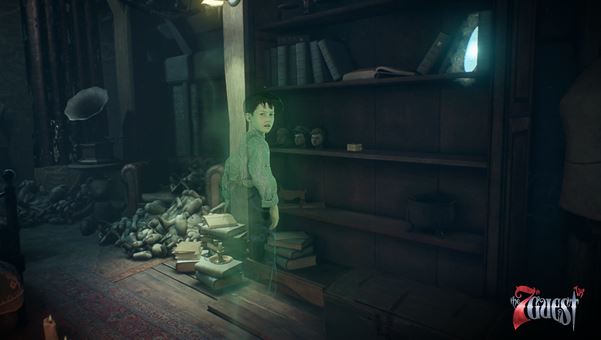 Published on October 20th, 2023 | by Adrian Gunning
The 7th Guest VR: A Re-imagined Classic Returns Today on its 30th Year Anniversary
Today publisher and developer Vertigo Games, the VR pioneer behind games like Arizona Sunshine and A Fisherman's Tale, re-opens the gate to one of gaming's most beloved haunted mansions in time for the spooky season. The 7th Guest VR, a full no-holds-barred VR remake of the genre-defining cult classic, launches today for PS VR2, Meta Quest and PC VR platforms.
Watch the spine-chilling launch trailer here 
The iconic supernatural mystery, The 7th Guest, has been resurrected with groundbreaking VR technology in The 7th Guest VR. This new iteration presents a life-like, atmospheric story like no other, having been re-designed from the ground up for VR. Players can delve into its enhanced puzzle adventure gameplay and experience cutting-edge volumetric live-action scenes. These scenes vividly showcase the ghostly apparitions of the mansion's ill-fated guests in spectacular 3D.
"As huge fans of the original, we are incredibly proud to finally open the gates to Stauf's Mansion for players to (re)discover the genre-defining classic as the mansion and its memorable characters come to life around them through cutting-edge VR technology," said Paul van der Meer, Game Director of The 7th Guest VR. "With this ambitious from-the-ground-up VR remake we set ourselves the goal of innovating video game storytelling, just like the original did when it pioneered full-motion video (FMV) use on CD-rom. We can't wait for players to encounter their first volumetric captured live-action performers – and we'd love to be a fly on the wall as it happens!"
About The 7th Guest VR 
"An Ingenious Reimagining" – Digital Trends
"One of the Best VR Games I Experienced in 2023" – GamerTag VR
"A Potentially Groundbreaking Title for VR Gaming" – Screenrant
In The 7th Guest VR, six guests have been welcomed to the foreboding mansion, but something sinister is at play. The wealthy recluse and toymaker Henry Stauf hides in the shadows – and there is a dark power here, shrouded in mysteries. Who is the 7th Guest? What does the toymaker want with them? And who will live to tell the tale?
As you explore the eerie mansion, puzzles become increasingly challenging, and there are dangers lurking around every corner, with every shadow, creak, and flicker of light adding to the haunting tension. Unlock new rooms and uncover hidden secrets, all while trying to keep your wits about you against the eerie horrors. 
The 7th Guest VR is the ultimate adventure for fans of mystery-adventure games and those seeking a new and ground-breaking VR experience.
Key features
A technical benchmark: Immerse into a life-like & haunting VR story. Told through innovative and cutting-edge ghostly volumetric video capture with 3D live-action graphics and exquisite performances.
A beloved classic: Experience the classic game by Trilobyte and relive the original story from a whole new perspective. The 7th Guest VR brings back characters like Martine Burden, Brian Dutton, Edward & Elinor Knox and others. Time to discover who is The 7th guest.
Expertly-crafted VR puzzle gameplay: All-new handcrafted puzzles, carefully redesigned for VR. All puzzles are meaningful to the story and rooted in lore with recognisable aesthetic elements paying homage to the original.
Dynamic VR environments: The equally beloved and feared haunted mansion comes alive around you through high-end visuals and VR-powered optical illusions, along with an all new adaptive soundtrack, inspired by the original and positional audio.
The 7th Guest VR is out now for PS VR2, Meta Quest and PC VR.
For more information, visit http://the7thguest-vr.com or join the conversation on Facebook, Twitter, Instagram, and Tiktok.