Films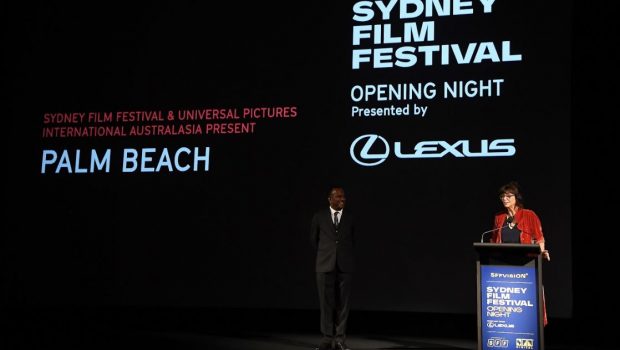 Published on June 6th, 2019 | by Damien Straker
THE 66TH SYDNEY FILM FESTIVAL BEGINS

The 66th Sydney Film Festival (5 – 16 June) opened at the State Theatre with the World Premiere of Australian drama/comedy Palm Beach.
Festival Director Nashen Moodley was pleased to open his eighth Festival to a packed auditorium including Palm Beach director Rachel Ward and producers Bryan Brown and Deborah Balderstone, alongside cast members Aaron Jefferies, Jacqueline McKenzie, Heather Mitchell, Sam Neill, Greta Scacchi, Claire van der Boom, and Frances Berry.
Following an announcement of increased NSW Government funding by the Premier Gladys Berejiklian, Minister for the Arts Don Harwin commented, "Launching with Palm Beach is the perfect salute to great Australian filmmaking in a year that will showcase a bumper list of contemporary Australian stories, including 24 World Premieres."
"As one of the world's longest-running film festivals, I'm delighted to build on our support for the Festival and Travelling Film Festival over the next four years with increased funding of over $5 million, and look forward to the exciting plans in store," he said.
Sydney Film Festival Board Chair, Deanne Weir said, "The Sydney Film Festival Board are thrilled and grateful to the New South Wales Government for this renewed and increased support. The government's commitment recognizes the ongoing success of the Festival as one of the great film festivals of the world; and the leading role New South Wales plays in the Australian film industry."
Lord Mayor of Sydney, Clover Moore also spoke, declaring the Festival open. "The Sydney Film Festival's growth and evolution has reflected that of Sydney itself – giving us a window to other worlds, to enjoy new and different ways of thinking and being, and to reach a greater understanding of ourselves and our own place in the world."
"The City of Sydney is proud to continue our support for the Sydney Film Festival. We are also proud to once again offer the Sydney Film Festival a home for The Hub in Lower Town Hall – where you can meet friends (and strangers!) to discuss the films you've seen, attend a post-screening party, or one of the brilliant talks or panels with filmmakers," she said.
Vin Naidoo, Senior Manager, Marketing, Lexus Australia, said, "Lexus is proud to have supported Australian filmmaking for many years. Film has been an intrinsic part of our brand – for us, it's about the experiences, going beyond vehicle manufacturing and retailing, and film is a big part of that."
Set at Sydney's spectacular Palm Beach, the film follows lifelong friends who gather to celebrate a milestone birthday, only for tension to mount when new and old resentments arise, along with the threat of an old secret coming to light.
In attendance was NSW Premier Gladys Berejiklian, and Governor of NSW Margaret Beazley.
A long list of SFF 2019 jury members, filmmakers and cast also attended, including: 2019 SFF Official Competition Jury President John Maynard, and jury members Ann Kokkinos, Gaylene Preston, Wagner Moura, and Ritu Sarin; The Final Quarter director Ian Darling, Judy & Punch lead actors Mia Wasikowska and Damon Herriman,  and producer Nash Edgerton.
Other guests included: comedic showman Tim Minchin; Deadline Gallipoli actor Joel Jackson; Rake actor Matt Day; actor Cameron Robbie (Margot Robbie's brother); film critic Margaret Pomeranz; The Last Impresario director Gracie Otto; The House of Hancock actress Mandy McElhinney; actor/ comedian Rob Carlton; Wolf Creek actor John Jarratt; Breath actress Megan Hajjar; and 1% (SFF 2017) actor Ryan Corr.
The full Sydney Film Festival 2019 program can be found online at sff.org.au.
Sydney Film Festival runs 5 – 16 June 2019. Tickets for Sydney Film Festival 2019 are on sale now. Please call 1300 733 733 or visit sff.org.au for more information.