Events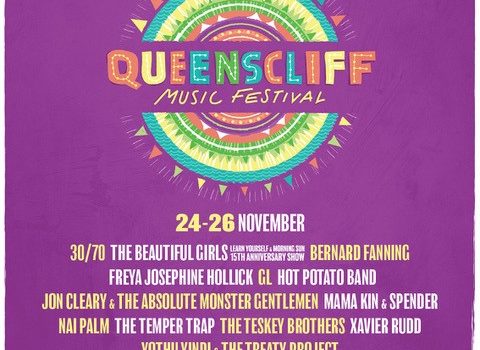 Published on November 27th, 2017 | by Admin
That's a wrap for Queenscliff Music Festival 2017!
All good things must come to an end, and on Sunday evening the Queenscliff Music Festival wrapped for 2017. Like any good 21st birthday party, there were plenty of beers, cheers and even a few (happy) tears!
Music lovers from all walks of life were treated to three days of sensational sounds from all corners of the country and a smattering of artists all the way from the USA and Canada.
The festivities kicked off with an ABC Melbourne live broadcast of 'The Friday Revue' from the Uniting Church, hosted by Brian Nankervis & Richelle Hunt. The 2-hour show featured interviews & performances from The Teskey Brothers, Mia Dyson and Allysha Joy – all of whom played to adoring crowds later that day – and the much-loved quiz was hosted by honorary local Bob Evans. In the festival arena that evening, artist & activist Xavier Rudd capped off the first night on the popular Lighthouse stage.
Saturday gave punters plenty of eclectic options to cram into their first day, plus the opportunity to get aboard the Blues Train featuring performances from Didirri, Hat Fitz & Cara and Freya Josephine Hollick to name a few. As the sun began to go down, a new-look line-up of Yothu Yindi & The Treaty Project attracted a mammoth crowd. Dhapanbal, the daughter of Dr M Yunupingu, made a late announced special trip to Victoria to perform with the group – her first as part of this project. Bernard Fanning followed up with a full house, treating fans to a setlist of old and new numbers as well as a medley of classics from late greats Prince, Bowie and Tom Petty.
Sunday, as is often the case, was the day for festival-goers to catch acts previously missed or highly recommended. mama kin spender's show – complete with a choir that made them a shoe in for the biggest band at the festival – saw both the audience and almost every member of the 40+ ensemble reduced to tears of joy and exultation. Australian music stalwart Russell Morris played the festival out in spectacular style on the Hippos stage, whilst hit-makers The Temper Trap simultaneously wowed the crowd over on the Lighthouse stage.
Surprise fan favourites from the weekend included the Hot Potato Band, who had audiences jumping for joy to their 6-piece horn section and big band charm, and Perth's The Southern River Band blew the roof off the Pavilion stage with their shirtless, sweat-soaked set of good hard rock n' roll.
Warm weather and mostly blue skies had punters swarming the festival grounds from stage to stage and out to the markets and beyond, enjoying incredible local food and beverages along the way. The relaxed festival vibe plus over 250 shows across 15 stages had audiences spoiled for choice over the weekend. Festival Director Andrew Orvis says: "Our 21st Festival exceeded all expectations. A fantastic weekend with many musical highlights. The sun stayed out, the storms went either side of us, and the weather was perfect. Many thanks to all of our wonderful supporters, particularly the 400+ volunteers that helped put on such a wonderful show. See you all in Queenscliff next year. Nov 23-25"
Make sure you're Bellarine bound in 2018, and as Brian Nankervis pointed out "bring your togs!"