Films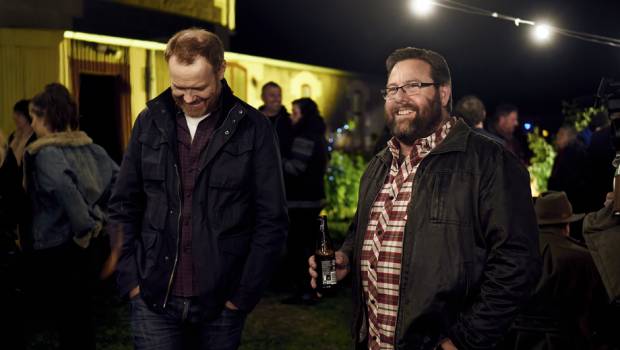 Published on January 29th, 2018 | by Damien Straker
THAT'S NOT MY DOG! – New Trailer
Starring Shane Jacobson and a comedy all-star cast, including Paul Hogan, Jimeoin, Steve Vizard, Michala Banas, Fiona O'Loughlin, Tim Ferguson, Lehmo, Paul Fenech and Christie Whelan Browne, That's Not My Dog! celebrates our love of joke telling. The film will release in cinemas nationally on March 15, 2018
The film, directed by Dean Murphy (Strange Bedfellows, Charlie & Boots), centres around the loveable Shane Jacobson (playing himself) who is throwing a party and invited are the funniest people he knows. The only request: come armed with nothing but the funniest jokes you've ever heard.
The full line-up of comedians include:
Shane Jacobson (Kenny),
Paul Hogan (Crocodile Dundee),
Jimeoin (The Craic),
Steve Vizard (Tonight Live with Steve Vizard),
Michala Banas (Upper Middle Bogan),
Fiona O'Loughlin (Spicks and Specks),
Tim Ferguson (Doug Anthony All Stars),
Lehmo (The Project),
Ed Kavalee (Have You Been Paying Attention?),
Paul Fenech (Fat Pizza),
Marty Fields (Blue Heelers),
Rob Carlton (Paper Giants),
Christie Whelan Browne (The Wrong Girl),
Stephen Hall (Comedy Inc),
Dave Eastgate (Doctor Doctor),
Genevieve Morris (Comedy Inc),
Bev Killick (Busting Out),
Emily Taheny (True Story with Hamish & Andy),
Khaled Khalafalla (Upper Middle Bogan),
Hung Le (The Wog Boy),
Ron Jacobson (Kenny),
Bec Asha (Conan O'Brien),
Ross Daniels (The Wedge),
Lulu McClatchy (Bogan Pride),
Spud Murphy (Stand Up Comic),
John Foreman (Carols By Candlelight),
Stewart Faichney (Strange Bedfellows) and
Nathaniel Lloyd (The Big I Am).
"The chance to see this many comedy greats all in the one place, telling their favourite jokes, is a rare opportunity for audiences, and we hope they'll have as good time watching it as we did," said Transmission Films Joint Managing Directors Andrew Mackie and Richard Payten.
That's Not My Dog! will release in cinemas nationally on March 15, 2018 for select screenings.
In the lead up to release there will be special event screenings with appearances from cast members.